With more than 4.5 billion plastic toothbrushes thrown away each year, bamboo toothbrushes offer a fantastic eco-friendly alternative.
These easy additions to the bathroom can usually be recycled simply by removing the toothbrush bristles, while the bamboo handle can be popped into your local composter.
If you're looking for a fully biodegradable toothbrush, Colgate recommends opting for one with a bamboo handle and bristles made from boar hair – a non-vegan and often hard bristled choice.
However, there are also said to be benefits to bristles activated with charcoal, such as better whitening of teeth.
You should also consider a compromise between eco-friendliness and effective dental care, however, if you have any worries about the hygiene of your bristles. Some dentists recommend using a bamboo handled brush with plastic bristles, for instance.
If you fancy giving the concept a go in your home, the below picks look to balance these key considerations to set you off on the right track.
Organically Epic Bamboo Charcoal Toothbrush
Organically Epic's bamboo charcoal toothbrush is officially multi award-winning, having been voted best Eco Toothbrush at the Beauty Shortlist Awards and best Zero Waste product at the Green Parent Magazine Beauty Awards.
It features a biodegradable handle made from sustainably sourced bamboo, while the bristles are infused with activated charcoal used to detoxify the mouth, brighten smiles, and soothe inflamed gums.
Organically Epic Toothbrush, Love Lula, £5.99
---
See: The Best Eco-Friendly Shops the UK Has to Offer
---
The Panda Brush
The Panda Brush isn't just a cute addition to the bathroom; it's a fabulous eco bamboo toothbrush featuring BPA free soft bristles and 100% organic biodegradable wood.
Its ergonomic bamboo handle is designed to fit perfectly into your hand, giving the most comfortable cleaning experience ever that'll fit into your toiletry kit with ease.
The brand have also thought carefully about their packaging, incorporating a biodegradable card box into the mix complete with stylish panda design.
The Panda Brush, Amazon, £7.99 
---
See: This New Toothpaste Aims to Start a Plastic-Free Household Revolution
---
Colgate Bamboo Toothbrush
No longer are bamboo toothbrushes simply a product of smaller brands, Colgate have also launched their very own and it's gone down well with environmentally conscious shoppers.
It features tapered slim-tip bristles that have been praised for their extra softness while brushing and is entirely plastic-free.
The brand have also added in a few bonus extras, including beeswax waterproofing to minimise the absorption of water and increase durability of the brush, and is charcoal infused.
At under £4, it also comes at an excellent price point.
Colgate Bamboo Toothbrush, Superdrug, £3.99 
---
LOUP Health Natural Moso Bamboo Toothbrush
With its chic design, LOUP's bamboo toothbrush will look simply stylish in your bathroom but it's more than just a pretty face.
Made from premium Moso bamboo, aka panda friendly, it's naturally anti bacterial and will breakdown and naturally rot away.
They're also great if you prefer a brush that's neither too soft not too hard, the bristles are medium firm, made from 4 bio nylon and are PBA free.
LOUP Moso Bamboo Toothbrush, Amazon, £7.99
---
See: 30 of the Best Sustainable and Eco-Friendly Alternatives for the Home
---
livecoco electric Toothbrush Heads
It's all good embracing bamboo alternatives, but what about existing electric toothbrushes? Here's where LiveCoco's electric toothbrush heads help out.
These perfect plastic-free options are essentially a convenient, eco-friendly way to upgrade your existing ORAL-B electric toothbrush by replacing the heads.
Each bristle is infused with Binchotan Charcoal which removes impurities from your mouth and you can also send your packaging back to the company for recycling.
LiveCoco ORAL-B Compatible Toothbrush Heads, Amazon, £6.97
---
The Environmental Toothbrush – best budget buy
Winner of the Green Invention and People's Choice Award, The Environmental Toothbrush is notable on several fronts.
Yes, its price bracket is entirely budget friendly, but it also wins out on any hygiene concerns you may have about switching to bamboo toothbrushes.
The bamboo is heat treated to carbonise the surface of the bamboo which not only provides the water resistance but prevents the growth of bacteria and moulds during use.
The bristles are made from a BPA FREE polymer resistant to microbial growth during normal use, to ensure safety and durability.
The Environmental Toothbrush, Boobalou Eco Living, £2.65
---
zero waste club Bamboo Toothbrushes
If you're looking for eco friendly toothbrushes with full disclosure on its credentials,  online retailer Anything but Plastic is not shy about the fact it uses Nylon 6 plastic bristles in this product.
Whether you're concerned about hygiene or are simply not sure about boar bristles, these multi-coloured bamboo toothbrushes are a great option for those looking for a balance between eco-friendliness and effective dental care.
Plus, makers Zero Waste Club plant a tree for every toothbrush is sold, which is always a nice touch.
Zero Waste Club Bamboo Toothbrush, Anything but Plastic, £3.99
For further products in the range, including kids options, see Selfridges. 
---
See: The Best Eco-Friendly Shops the UK Has to Offer
---
Truthbrush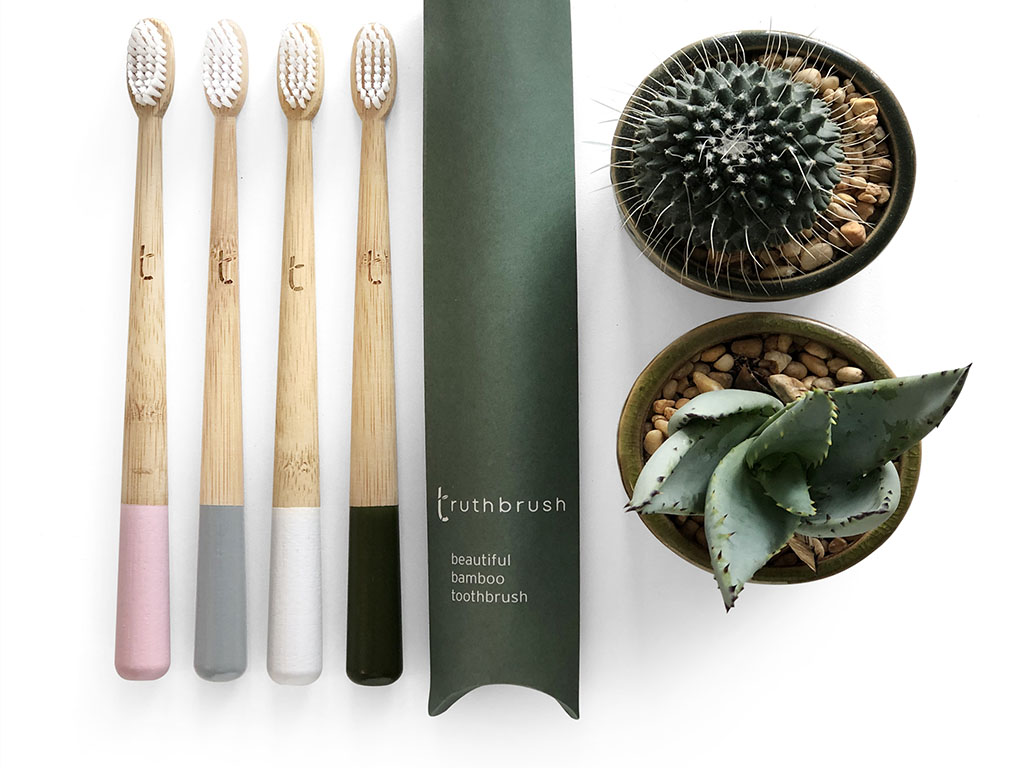 Truthbrush is created from Moso bamboo, grown organically and in an FSC managed forest in China, which is inedible to pandas. It also has a few other credentials to its name.
The soft bristles are made from 38% nylon and a blend of 62% castor bean oil, a renewable vegetable oil said to care for your teeth and gums.
Truthbrush Bamboo Toothbrush, Peace with the Wild, £4.50
---
Save Some Green Bamboo Toothbrush
You may have heard of Nylon 4 which is debated to break down quicker than other plastic options. SaveSomeGreen combines panda friendly, vegan friendly and eco-friendly all in one.
The toothbrushes themselves are also minimally package, featuring simple brown paper packets with the most adorable panda illustration, guaranteed to put a smile on those pearly whites.
Save Some Green Bamboo Toothbrush with Medium Bristles, SaveSomeGreen, £2.50 
---
See: There's Now an Eco Subscription Box That Helps Your Bathroom Go Plastic-Free
---
Geoorganics bamboo toothbrush
Georganics specialise in natural, organic and eco-friendly oral care products, including this beech toothbrush.
If you'd rather opt for a sustainable FSC Beechwood instead of bamboo, this might just be for you, plus it's just as suitable for home compost.
The company specialise in activated charcoal. Not only in the bristles of the toothbrush, but it can also be paired with natural toothpastes and floss products.
Every tree cut down in the making of the toothbrushes are re-planted, with excess material used to heat up the factory.
Georganics Toothbrush, Georganics, £4.40 
---
See: The Best 3 Ways to Create a More Conscious Kitchen For 2020
---
pig hair toothbrush
If you want to go truly traditional and/or opt for a fully biodegradable option, there are still pig hair toothbrushes available often in local spa supply shops. It's a great chance to test the softness of the bristles for yourself.
If you'd prefer to venture online for your next toothbrush, however, have a look at Cebra.
The natural boar bristles are gentle to teeth and gums, while their hardness can be adjusted if you follow the supplier's instructions.  You might find it a welcome change from nylon, but of course, do note this option is not suitable for vegans.
Sign up to the weekly Inspiralist newsletter and get the top stories delivered straight to your inbox.
Sign Up