If you're looking for the perfect eco friendly gifts that can be enjoyed by your friends and family this year, look no further.
These genius presents not only look the part, they're environmentally friendly too.
Whether you're seeking the ideal budget-friendly stocking filler or something more indulgent, these perfect picks will send out the right message.
See: 10 Inspiring Ways to Introduce Eco-Friendly Interiors into Your Home
Dried Flowers
What better way to bring some cheer than with dried flowers? Not only do they look the part but will last so much longer too. Not to mention that you can add them to your interiors for the ultimate eco decoration!
Dried Flowers, Great British Flowers on Etsy. 
---
Eco Lip Balm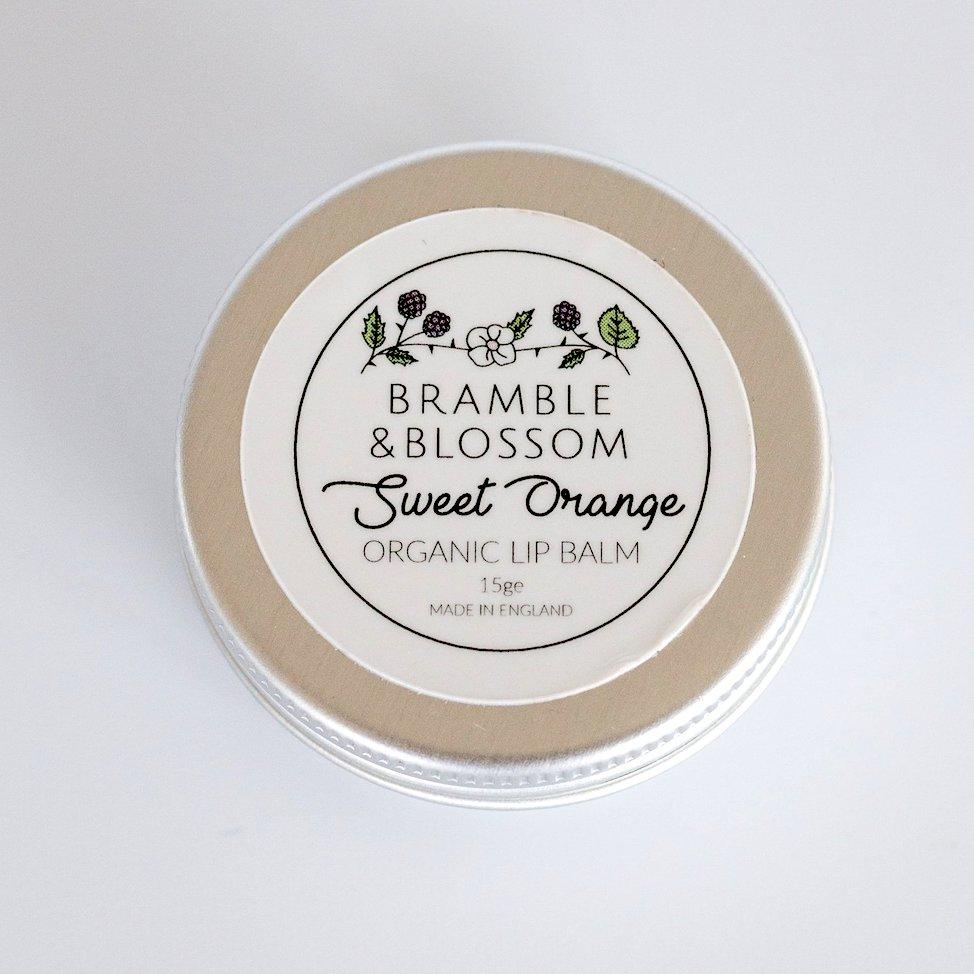 Packaged in plastic-free metal tin, these zero waste lip balms include super moisturising virgin organic coconut oil to leave your lips soft and silky smooth and is a perfect eco-stocking filler.
Eco Lip Balm, £6, Wearth London
---
Alchemic kitchen preserves subscription box
There's nothing like a good selection of preserves but how about giving it an eco edge thanks to this genius subscription service?
Called Alchemic Kitchen, the recipient of your choice can receive either a sweet, savory or mixed subscription made up of  2-4 products. Each are made from food that would have otherwise gone to waste.
Preserves Subscription Box, Alchemic Kitchen, Etsy, £40. 
---
Eco Glitter Craft Set
Perfect for your crafty friends, this eco glitter set can be used on soap making and arts and craft projects alike. Of course, the glitter itself is fully biodegradable.
Eco Glitter Craft Set, £17, Eco Glitter Fun. 
---
Zero Waste kitchen starter kit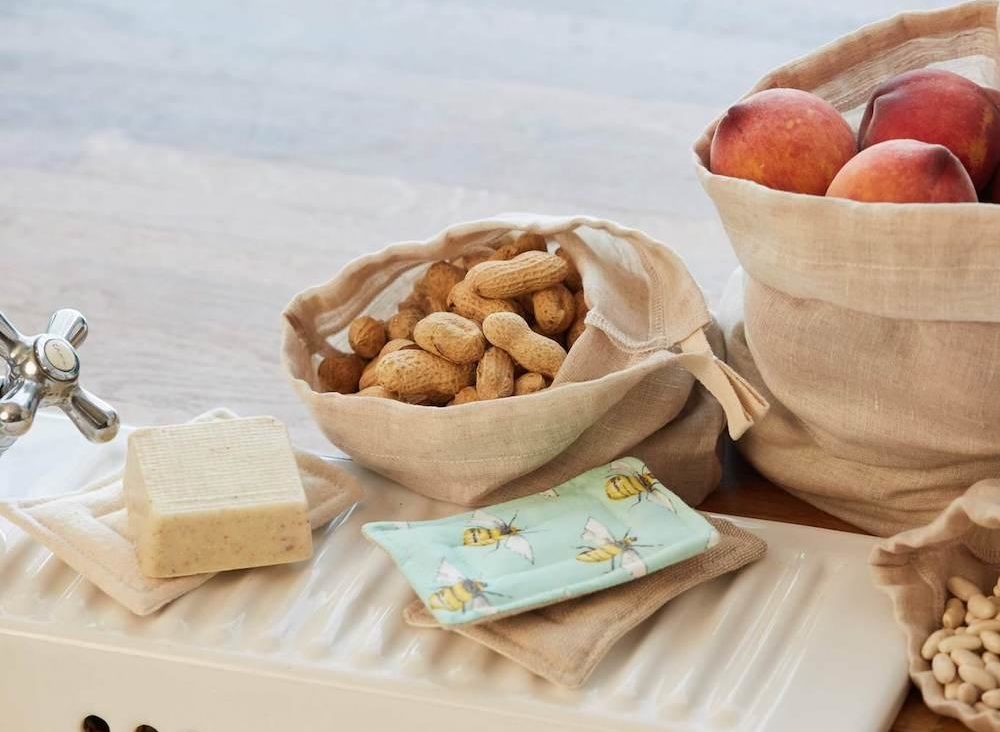 A great way to cut down on kitchen waste, this zero waste kitchen starter kit features high quality made to last products to help create a more plastic-free kitchen, including organic sponges and cotton produce bags.
Tabitha Eve Zero Waste Starter Kit, £20, Wearth London. 
---
Avocado or Acorn Vase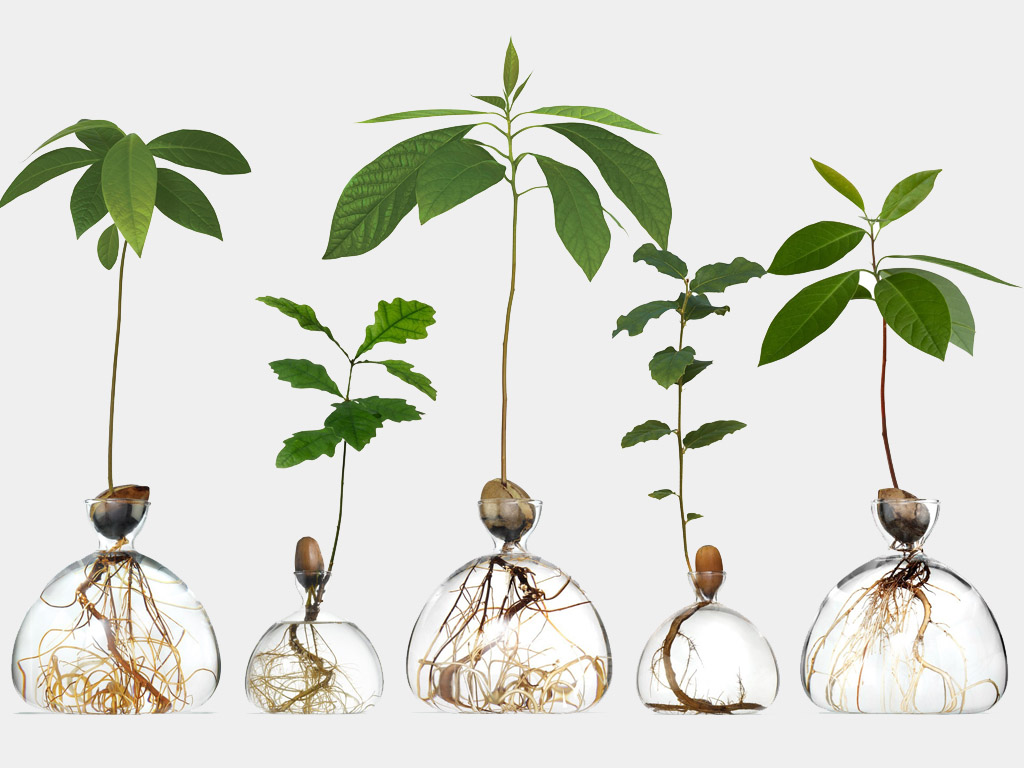 If you're feeling green-fingered, this perfect little vase can grow into either an avocado or an acorn tree. Once matured, the oakling can be replanted outside and the vase reused for a new acorn.
Avocado or Acorn Vase, Ilex Studio, £22. 
---
Vegan pampering and relaxing kit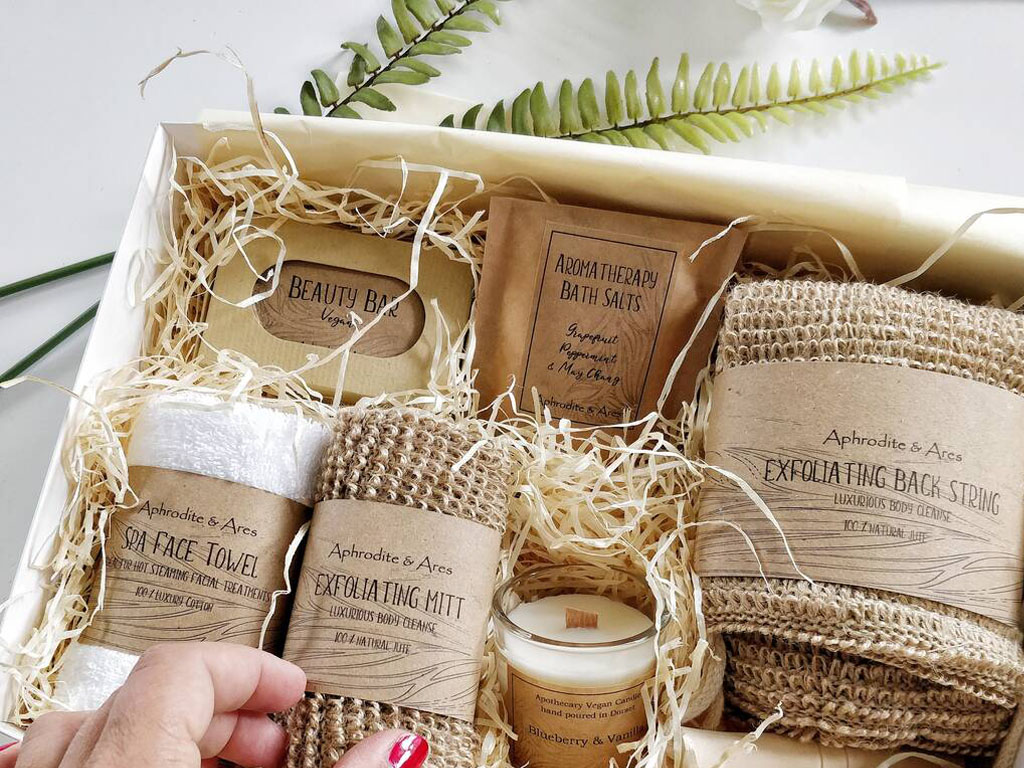 Not only is this indulgent kit vegan, it's also eco-friendly created entirely from recycled paper and eco ink. Its contents are equally as impressive, including artisan vegan soap, a spa face towel and plenty of scented vegan goodies.
Personalised Vegan Eco Pampering and Relaxing Kit, £22.90, Not on the High Street. 
---
Wildflower Seed Bombs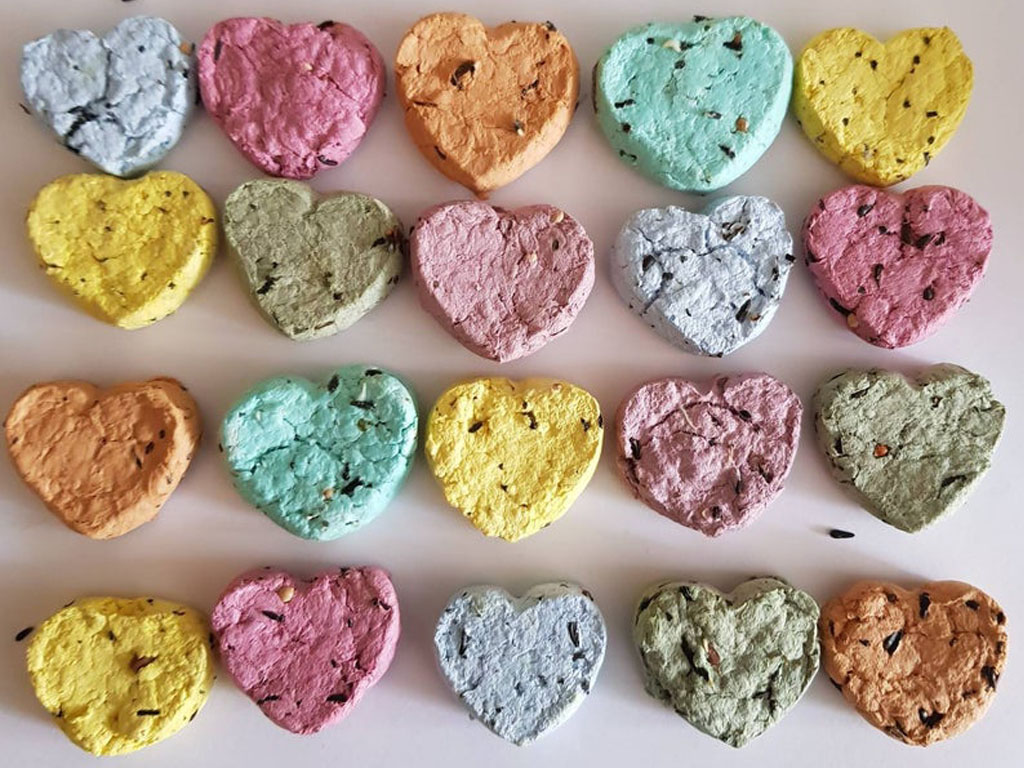 Unique and simply adorable, these handmade seed bombs are each made with recycled paper and contains wildflower seeds that once they have grown will attract bees and butterflies.
Wildflower Seed Bombs, LittleSoapBar, Etsy, £4. 
---
eco friendly Tumblers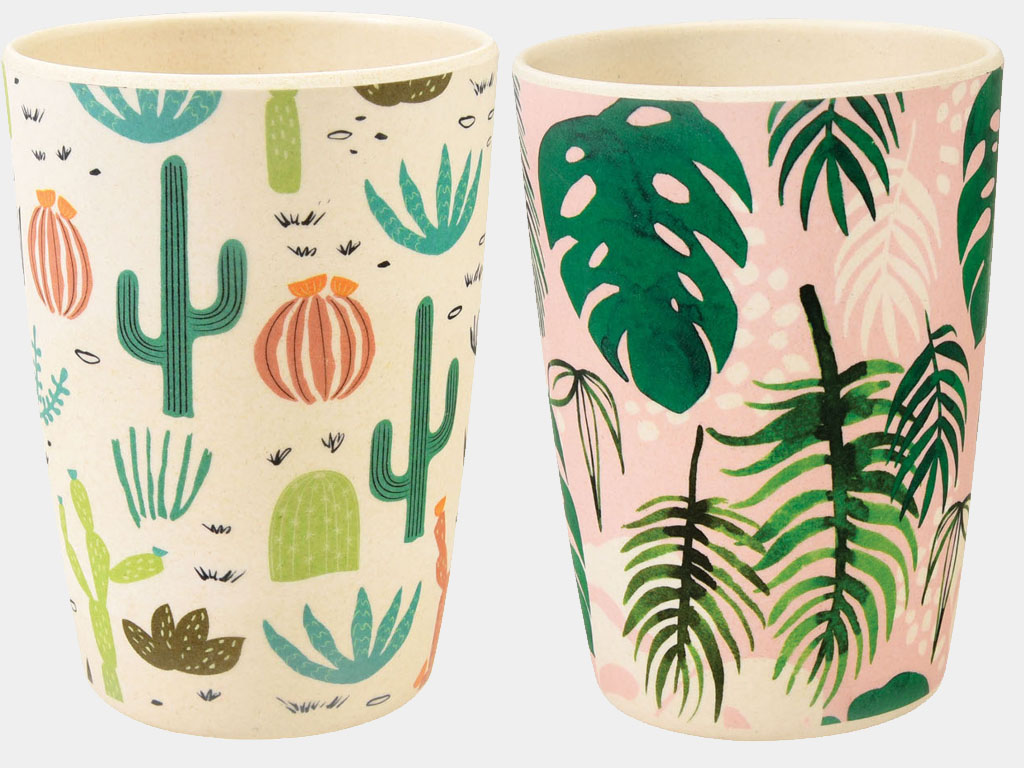 Bamboo is a trendy alternative to ceramics and these pair come with the most stylish patterns including cacti and tropical palms. Simply ideal for occasions such as garden parties or children's tea parties.
Desert In Bloom / Tropical Palm Bamboo Tumblers, £4.95 each, Ethical Superstore
---
Bamboo Cutlery Set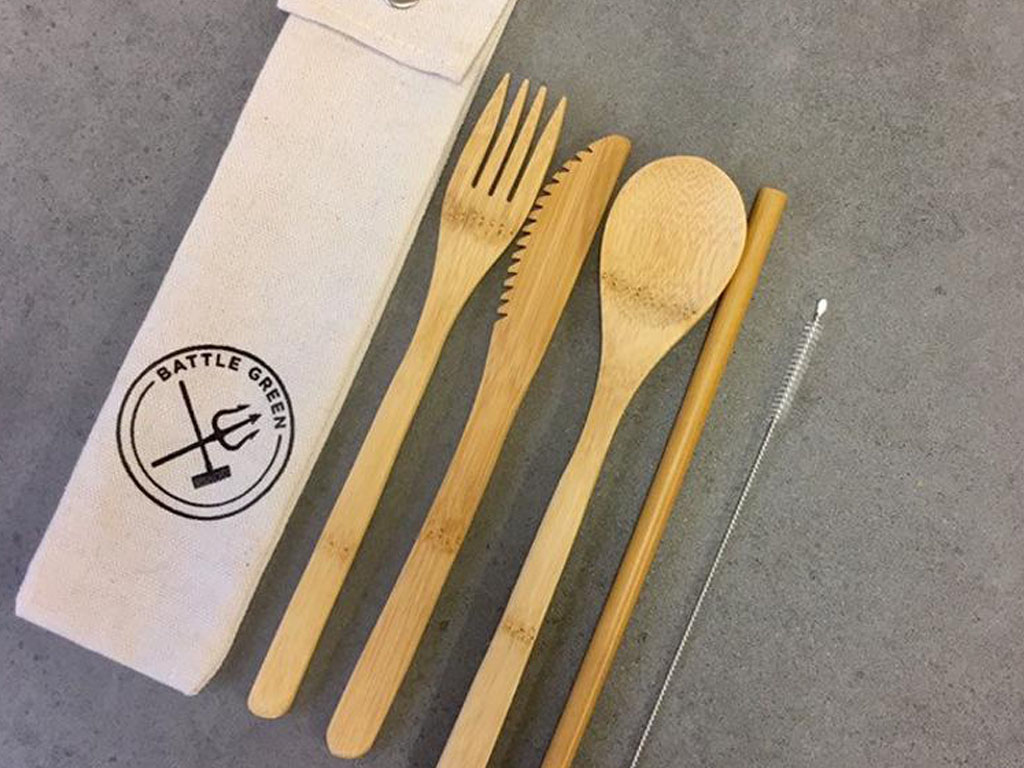 This travel eco-friendly bamboo cutlery set is light and compact, just perfect for throwing into your work, school or travel bag. Not only is bamboo a sustainable, biodegradable material, it is also naturally antimicrobial, strong and durable.
Bamboo Cutlery Set, £9.45, Etsy
---
Plastic Free Straws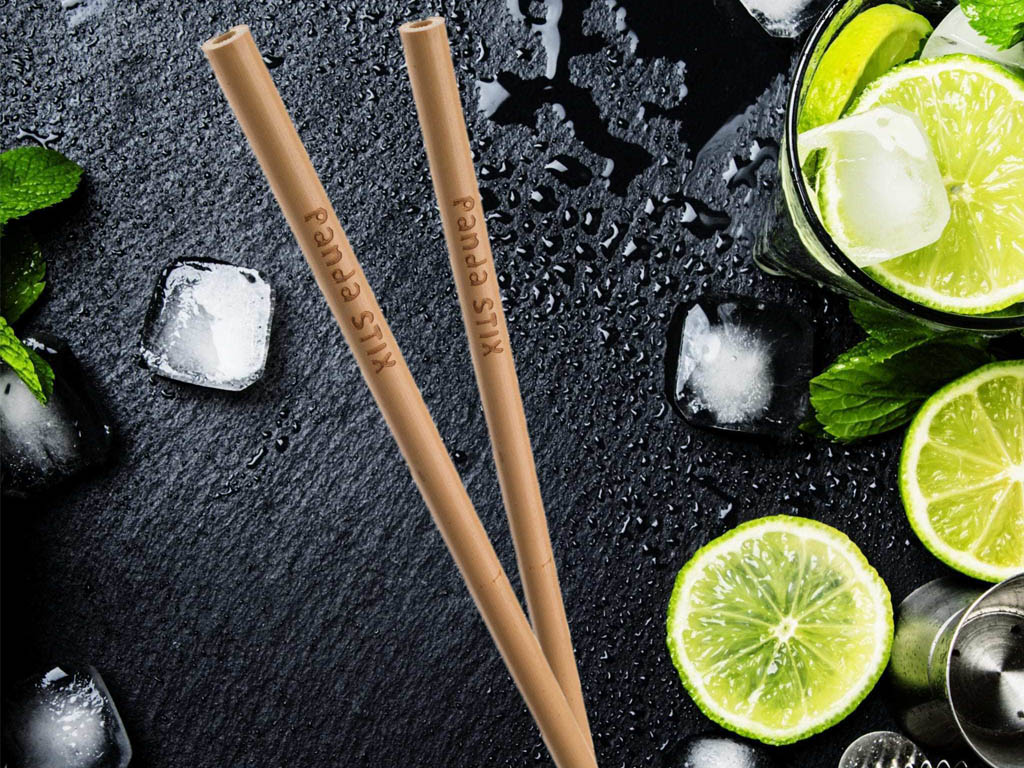 Eco friendly straws are a great way to enjoy your drink plastic-free but they also make a handy gift idea. Check out Panda Stix, their bamboo design is fully reusable.
Panda Stix Reusable Drinking Straws, £8.99, Amazon 
---
Succulent Ferris Wheel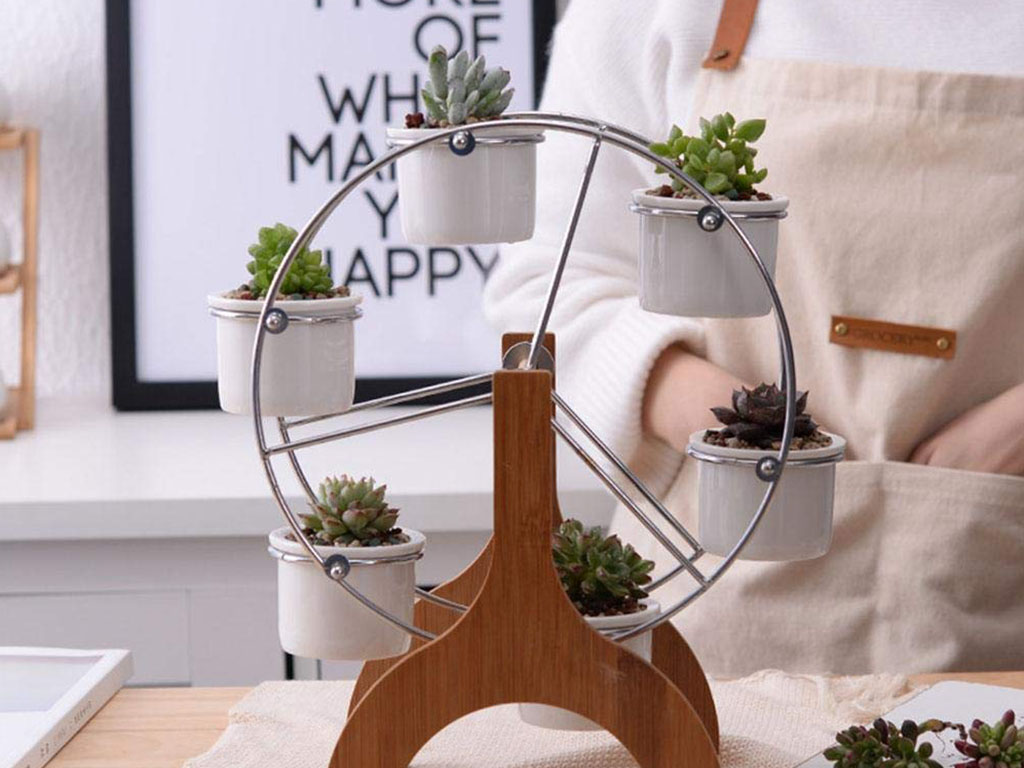 This fun and funky plant shelf is made of bamboo ensuring high decay and damage resistance. You can display it both indoors and outdoors for the ultimate succulents spectacle.
Ferris Wheel Shaped Ferris Wheel, £18.99, Amazon
---
Sustainable Wake Cup Zero Waste Gift Set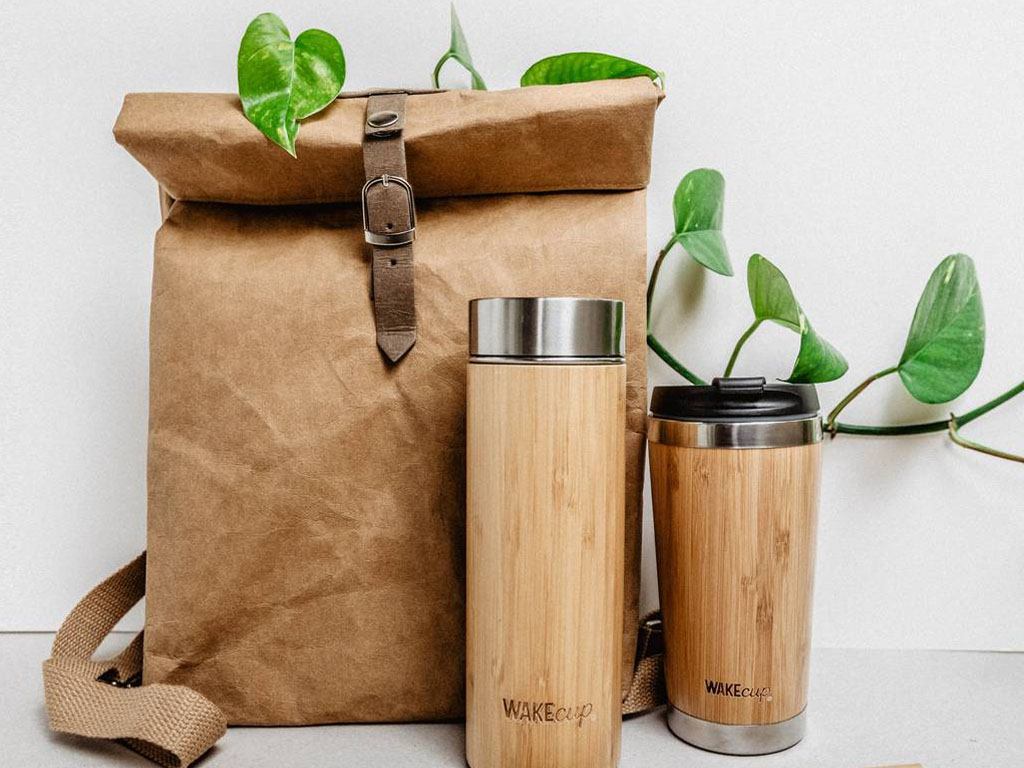 This stunning gift set includes a rucksack, water bottle, coffee cup and straws ideal for the aspiring zero waste warrior. Plus, 10% of the profits go directly to eco-charity partners The Marine Conservation Society and Plastic Oceans.
Global Wakecup Gift Set, £55, Not on the High Street
---
Bee Wax Food Wraps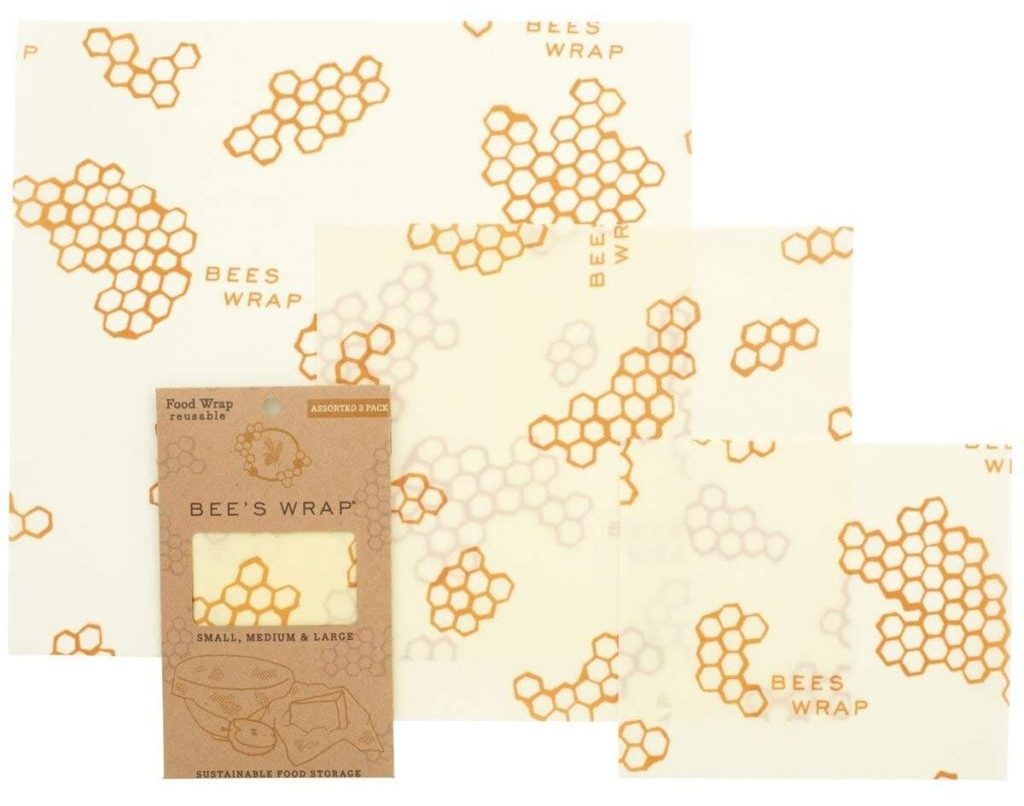 Made from organic cotton and packaged from 100% recycled paper, this sustainably harvested Bee's Wrap is a beautiful and practical solution to using plastic wrap and polluting the environment.
Bee's Wrap Set of Three, £14.20, Amazon
---
Indoor Wood Planter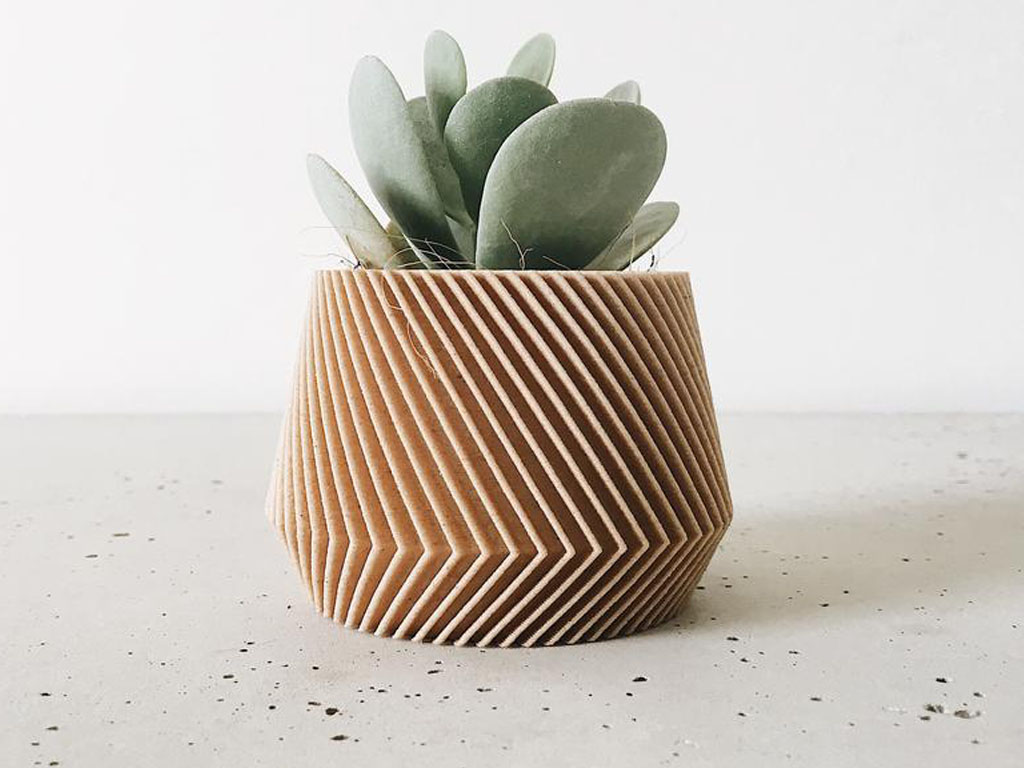 This plant pot is made of a vegetal and eco friendly material, a blend of recycled wood and bioplastic made from corn. Plus, you've got to admit it looks just so stylish.
Indoor Wood Planter, Minimum Design, £11, Etsy.
---
Plastic Free Shampoo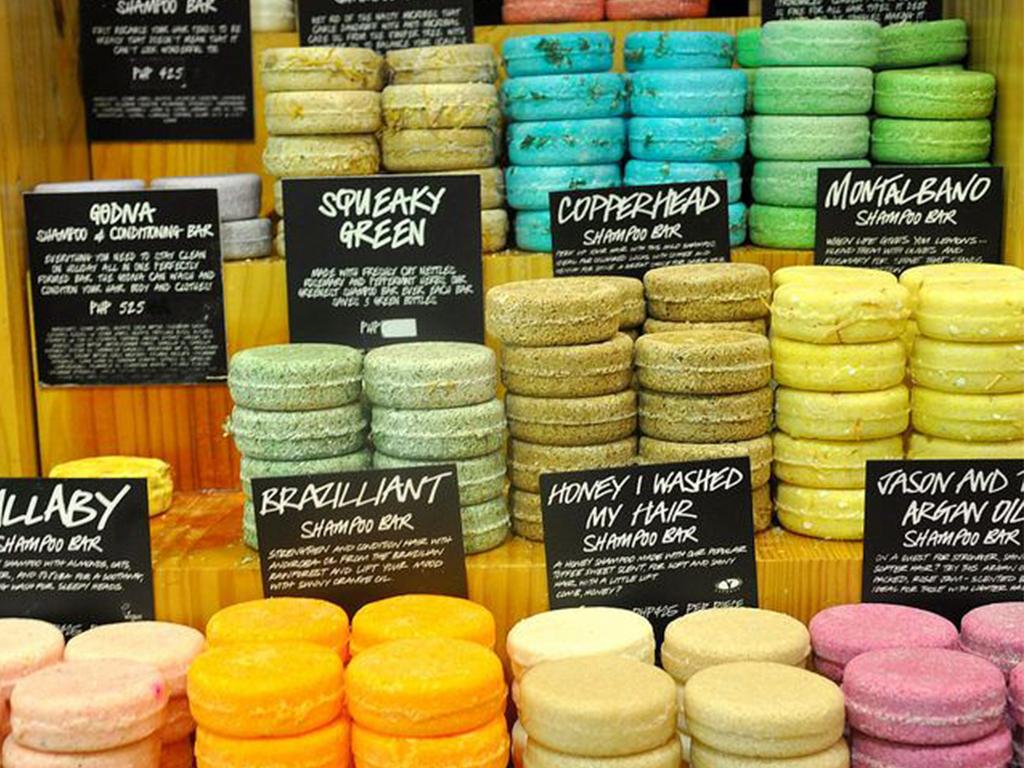 Any visit to Lush is sure to result in taking home plenty of scented delights, but its plastic free shampoo in particular makes for the perfect stocking filler.
Each bar comes bare, with no wrapping paper or container and can be left in the shower similar to a bar of soap.
Plastic Free Shampoo, £8 each, Lush
---
See: Plastic Free Shampoo is Here to Help Us Save the Environment
---
Natural Soy Candles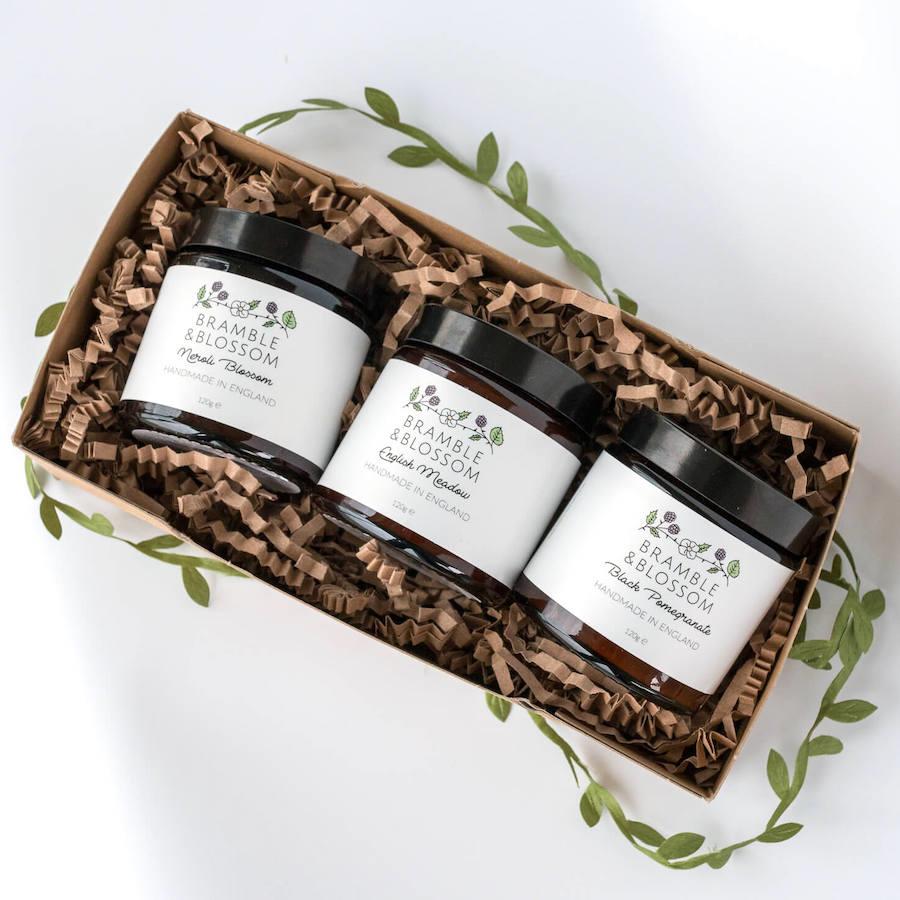 This eco-friendly soy candle gift set features three gorgeous scented candles in a stylish gift box. The candles are travel sized meaning each one is 120ml giving up to 20 hours of burn time each.
Bramble & Blossom Soy Candle, £30, WearthLondon.
---
Happy Place by fearne cotton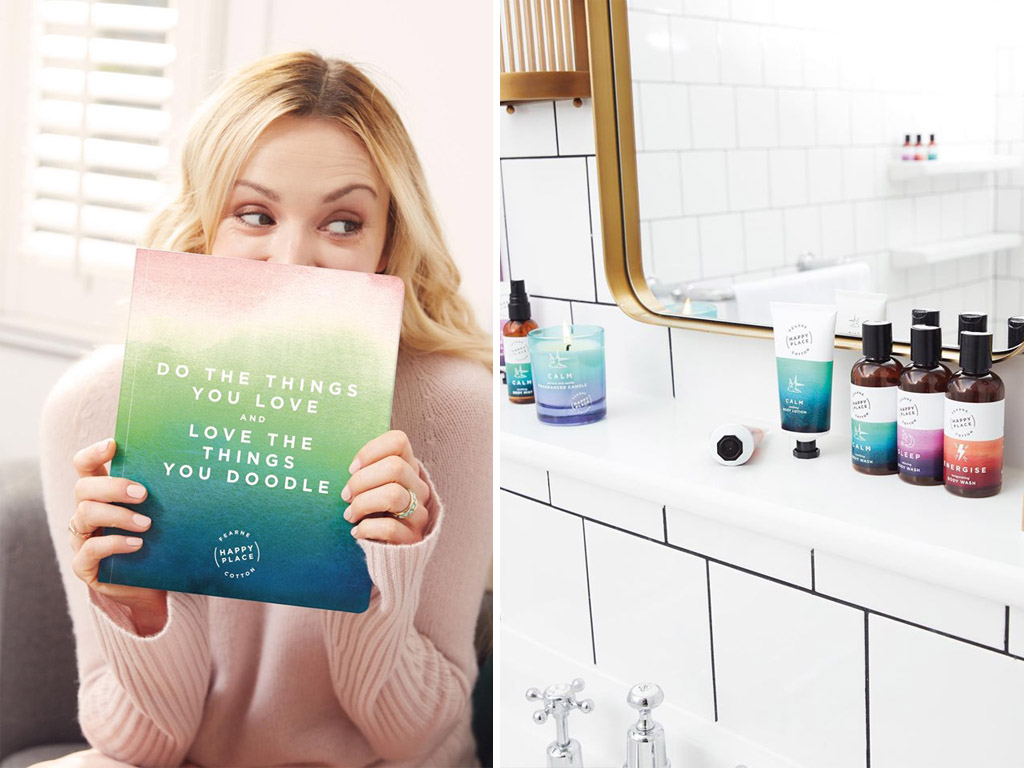 This dreamy mindfulness collection is created by broadcaster Fearne Cotton and aims to tackle problem areas in daily life.
The selection of body washes, doodle books and gift sets are made with 20% recycled plastic, while the outer paper packaging is 100% recyclable and features no plastic trays.
Happy Place by Fearne Cotton, From £10, Boots.
Sign up to the weekly Inspiralist newsletter and get the top stories delivered straight to your inbox.
Sign Up