If you're one for throwing away your Christmas cards after the event is over, then why not transform them into something special instead with a tree planting Christmas card box?
A new generation of Christmas card boxes is launching this year with each 10 card box planting 10 trees in an area of mass-deforestation.
The idea is an eco-friendly alternative to the 900 million Christmas cards that are sent to landfill each year, which are often wrapped in plastic or foiled/glittered making them non-recyclable.
See: 16 Eco Friendly Christmas Gifts Every Environmental Enthusiast Will Love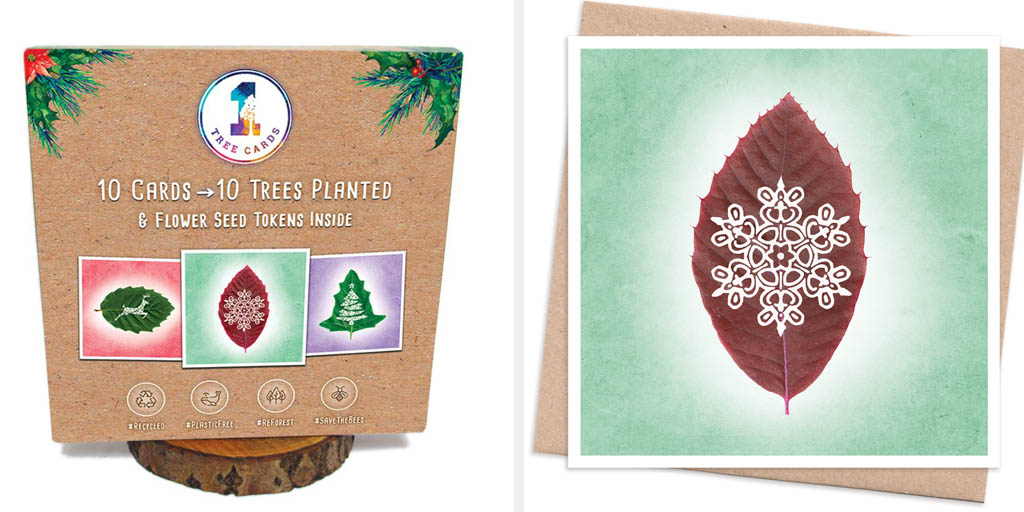 See: 10 Environmentally Friendly Christmas Ideas That'll Help You Enjoy a Sustainable Festive Season
The cards are created by company 1 Tree Cards who aim to shake things up in the greeting card industry with their 100% recycled, plastic-free cards that each plant 1 tree and include a flower seed token to raise awareness of and help feed declining bee populations.
The idea was born from the idea that the love sent through cards could be amplified to have positive effects around the world.
Every 1 Tree Card plants a tree through partner charity, Eden Reforestation Projects; whose planting projects act as a catalyst for good throughout communities.
There's currently two varieties of these eco card boxes; a more traditional watercolour style titled 'Tree Wishes' with each design depicting a single tree and a woodland animal in the snow and a 'Leaf Moments' style with festive symbols carved into leaves gathered from the Suffolk countryside.
Each box costs £13.99 for 10 cards or you can also pick up one card for £2.99 over on the 1 Tree cards website. 
Follow Inspiralist on Facebook and Pinterest for all your eco-friendly lifestyle and sustainable home decorating ideas.
Sign up to the weekly Inspiralist newsletter and get the top stories delivered straight to your inbox.
Sign Up