Having a wonderful holiday and taking care of the environment while you do it do not have to be mutually exclusive. Equally, you don't need a big hotel group to be environmentally friendly as a hotel.
Increasingly, the UK and Ireland's independent hotels, bed and breakfasts and restaurants with rooms are going to great lengths to make sure they are being as sustainable as possible.
Here, the Good Hotel Guide shares 10 of the top eco-friendly hotels in the UK in 2020.
The Zetter, London
An ultra chic boutique hotel in a former Victorian warehouse in Clerkenwell, The Zetter is a delicious fusion of the historic and contemporary, embodying cutting-edge design as well as a commitment to sustainable practices.
For example, they pump water from the hotel's own borehole under the building, newly built areas are created with timber from sustainable sources and it's fitted with air conditioning that cuts out when you open a window.
The hotel has also pledged to recycle all glass and paper.
Visit the Zetter Hotel online to book.
---
See: This Hotel and Wine Bar has Been Made Using Recycled Shipping Containers
---
The Scarlet, Mawgan Porth
This beautiful, award winning adult-only spa hotel, perched on the Cornish coast above the beach at Mawgan Porth is widely recognised as a leading eco friendly hotel in the UK.
In addition to its large windows and abundant natural light, there is a sense of celebrating the outside world at this wellbeing retreat, as well as looking after it.
They source responsibly, harvest rainwater, have a biomass boiler and its roof incorporates sustainable design, constructed from local sea thrift making it supremely popular with insects and butterflies.
They continue to aspire to greater levels of sustainability, and also have a Guest Gifting Scheme, which has been used to support Surfers Against Sewage – working for the cleanliness of our seas and beaches, and CoaST: One Planet Tourism Network – which is focused on researching, promoting, and enabling sustainable tourism in Cornwall.
Visit the Scarlet Hotel online to book.
---
See: The Max Table Is the Elegant Signature Furniture Item Every Home Needs in 2020
---
Pendragon Country House, Camelford
This former vicarage turned B&B on Bodmin Moor is architecturally inspiring, wonderfully welcoming and beautifully decorated with four poster beds and iron roll top baths.
While its charm is historic, the venue also has a forward thinking environmental impact policy. Owners Sharon and Nigel Reed have introduced a biomass boiler, solar thermal water heating and Solar PV for electricity.
For their efforts they have a Green Tourism gold award, recycle, and buy Fair Trade products wherever possible, and actively encourage guests to explore the surrounding area on foot or using public transport.
Visit the Pendragon Hotel online to book.
---
The Old Rectory, Martinhoe
Surrounded by the dramatic beauty of Exmoor, it's little wonder The Old Rectory is inspired to take care of the local environment.
The property is ancient, but owners Huw Rees and Sam Prosser are very much forward thinking. LED lighting and thermal insulation are just the start of their green thinking.
They proactively work towards minimal chemical use in cleaning products and those used in the grounds, have showers instead of baths, compost vegetable waste, harvest rainwater for use in the kitchen garden, replace bed linen every third day unless on request.
They recycle all materials possible, provide environmental awareness and training for staff and have a dedicated environmental champion driving forward new initiatives.
Visit the Old Rectory Hotel online.
---
Kylesku Hotel, Kylesku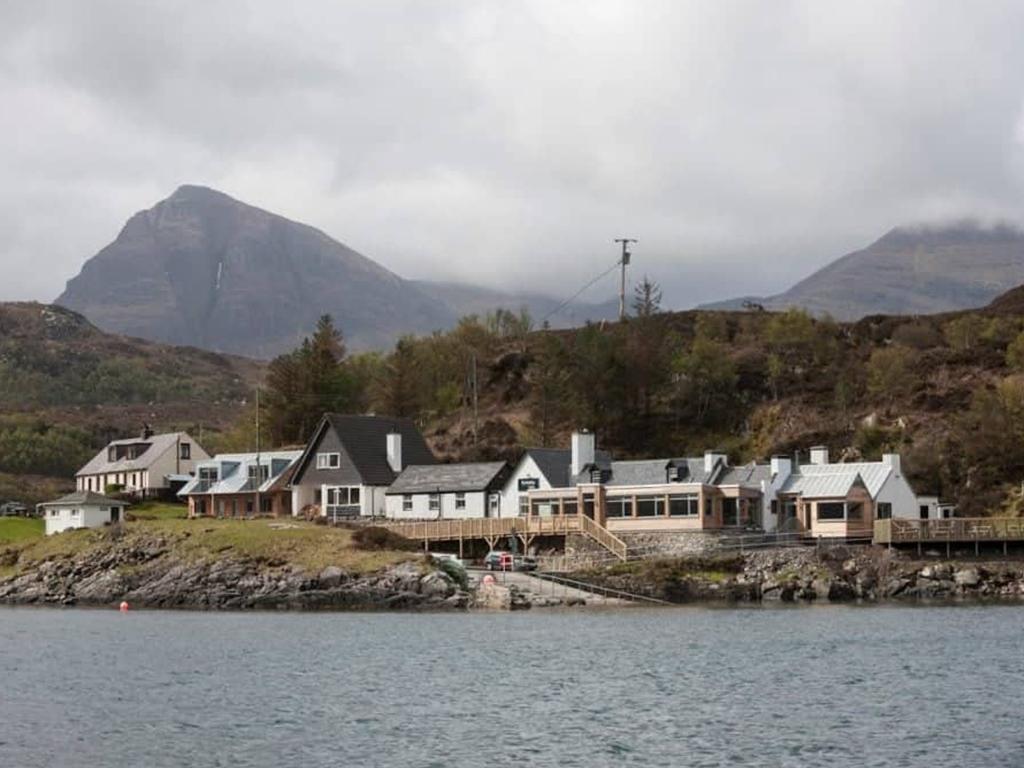 This elegant hotel in the Scottish Highlands is a former 17th century coaching inn overlooking Loch Glendhu, and the natural surroundings are an intrinsic part of your visit here.
Watch seals basking from your bedroom window, and enjoy fresh seafood caught locally and landed on the slipway outside that day. While modern additions allow you to take in more of the views through large windows, it's also a reminder of the inextricable link between the natural landscape and the joy of the hotel.
The emphasis is on sustainable Scottish produce, talking in food metres as opposed to food miles, with lobsters, langoustines, crabs and spineys caught and fished in the waters surrounding the hotel and the marine protected areas of the Summer Isles, and scallops hand-dived just along the coast.
Meanwhile, entertainment is about walking and enjoying the simple pleasures that the environment has to offer.
Visit the Kylesku Hotel to book.
---
Underleigh House, Hope
This luxury bed and breakfast in the Peak District offers guests the chance to relax and unwind in Derbyshire countryside whilst also celebrating and enhancing the environment.
They were awarded the Peak District Environmental Quality Mark for their conservation efforts in the Peak District National Park, which they do in part by nurturing the garden's ecosystem with nest boxes, newts in the pond and buzzards flying overhead.
They also have an electric car charging point, solar power and breakfasts are locally sourced, celebrating the region's abundant produce to help it become one of the best eco friendly hotels in the UK.
The visit the Underleigh House Hotel online to book.
---
Y Goeden Eirin, Caenarfon
This charming guest house and beach cottage near Caernarfon is a welcoming and rustic retreat that works hard to take care of the environment.
Guests wake to delicious breakfasts, much of which is sourced from the hostess's own garden and the rest of which is from local suppliers.
You will also find solar panels, recycling instructions in your room to encourage guests to be responsible whilst travelling and visiting the area.
Visit the Y Goeden Eirin Hotel online to book.
---
The Old Vicarage, Newtown
A red brick retreat just outside Newtown, The Old Vicarage is, unsurprisingly, a former Victorian vicarage turned luxury B&B.
Guests arrive to find an electric charge point for their cars, salads, herbs and vegetables grown on site, eggs produced by the B&B's own hens, and a beautiful wildlife pond to admire in the gardens.
It's a tranquil escape that's a wonderful reminder of the beauty of enjoying the natural world and a good book.
Visit The Old Vicarage Hotel online to book.
---
Caemorgan Mansion, Cardigan
A five star guesthouse on the Cardigan Bay coastline, Caemorgan Mansion is an enchanting property with pretty gardens and a clear conscience about limiting their impact on the environment, helping it to become one of the UK's best eco friendly hotels.
As such, renovations have included a number of sustainability measures. It might be a 19th century property, but it's equipped with LED lighting, a solar power system and a biomass boiler.
Visit the Caemorgan Hotel online to book.
---
The Old Presbytery, Kinsale
In the centre of the town of Kinsale, The Old Presbytery is a five star Georgian guest house complete with a traditional bed and breakfast, which also offers self catering accommodation.
Guests are welcomed like old friends at this chocolate box perfect escape, and can relax in comfort, knowing that eco-friendly policies include initiatives such as water heated with solar power; recycled paper, plastics and glass; and that food miles are kept to a bare minimum – even the coffee is roasted close by.
Visit the Old Presbytery Hotel online to book.
Sign up to the weekly Inspiralist newsletter and get the top stories delivered straight to your inbox.
Sign Up