Storing towels can be a challenge in the smallest of spaces and nobody wants to pick up a damp towel from the floor at the end of a relaxing shower.
Fortunately, there's a wide selection of storage solutions out there.
Whether your bathroom vibe is chic and sophisticated or fun and funky, these towel storage ideas are perfect for every kind of bathroom.
See: Simple Ways To Maximise Your Bathroom Storage Situation
over the door Bathroom door hooks
A simple and budget-friendly idea, hooks can easily be applied to your bathroom door, immediately creating a clutter-free environment.
In the convenience and style stakes, go chic with an over the door bamboo rack or get creative and choose sloths! It's entirely up to you.
Sloth Over-the-Door Hook, Urban Outfitters, £25. 
---
Suction Bathroom Door Hooks
You don't always need to put a hole in your door. Of course, there's always the standard one hook option, but keep it easy breezy by choosing suction-style.
Adhesive Hook for Towels, Amazon, £13.88. 
---
BAMBOO TOWEL RACK
Preferable for chic bathrooms, a bamboo towel rack typically has a ladder design making it pretty eye-catching from the outset!
Its tranquil wooden design has plenty of space for towels and clothes, while its stunning design adds an atmosphere of relaxation and peace in your bathroom.
Bamboo Linen Rack, Tikamoon, £29
---
flat-pack Bathroom Shelf
Not only does this idea perfectly store your folded towels, it also holds your plants and nick nacks in one handy place.
You may be even be tempted to include all your plants instead to create a delightful vertical garden and leave the towels in the cupboard!
Keefer Bathroom Shelf, Wayfair, £64.99 
---
Heated Towel Rail
For those who love a bit of luxury, you just can't go wrong with a heated towel rack.
Milano Lustro Chrome Flat Panel, Best Heating, £194.95. 
---
Metal Bathroom Shelf
A super stylish place to put your bits and pieces and hang your towels!
Stella Metal Bathroom Shelf, Tikamoon, £89 
---
Hanging Wooden Rope Towel Ladder
Add a little jungle flair to your bathroom and save space in the process with this genius hanging rack.
Hanging Wooden Rope Bathroom Ladder, Amazon, £18.50 
---
Towel Rack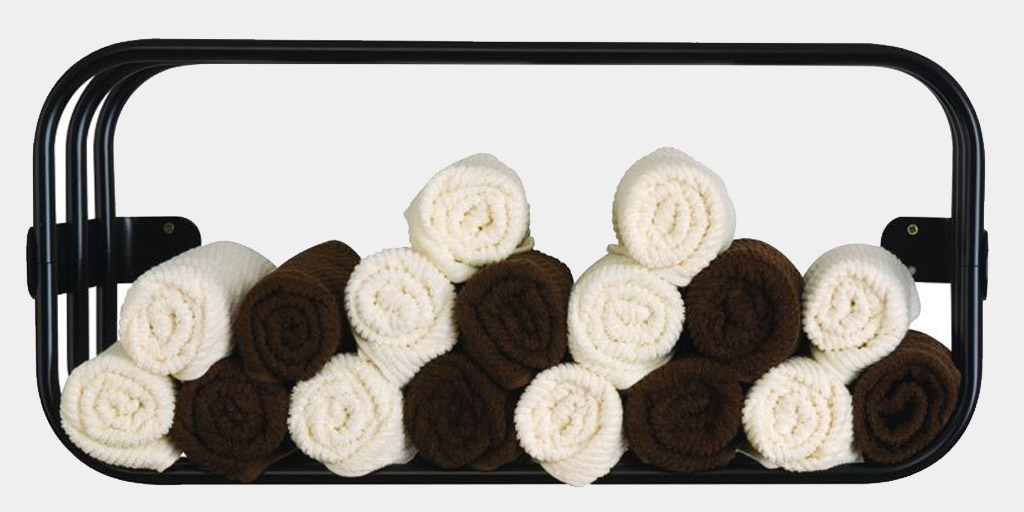 If you're a bit of Marie Kondo fan and love rolling your towels, this might just be the space saving solution for you.
Lotus Uno Towel Rack Black, Salons Direct, £45. 
---
Modern-Style Towel Ring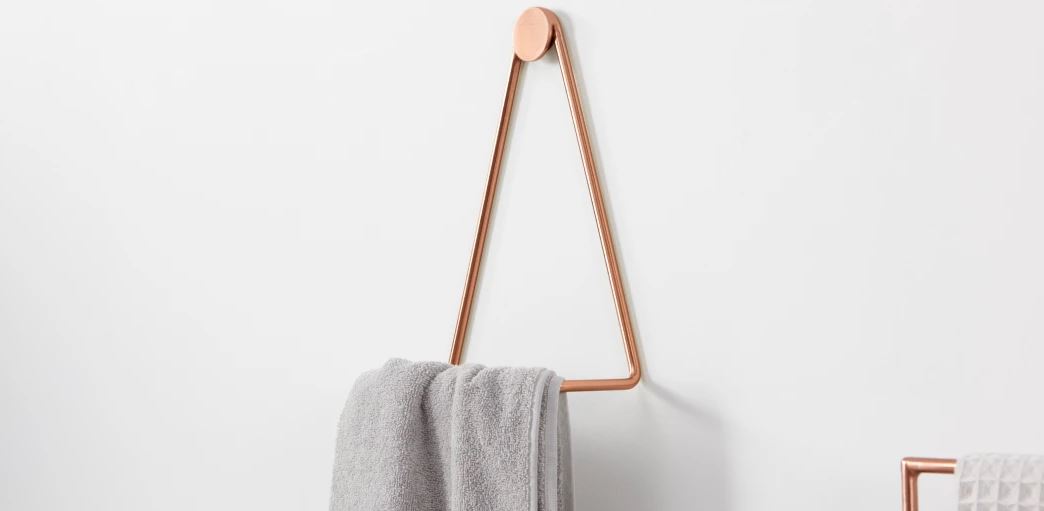 For a chic and stylish upgrade to your bathroom, why not hang your towels on a copper ring?
Bran Wall Mounted Towel Ring, Made.com, £19
Follow Inspiralist on Facebook and Pinterest for all your eco-friendly lifestyle and sustainable home decorating ideas.
Sign up to the weekly Inspiralist newsletter and get the top stories delivered straight to your inbox.
Sign Up