To help make sure lie-in's on the couch or lazy days in bed offer the most snuggle and cosiness, Bearaby have released a set of new sustainable weighted blankets.
The new weighted blanket collection from the sustainably focused home interior specialists aim to make those lazy moments in bed or on the couch that bit more comfortable, adding an extra layer of warmth with a blanket made using all-natural materials and is completely biodegradable.
See: TIPTOE's Sustainable Furniture Collection Hopes to Change The Way People Decorate Their Homes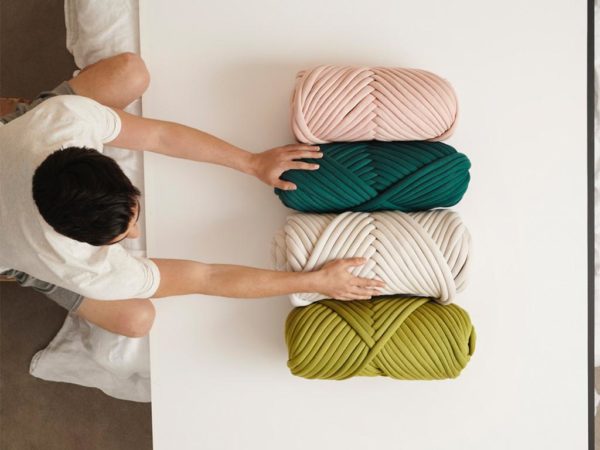 See: A New Kind Of Urban Farm Is Taking Over Fruit and Veg Delivery
Beardaby's mission is to free the planet from sweaty, plastic-filled, synthetic weighted blankets that are uncomfortable to snuggle under and bad for the environment.
Each blanket is made from layers of Tencel, a fabric created from Eucalyptus tree wood pulp, that has been woven together with other plant-based materials to create the perfect hand-knitted cocoonable, couchworthy companion. There are no plastic materials or harmful synthetic fillers used, and each blanket is vegan friendly.
And even with the warmer, summer months ahead, the Bearaby blankets won't make you overheat or feel uncomfortable. The all-natural blankets have been designed to be breathable, cooling and offer a calming feeling for the body and mind.
Bearbay offer two different blankets, the Tree Napper and the Cotton Napper, plus a Sleeper, which is a duvet for beds, and sleep covers for the Sleepter. The blankets all come in a variety of colour options and a three different weights – 15lbs, 20lbs, and 25lbs.
Prices for the Bearaby weighted biodegradable blankets range from £99 for the Sleeper covers to £279 for the 25lbs Tree Napper. All are available to order from Bearaby online.
For more information on the Bearaby weighted biodegradable blankets visit Beardaby online.
Follow Inspiralist on Facebook and Pinterest for all your eco-friendly lifestyle and sustainable home decorating ideas.
Sign up to the weekly Inspiralist newsletter and get the top stories delivered straight to your inbox.
Sign Up