We all want our gardens to look great but some garden furniture is so pricey that it becomes a choice between buying a new piece of furniture for indoors or outdoors.
And as we spent most of our time indoors (certainly in the winter months) we invariably choose to prioritise indoor updates, leaving the garden unfairly neglected.
We have scoured the gardening market to find you the best budget garden furniture, all retailing at under £100.
As we will show, it doesn't have to be either/or. Your garden can get the beautiful look and feel it deserves and at the right price too.
Outdoor storage
We are always quick to recommend the necessity of indoor storage solutions but sometimes we forget that the garden can get messy too. A watering can here, a plant pot or garden tool there can start to add up and affect the tranquility of our gardens.
IKEA's outdoor shelving unit can suit everyone's outdoor garden needs. It can also turn a small balcony into a mini garden by arranging plants on the shelves. Multifunctional, affordable and it looks great. A must for any garden or balcony.
 £45, Outdoor shelving unit, IKEA
---
4-piece furniture set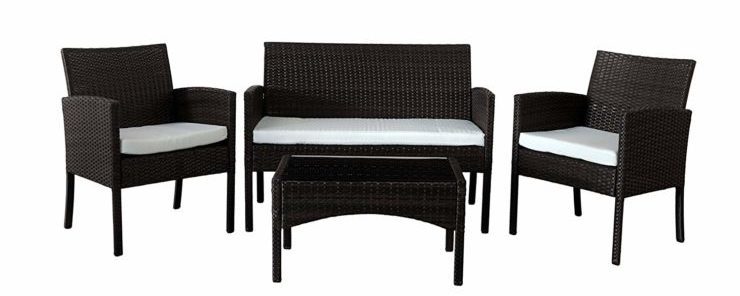 This stylish four-piece set comes in just under budget – at £99.99.
The whole family can fit around these black rattan chairs. The beige showerproof cushions also mean you will be sitting comfortably too, unlike some garden seats.
The scratch resistant tempered glass tabletop is ideal for sitting your drinks or books on, or just putting your feet up and relaxing. The furniture has been designed to withstand most weather conditions so very little maintenance is required.
£99.99, Black rattan 4 piece furniture set, Amazon
---
Macrame hanging chair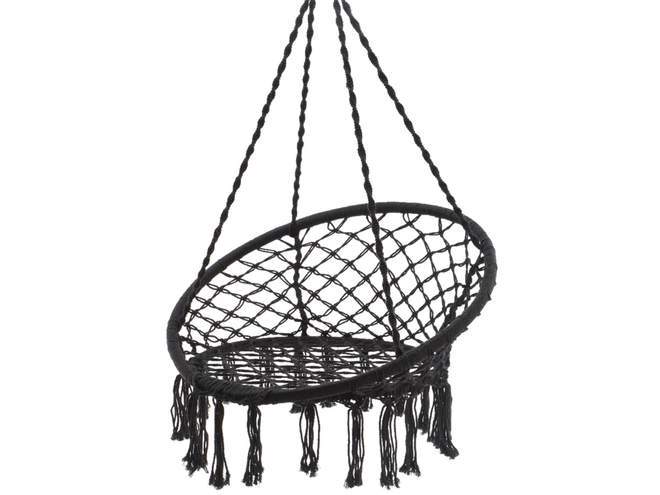 The recent seventies revival has brought the artform of macrame back into fashion.
Usually consisting of one metal hoop adorned with fabric and hung on walls, this form has been altered in this design to make it suitable for secure hanging.
Black rope is secured to two metal hoops and designed to be hung from sturdy tree branches. This piece looks classy and is both fun and relaxing – but only if you don't exceed the 100kg weight allowance.
 £65, Ella James Black Macrame Hanging Chair, Not on the High Street
---
Family hammock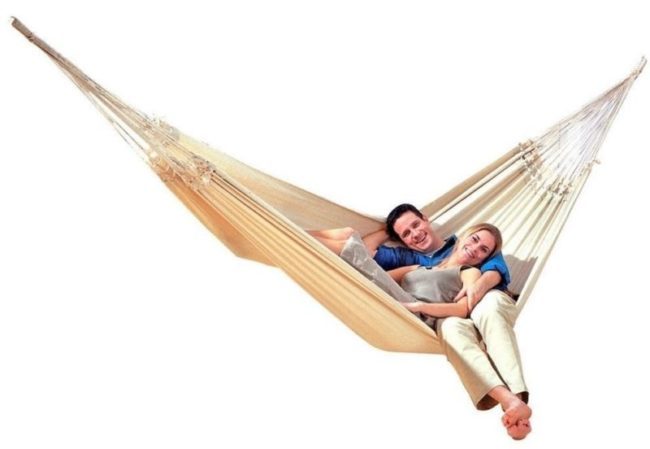 There's not a more pleasing piece of garden furniture than a hammock. Fact. It conjures up images of sun-streaked deserted islands, with not a care in the world. This hammock is Brazilian made, and they know a thing or two about properly relaxing.
With a thread count of over 5000, this hammock is super soft and extra sturdy. It has a max load of 200kg which means mum, dad and a little (child or pet) one can all nestle in for a garden snuggle. A hammock is one purchase we fail to see how you could ever regret.
£37.99, Vivere Cotton Double Paradise Brazilian Hammock, Amazon 
---
Parasol with base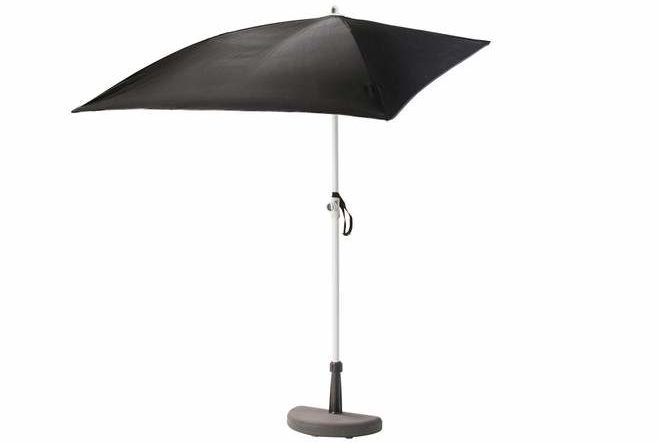 OK, so we might not need a parasol at this time of year but it also keeps out rain.
The unusual feature about this parasol is that its half-circle concrete base and height-adjustable umbrella can sit flush against the wall. Fantastic for gardens where space is at a premium.
This design also works perfectly if you only have a balcony. It also comes with a strap for securing it to a balcony rail. This parasol is a bargain compared to other parasols on the market, which tend to be costly and often require the separate purchase of a base.
We recommend you get it now for next summer while it's still available at this bargain price.
£35, Flisö/Bramsön parasol with base, IKEA
---
For even more ideas and inspiration for your home, pets, garden and family life like us on Pinterest and Facebook
---
Sign up to the weekly Inspiralist newsletter and get the top stories delivered straight to your inbox.
Sign Up