Whether you're looking to jazz up a room or simply fancy treating yourself, a home subscription box is a great way to get what you love.
These perfect picks are generally based around the concept of home decor in a box.  From plants to quirky home accessories, there's everything here to keep you occupied for hours, all from the comfort of your own living room.
bloombox club
From small to large, kooky to graceful Bloombox Club offers a wide selection of plants to your door.
The concept was created by Dr of Pyschology Katie Cooper who set up the subscription club to spread the word about the benefits of greenery in the home.
Plant subscriptions start from £35 and include Classic, Classic Plus, Special and Gift Subscriptions. 
---
See: Eco Craft Kits Are the Ideal Way to Get Creative at Home
---
Lovely Box
Lovely Box is a monthly candle and scented subscription service that'll send you a hand-curated, themed candle box every month. As an added bonus, it even helps you discover some of the best artisan makers and includes at least 4 seperate products inside.
Monthly subscription costs £ 24.95, with 40% off first order. 
---
See: These Desk Plants Will Brighten Up Any Makeshift Home Office
---
Interior Design Box
Love interior design and fancy receiving home accessories to your door? Then you need Interior Design Box.
Each month, it's packed with quirky little touches for your home chosen by an interior designer such an ornaments and photo frames.
Monthly subscription costs £40 for Subscription Box or £45 for Gift Subscription Box.
---
From the Post House
From the Post House specialises in seasonal homeware, curating and delivering home accessories to your door inspired by different regions of the UK.  The box is available quarterly or one-off, and focuses on sustainability that's perfect for eco-homeware lovers.
Quarterly and one-off subscriptions available from £55. 
---
See: 5 Ways to Incorporate Natural Home Decor into Your Home
---
pasta evangelists
If you're looking for a quirky way to make fresh pasta dishes at home, check out Pasta Evangelists. These guys specialise in pasta kits delivered to your door that includes pre-portioned fresh pasta, sauces and garnishes.
You can even choose from a weekly menu of 10 "mind-blowingly delicious" dishes.
Pasta subscription gifts start from £7.65.
---
uOpen
uOpen specialise in several home subscription boxes, including  plant and candle  subscriptions.
You can also pick up a 'Green Future Box' that's filled with plastic-free treats to help you lead a better eco-lifestyle.
 Home and living subscription boxes start from £7.25 per box. 
---
The At Home Box
If you love a touch of luxury in your home, then look no further than The At Home Box.
Whether you enjoy interior decorating to liven up a room or a little self-pampering to feel rejuvenated, this little gem is full of fabulous goodies to brighten up those dull days.
Interior subscription box available from £39.95. 
---
flowerbe Botanical Box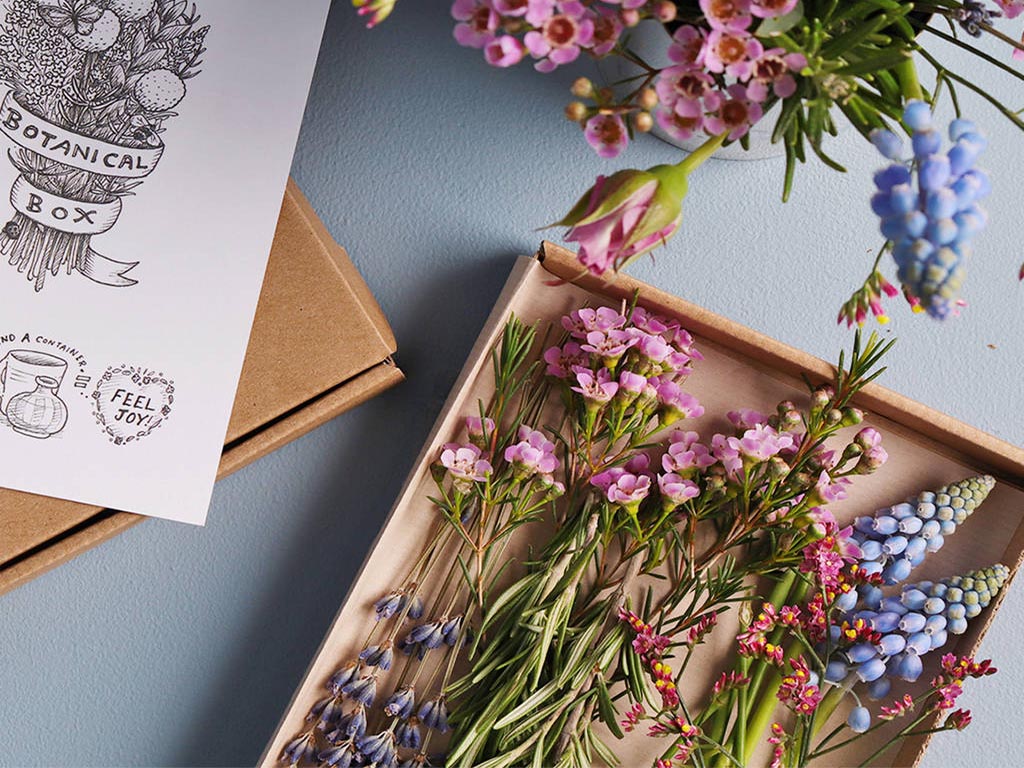 There's nothing quite like flowers to cheer you up and FlowerBe have created the ultimate dream box for fans of all things botanical.
Their mini-posy box contains the sweetest selection of aromatic and seasonal floral ingredients, including lavender and eucalyptus.
Botanical box available from Not on the High Street for £12.95.
---
Coffee and Book Club Subscription
Nothing beats settling down to a good book… excpet where there's coffee involved. This quirky club involves just that, pairing a vintage book club with the benefits of coffee. Every month, you'll enjoy a good paperback with ground bean beverage on the side.
Monthly subscription available from Bookishly for £27
---
Merkababox
If you're one for adding crystals around the home, Merkababox might just be for you.
Each monthly Merkababox is curated to a theme and includes a variety of books, candles, crystals, aromatherapy oils, superfoods and jewellery. You might even find a spot of decor or a cosmetics and supplements in your box.
Monthly subscription box available from £35. 
---
Zed Bees
Each month, Zed Bees delivers plastic-free bathroom essentials directly to your door – or as and when you need it. It's filled with delightful additions such as soaps, shampoo bars and toothpaste tablets dedicated to championing zero waste.
Personalised boxes start from £9. 
---
See: The Best Pet Subscription Boxes
---
Craftiosity
If you love creativity and trying new crafts, or want to delight your favourite crafter, a craft subscription box is the perfect way to try out a new hobby.
Craftiosity will send you a limited edition modern project each month, with flexible subscriptions and gift options available.
Monthly subscriptions are £24.95/month with free UK postage, or you can buy a gift voucher.
---
Beards & Daisies
Not sure which plant to go for? Each month Beards & Daisies sends out a plant from their collection of rare, unusual or simply stunning indoor houseplants, along with a perfectly fitting ceramic plant pot.
Subscription packages include everything from unkillable to pet-friendly houseplants.
Monthly plant subscriptions available from £24.99.
Follow Inspiralist on Facebook and Pinterest for all your eco-friendly lifestyle and sustainable home decorating ideas.
Sign up to the weekly Inspiralist newsletter and get the top stories delivered straight to your inbox.
Sign Up