Smart home gadgets are becoming increasingly popular and you can see why. Who wouldn't want to turn the lights by a simple voice command whilst watching a movie,  or be able to turn the heating on from your smartphone before you drive home?
Your home can now alert you when it thinks it's spotted an intruder – and send you a picture of them! We've compiled a guide to the smart home devices you'll need in order to have the home of the future in the palm of your hand.
Smart thermostat
Coming home to a cold house on a winter's evening is so 20th century. The Nest Learning Thermostat claims to pay for itself by saving you money on your energy bills and it's hard to disagree with that claim.
The Nest is not controlled solely by your smartphone; after one week of observing your heating habits it will start controlling your heating based on what it learned from your preferences.
By measuring the distance of your smartphone The Nest will sense your home is empty and switch to eco mode to avoid wasting energy. If you are at home and want to alter the thermostat, simply ask Alexa to turn the heating up or down.
The convenience of remotely controlling your heating added to the cost benefit of saving your energy bills make this a no-brainer piece of kit in your smart home.
---
Security camera
Home security is can be a worry, but thankfully in the age of smart home devices, you can now find peace of mind. The Netatmo Smart Indoor Camera uses face recognition technology to send you alerts when an unrecognised intruder enters your property.
The alerts come in the form of a photo of the face of the intruder and a video recording sent to your smartphone. You can identify any loved ones or expected visitors via the app and even tell the camera to stop recording when these faces are recognised, giving them privacy.
When the Netatmo hears any security, smoke or co2 alarm it will also notify you and start recording video.
You can choose to tune into live streaming anytime on the app. The camera has Apple Watch support and uses your Dropbox account in conjunction with a memory card in which to store recordings. The abundance of features and storage options leaves Netatmo securely in pole position over its rivals.
---
Smart lock
So we're making keys obsolete now? Keys? Well not quite. The great thing about the August Smart Lock Pro + Connect is that the door lock installs inside of your door, so your exterior hardware does not change.
You can use your existing keys any time, which is handy for a back-up and peace of mind. Never again have to fumble for your keys as the smart lock will sense you coming and unlock automatically.
The time-honoured tradition of leaving the key under the mat for a friend or relative could also be a thing of the past. With the August Smart Lock you can send keyless access to family, friends, housekeepers and others, without worrying about lost or copied keys.
Again this system is compatible with the Amazon Echo, so locks can be adjusted remotely by voice command. Smart locks could be a real life saver to people with debilitating OCD, who feel the compulsion to continually go back and check the door lock. The smartphone app clearly displays whether the door is locked.
---
Smart bulbs
By now your home feels pretty smart, but does it look the part of a futuristic habitat? Lifx have a range of smart bulbs, some containing a choice of 1000 shades and 16 million colours.
The changing of colours is controlled by an app which allows you to select via colour wheels. Shades of white are also available for boring people. Nice and bright, these bulb are a smart looking touch to a smart thinking home.
---
Robot vacuum
The demise of chores. Sounds great doesn't it? However it's an expensive luxury as most robot vacuums cost upwards of £500. The best in the business, the Dyson 360 Eye, is priced at £799.
This helpful bot will navigate around your home using infrared and a camera. It even features tank tracks to navigate over any obstacles or unfortunate pets. The Dyson Link app even allows you to schedule a clean when you are away from home.
The app will also monitor the robot's cleaning performance by mapping where it has cleaned. Dyson claim this model has twice the suction power of any other robot vacuum. It's happy to scoot around cleaning on any floor surface, not just carpets.
---
Smart coffee machine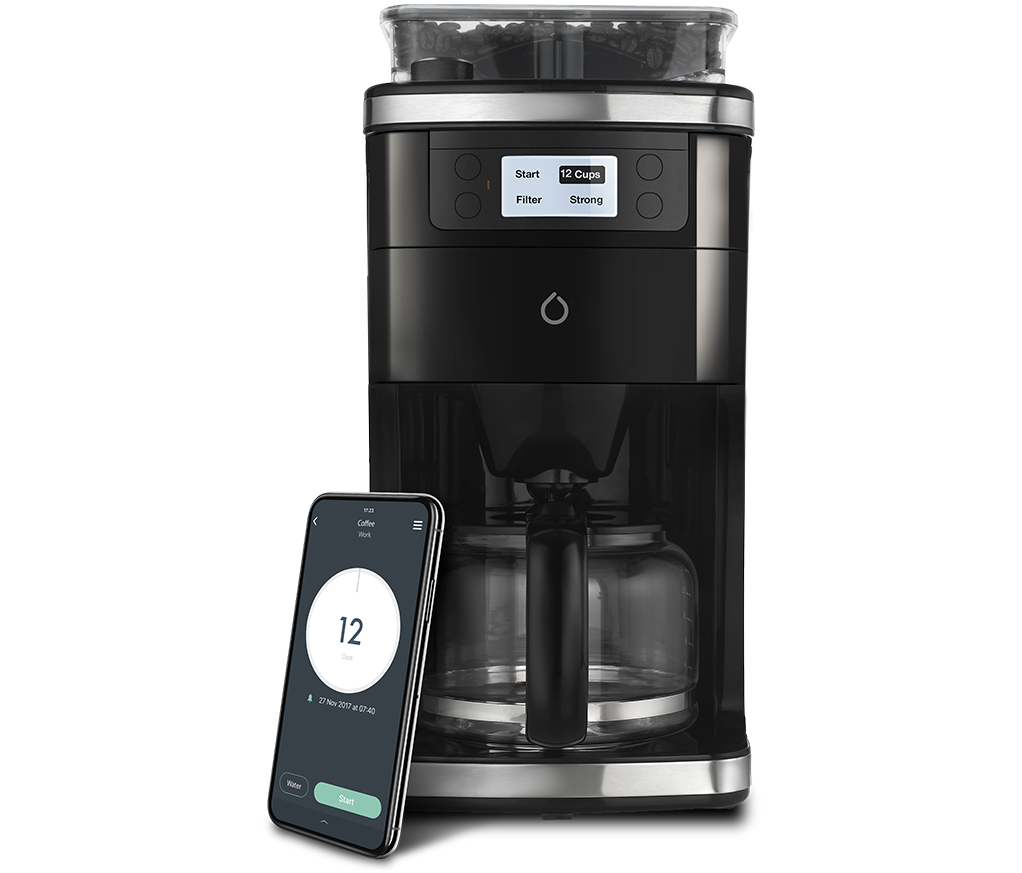 Even though you're now basically doing nothing for yourself, who doesn't want a reviving coffee to kick-start the day? But there's still the hassle of getting up and making it… Not any more, there's not! Introducing Smarter Coffee machine.
The Smarter Coffee app allows you to tell the machine, from wherever you are, when to start brewing. If you've placed your order in bed and still fancy a little snooze, no problem. The hotplate will keep your coffee hot for 40 minutes. Choose ground or filtered coffee, your desired strength, coarseness of grind and the number of cups required.
The app will also give handy information like how many cups worth of water is available in the pot. And if you're still not impressed by all that then how about turning Alexa into your own personal barista? Ask her to make a cup of coffee and a few minutes later it's yours. Just don't expect her to write your name on it Starbucks style.
---
Air monitor
If you ever worry about the quality of the air in your home you can't go far wrong with Awair air monitor. Awair tracks invisible fine dust and chemicals in your air and gives you personalized recommendations to help you stay safe and healthy.
Through the dedicated app you will be offered various preference modes to help you sleep better, control your allergies, increase productivity, or improve your general health. And of course you can ask Alexa for an update on the quality of the air in your home.
---
Smart baking
Perfect Bake Pro will ensure baking boils down to a minimum of fuss. What you get for your money is essentially a stainless steel bluetooth digital scale, a set of three colorful nesting mixing bowls, an oven thermometer, and a stand for holding your tablet or phone upright while you're working. Combine all these and it opens up a world (or kitchen) of possibilities.
Download the free Perfect Bake app, tell it what you have in the kitchen and it will work out all the recipes you can make with what you have available. As you pour your ingredients into the bowl the scale will tell you when to stop pouring.
If you add too much of one ingredient don't worry, no more ruined batches. The app will simply recalculate the recipe and adjust the following ingredient amounts. If you don't have, for example, a 12 inch cake pan but only have a ten inch pan, tell the app and it will tweak the recipe accordingly.
You can also add your own recipes and keep a track of your pantry. The app will alert you when stocks are running low and even create a shopping list. This will appeal to wannabe bakers who have up until now been scared off by the intricacies of baking.
---
For even more ideas and inspiration for your home, pets, garden and family life like us on Pinterest and Facebook
---
Sign up to the weekly Inspiralist newsletter and get the top stories delivered straight to your inbox.
Sign Up