With the colder months approaching fast, it's time to fall in love with your home again. Enter: cosy home interiors that'll make curling up on your sofa a dream.
Whether your autumnal pleasures include long soaks in a hot bath by candlelight, or new fluffy bedding to sleep in, there's nothing quite like coming in from the cold to a warm and inviting home.
If the idea of making your home super cosy for winter sparks joy, writer Annie Button says there's plenty of ways you can achieve this without breaking the bank.
Look to Hygge
In Scandinavian culture, there's a term for a cosy home: hygge – and it's the Danes who have been credited with developing this idea into a concept and way of living from as far back as the 18th century.
Since there's no accurate translation of the Danish term in English, we have to make do with a description: Hygge is a combination of cosiness, togetherness and contentment.
It's a mental state of inner happiness that comes from slowing down from the frantic world outside, enjoying simple pleasures with your nearest and dearest and some self-care in the comfort of your own, beautifully curated home.
---
Lighting options for a cosy winter
Our winters may not be quite as long, dark and cold as Danish ones but the same principle applies. As the nights are drawing in, good lighting becomes increasingly important to set the perfect intimate atmosphere. In fact, all good home interiors schemes start with getting the light right.
Opt for Candle light
For instant warmth and cosiness, you can't beat the warming glow of candlelight, so let's start here. Did you know that the Danes are Europe's biggest consumers of candles, burning through 6kg per person per year?
Take a cue from our northern friends and introduce candles wherever possible – at the dinner table, on the mantelpiece, around the bath tub, on window sills – to create an inviting atmosphere all over your home.
decorate with Fairy Lights
Fairy lights and fire-safe LEDs can be used as an alternative (or addition) to real candles to achieve a similar effect.
Consider an Electric Log Burner
If you don't have a working chimney in the right space, or don't fancy the expense of installing a log burner, there are electric versions that are easy to fit and just plug in.
Table Lamps
Finally, ensure there are a few pretty table lamps dotted around your living spaces to provide relaxed low level lighting at all times.
Make the Most of Your Fireplace
Count yourself lucky if you have a wood burning stove or open fire in your home.
Keep logs and kindling to hand in stylish wicker baskets and make your stove or fireplace the natural heart of the home.
These chic and simple fireplace decorating ideas can add a little edge to your home decor.
---
Touchy feely textures and fabrics
When you think of cosy home interiors for relaxed living, the mind instantly conjures up lusciously soft textures.
Snuggly fabrics and tactile surfaces are one of the indisputable delights of the colder season, so treat your home to a textile makeover.
Layer Your Textures
Home furnishings and accessories in the softest textures from merino wool to cashmere and velvet are a big interiors trend, while layering of different textures creates an effortlessly styled look in any room.
Get your sofa winter ready with chunky knit cushions, faux fur throws or soft woolen blankets. Can one ever have too many cushions in the home?
Swap Your Summer Duvet
In the bedroom, swap the summer duvet for a winter one with a higher tog rating and think about adding a decorative, quilted throw or bedspread for maximum warmth.
Change Up Your Floor Coverings
On the floor, soften underfoot with a deep pile rug, especially if you have hard flooring such as wood parquet or laminate, or stone floors.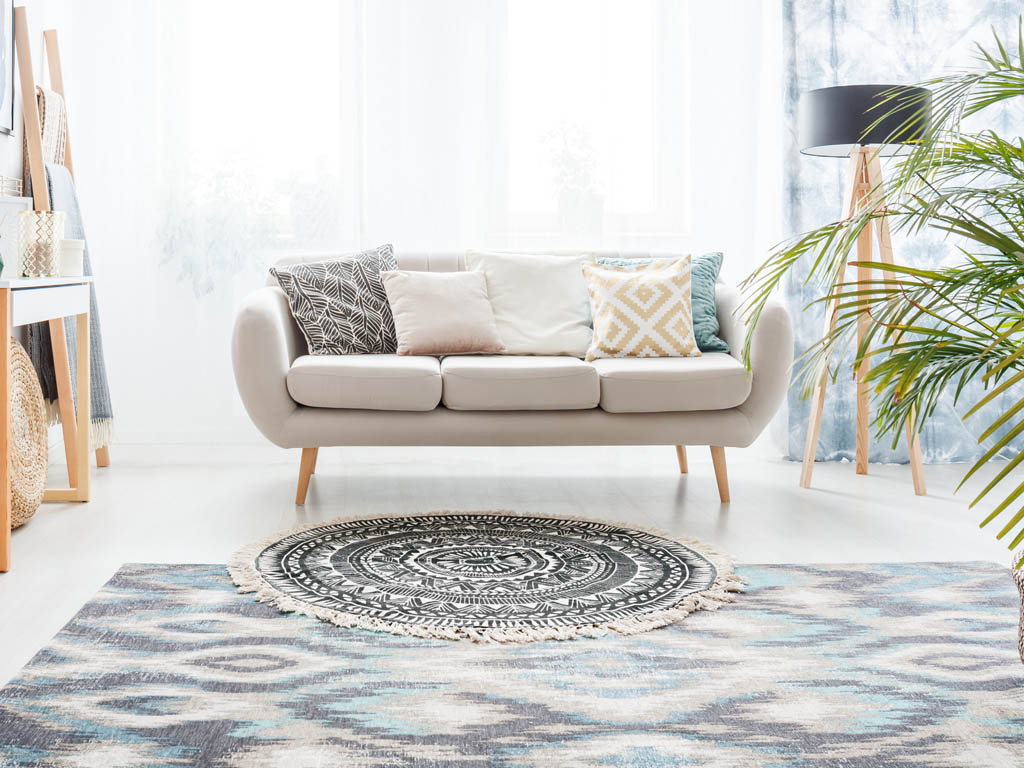 ---
See: 7 Ways to Master the Layered Rug Trend
---
Keep your home warm and toasty
Service Your Boiler
It goes without saying that a warm home is non-negotiable when the weather gets colder. Have you had your boiler serviced to make sure it's in tiptop condition for wintertime? The last thing you want is a breakdown when the mercury is falling.
Opt for a Log Burner
A log burner not only creates a wonderful focal point in your home, it can act as an efficient heating appliance to supplement your gas or oil central heating.
Maintain Your Chimney
Make sure the chimney or flue is swept regularly and the stove properly maintained so that this wonderful facility is ready for action come autumn.
Did you know that some woodburning stoves can power your existing heating system or even substitute it altogether, heating your home and delivering domestic hot water?
The cosiest and most effective heating solution is no good if your home is draughty, so spend a bit of time investigating potential problems with doors and windows.
Invest in Thermal Curtains and draught excluders
Sometimes, all it takes is a pair of thermally lined curtains to keep draughts away from the front door, while draught excluders are easily and cheaply fitted to gaps in windows and door, helping you keep your home warm and heating bills lower.
Follow Inspiralist on Facebook and Pinterest for all your eco-friendly lifestyle and sustainable home decorating ideas.
Sign up to the weekly Inspiralist newsletter and get the top stories delivered straight to your inbox.
Sign Up