Often we live in urban apartments or houses where we have the shell of a fireplace but without a working chimney, meaning its original function is now useless.
This can mean the fireplace area is forgotten about. However, with a little TLC, it can become an incredible focal point and feature of the room.
It's hard to know how best to arrange your mantelpiece. Should we place some pictures on it? Or keep it for birthday or Christmas cards? It's a problem area that, with a little inspiration, can become a unique expression of your style, and a real talking point when guests come to visit.
Our fireplace and mantelpiece ideas should ignite your creative spark.
Potted plants bring a natural earthy, vibe
The contrast between the painted white fireplace and walls brings out the vibrancy of the plants. Opt for hardy plants such as cacti to ensure greenery all year round.
Himalayan rock salt and other exotic items will create the 'desert landscape' look and immediately make your mantelpiece look full of character.
---
Create your own fire display
Allow your fireplace to re-live its glory days by placing a plethora of candles in the unused space. This composition works best with candles which are all different sizes.
Candles in your fireplace will bring a lovely warm glow to the space and bring a focus back to the area. You can afford to keep things simple on the mantelpiece with all the good work being done below.
---
A minimalist approach allows you to narrow the focus
Sometimes less is more with a mantelpiece design.
Having less ornaments and objects can bring attention to the ones you do choose to display. You could choose to showcase one or two favoured objects, perhaps from a special event or a foreign adventure.
Having the fireplace closed off forces the focus and attention upwards to the mantelpiece, allowing you to make the desired statement up top.
---
Display books in the fireplace
This could be a practical approach if you are short on room for a bookshelf. Or you just want to create an old-world feeling in your living room. You can keep the distressed look of the fireplace too add to the look.
Team it up with old objects and artifacts to cultivate the antique shop feel. Again, old second hand furniture would compliment the ancient, learned vibe.
---
Eye-catching artwork can take pride of place
If you are an art-lover the mantelpiece is the perfect place to display your pièce de résistance. By hanging artwork around the room and saving the mantelpiece for your largest, most impressive painting, you can make a grandiose statement.
Display ornaments sparingly on the mantelpiece. You don't want to distract from the main event. Pick objects which bring out the best colours in your artwork.
---
Use the fireplace as a creative space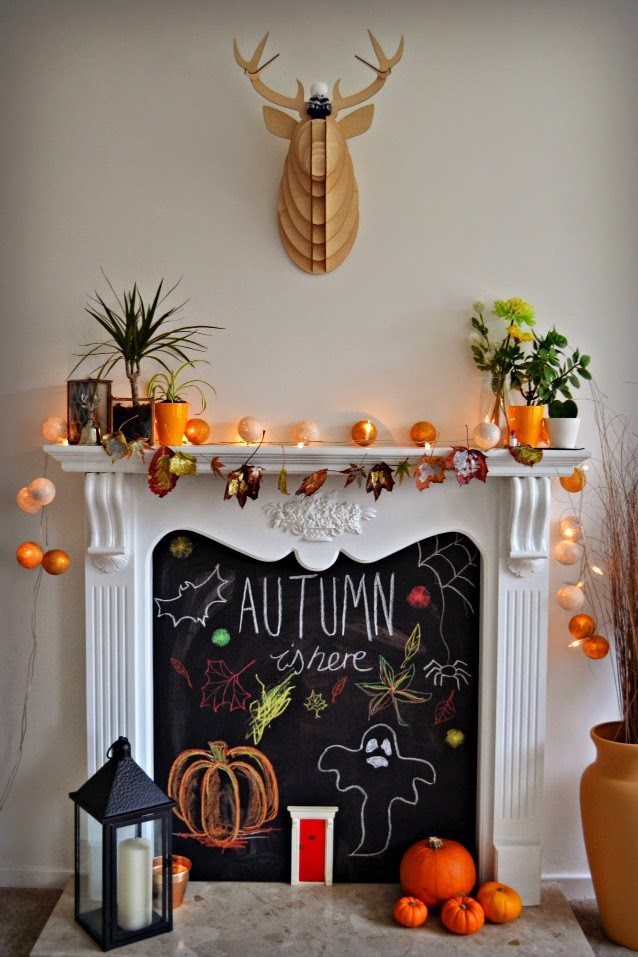 If you have kids, consider boarding up your unused fireplace and allowing the kids to get creative by using it as a chalkboard. They can decorate it depending on the season or event. It may just provide the outlet they need to not draw on the walls.
You can then also incorporate the mantelpiece into the theme of the day and, used together, they can become a creative family space where you can all have fun together.
---
For even more ideas and inspiration for your home, pets, garden and family life like us on Pinterest and Facebook
---
Sign up to the weekly Inspiralist newsletter and get the top stories delivered straight to your inbox.
Sign Up