With All Hallows Eve just around the corner, why not cook up a storm in the kitchen with these spooktacular Halloween kitchenware ideas?
From creepy casserole dishes to terrifying teapots, these perfect picks are great for fright night or dark and devilish cookware fans alike!
See: Chic + Stylishly Modern Halloween Decor Ideas
Pumpkin Casserole Dishes
Move over Le Creuset, cookware manufacturers Zwilling happen to have created the dreamiest casserole dishes for Halloween.
There's three colours in total in the collection, with the orange pumpkin dish typically the easiest to find online. You'll feel black cat lucky if you find a white or black one.
Pumpkin Cocotte, STAUB, £259
---
See: Le Creuset Have Launched the Ultimate Art Deco Luxe Casserole Dish
---
Halloween Oven Mitt and Pot Holder
A ghost and a pumpkin makes such a cute pairing but these guys are also pretty practical too.
One is an oven mitt; the other is a pot lid that'll protect your hands from heat in the most fun and stylish way possible.
Ghost and Jack O'Lantern Kitchen Set, Amazon, £7.81 (+ delivery cost)
---
DIsney halloween mugs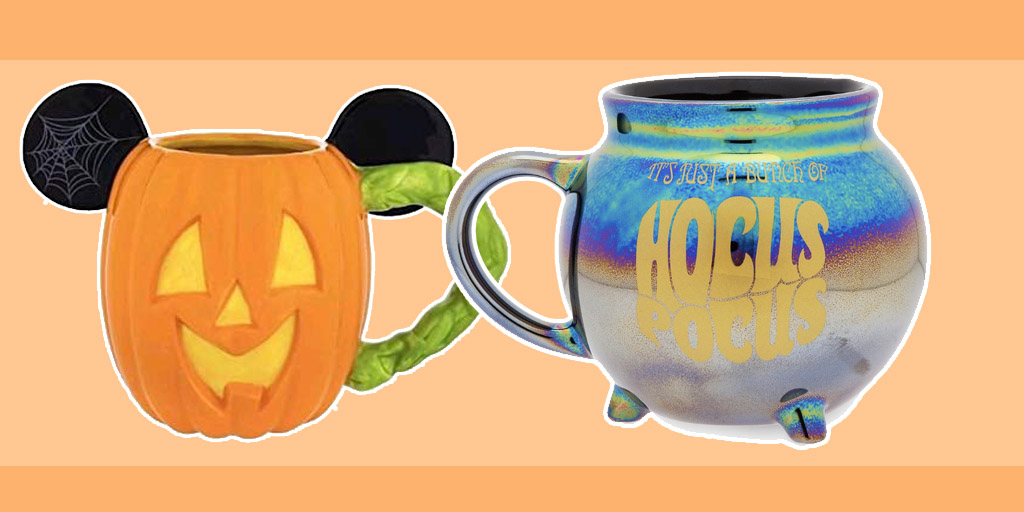 Treat yourself to your morning brew out of a Mickey Mouse pumpkin mug or Hocus Pocus cauldron.
Each one is available for under £20. Truly magical!
Halloween Mugs, Disney
---
Pumpkin Cake Tin
Why not bake up a spooktacular pumpkin cake with this handy cake pan?
You can make delicious cakes in the classic Halloween shape that will be perfect for your biggest fright nights!
Wilton Jack O'Lantern Pumpkin Cake Pan, Hobbycraft, £8
---
See: Black Succulents Are Taking Over and They're the Perfect Halloween Decoration Idea
---
Creepy Utensil Holder
Release the bats! This fun and funky Halloween storage pot is perfect for storing any knick-knacks but is especially perfect for your utensils.
Bat Utensil Holder, Etsy, £20.
---
Harry Potter Cauldron Mug
A realistic miniature ceramic cauldron that's actually a mug, it's perfect for holding your morning brew but no one would judge if you bought a little dry ice for that perfect magical effect.
Harry Potter Cauldron Mug, Firebox, £12.99
---
Gothic Teapot
Perfect for a spot of tea Malice in Wonderland style, you have to admire the delightfully dark drip detail pouring from the lid. Halloween kitchenware does not get much more ornate and pretty than this.
Gothic Skull Teapot, Etsy, £25
---
Pumpkin Coffee Stencil
No need to nip to Starbucks to experience their Halloween themed menu when you can simply whip your very own.
Halloween themed coffee stencils are perfect for adding a bit of fright to your morning brew.
Little Pumpkin Coffee Stencil, Not on the High Street, £9.95
Follow Inspiralist on Facebook and Pinterest for all your eco-friendly lifestyle and sustainable home decorating ideas.
Sign up to the weekly Inspiralist newsletter and get the top stories delivered straight to your inbox.
Sign Up