The kitchen has often been called the heart of the home, why can't it also be the brains too?
Smart tech is not just taking over our work and daily lives but it is now making its way into the home.
First it was our lights and our thermostats, then Amazon Echo and Google Home made their way into our living rooms and bedrooms, and now we are seeing a shift to the kitchen with appliances and smart technology being developed to completely change the way we store, prepare, cook and eat food, along with how we clean dishes, throw away waste, drink and prepare tea and coffee plus much more.
When you last picked up your frying pan, you may not have thought an app could help indicate when it had reached optimal frying temperature or even when it was time to remove your food, but there are useful app-enabled kitchen gadgets for brewing coffee in-bed – yes it is now possible – check how food is cooking while you are in another room, alert you when cooking time should begin and more helpful tools to help make the kitchen safe, efficient and most importantly, smart.
Here are some of our favourites.
---
Smart taps and sinks
Ever had greasy fingers or no spare hand to turn on the tap? Well here is an amazing example what a few flick of the wrists could do.
This smart kitchen sink appliance is installed with sensors, monitors and movement trackers to help simplify turning on the tap and draining water away.
The technology also has the ability to turn an area usually dedicated solely to the sink into something more practical and utilise the space more effectively.
---
Smart Kettle
Smart kitchen gadgets don't have to completely alter your kitchen, they can be as simple and small as something like a kettle.
Smart kettles are becoming more and more ubiquitous in today's kitchens, offering features that are not just simply an on and off switch.
Smart kettles are often synced up to your Wifi, or use a bluetooth connection, and are controlled using a smartphone app – it can also be used manually but we're not here for that.
Using the app you can trigger it to boil, heat up to a certain temperature for herbal tea or warming milk for babies and also set a timer so that it starts boiling while you are asleep so that when you wake up your morning brew is not far away.
In the app, the smart kettle can provide you with information about the volume of water currently in the kettle, in addition to the remaining time until it boils and how many tea bags you have left. You can program specific profiles in the app for what type of tea/coffee you prefer, what temperature you like your tea and even pair it with Amazon assistant so that it will order more tea or coffee when stocks are running low.
This kettle is ideal for those who are avid hot drink drinkers and those looking to streamline the brewing process.
---
Smart Sous Vide machine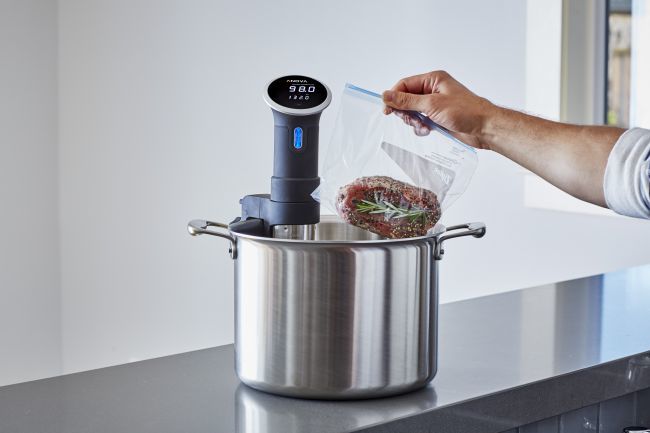 Sous vide cooking essentially involves cooking food underwater in a sealed plastic bag, usually before finishing it off quickly in a pan.
The trick is to have precise control of the water temperature, allowing you to cook a steak to the exact temperature it needs to be rare, or chicken to exactly when it's safe to eat, all to guarantee no over-cooking.
Smart home sous vide machines will clamp onto most of your existing pans and plug into the mains for power. Once connected to Wifi  or synced to your device via Bluetooth, you will be able to heat water to a precise temperature or set whatever food you are cooking to finish once it has reached the level you want, all controlled from the application.
The smart sous vide will alert you to when the water is at a specific temperature, and when the cooking time is nearing completion.
---
Smart Herb Garden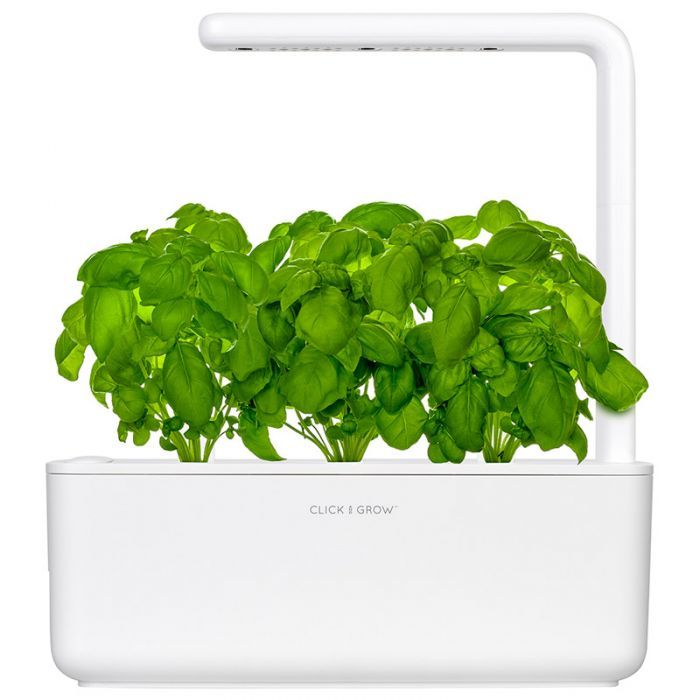 Some smart tech seems pretty superfluous, and some, should already be a standard feature of your home.
The smart herb garden Click and Grow attempts to replicate everything mother nature does, but from inside your home.
The smart herb garden is designed to fit into most kitchens. There is space for three plants, which grow up towards an LED light – which can be extended to accommodate growth.
The LED light runs on a cycle of 16 hours on 8 hours off, which means it can be switched on overnight, and you are only required to fill the water tank that supports the plants every week or so.
You can sync a device to the garden using an app which will send reminders to top up water, when to switch the light on and when the herbs are ready to be picked.
£94.90, Amazon
---
Smart BBQ and Smoker
Fan of BBQ? Smoking your meat?
Then this smart electric smoker can help.
The Char-Broil Digital Electric Smoker is a wifi enabled smoker that uses a mobile app that, once synced to your device, can send notifications about how well your meat is cooking, how hot the smoker is and when your meat will be ready.
£139.98, Char-Broil
---
Amazon Dash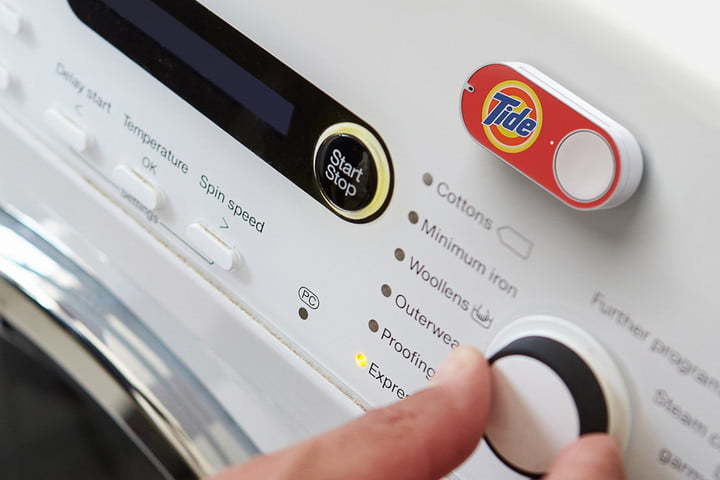 Amazon has taken over the online shopping landscape, but now they want to simplify the process by letting you order regular household items without even having to go to the shops or go online to restock.
Amazon have come up with the Dash Button, which is a small device owners attach to any surface and lets you instantly order household items.
Each Amazon Button is assigned a product or item in the Amazon store and when you go to press that button it will order whatever it is assigned to order. For example, if you assign a button to reorder toilet roll, when you press it Amazon will automatically order a new batch of toilet roll. You can program how much it orders.
Once you have pressed the button you will receive a notification letting you know that it is ordering. The device utilises your wifi network.
---
Smart kitchen warning systems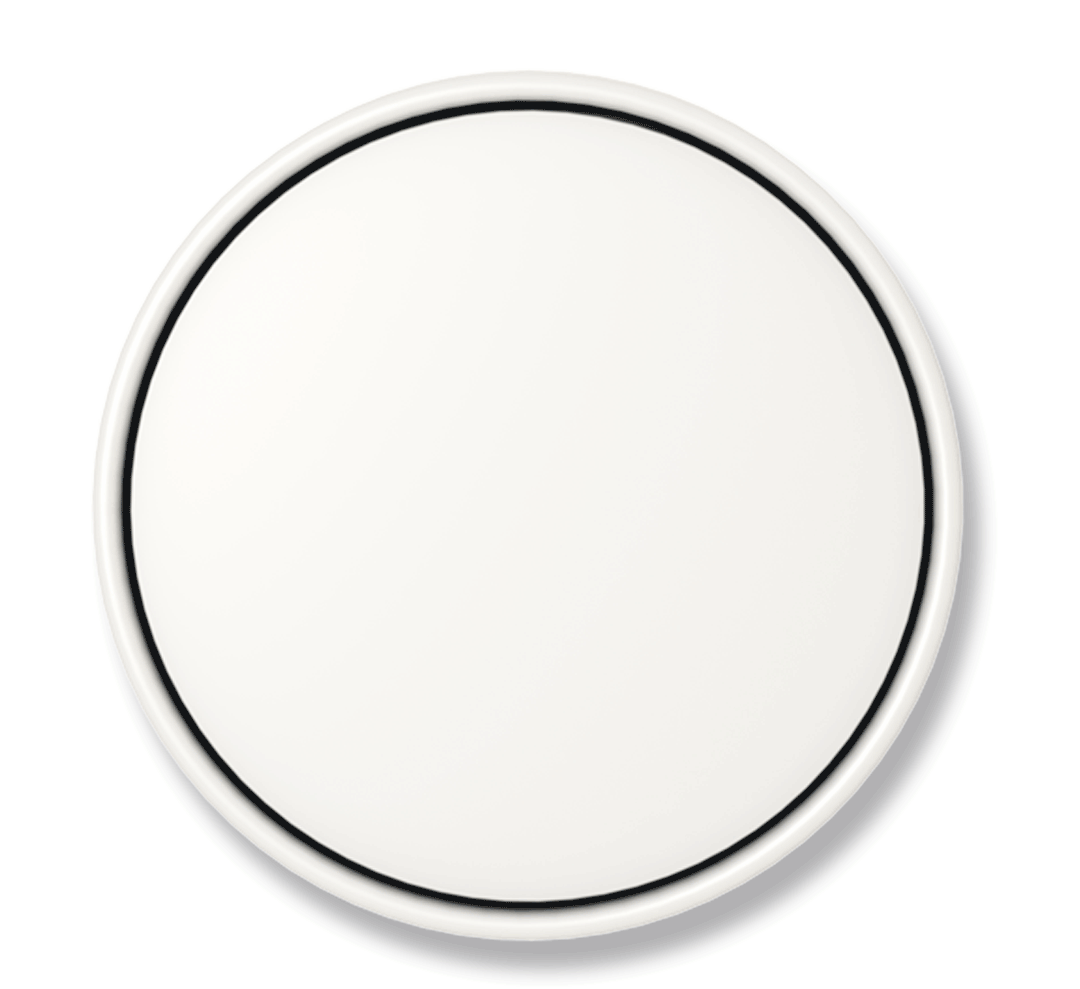 Smoke is just one of the many issues that can arise in kitchens featuring a range of cooking and cleaning appliances.
Air quality is very important in modern homes.
Birdi Smart Detector is here to help guarantee the air in your home is of high quality.
This detector helps to alert of increased levels of carbon monoxide, pollen, particulates, temperature and even humility. If any of these were to hit worrisome levels, Birdi Smart Detectors can provide you with that information.
That way you'll know something's wrong even when you're not at home to hear the alarm.
---
For even more ideas and inspiration for your home, pets, garden and family life like us on Pinterest and Facebook
---
By Alex McLeman
Sign up to the weekly Inspiralist newsletter and get the top stories delivered straight to your inbox.
Sign Up