Out of all the rooms in our homes, few are as important as the kitchen.
In addition to being where we often cook and eat our food, kitchens are turning into family gathering places and can help bring your entire home together.
While everyone would love a giant kitchen capable of holding your entire family or storing all the small items kitchens require, that isn't always the case.
A large kitchen often comes with an equally large price tag, and they are only getting more expensive. As a result, most of our homes have a relatively small or moderately-sized kitchen.
Unfortunately, having a small kitchen will often mean you have less storage space available, so not everything will always be easily accessible and easy to reach.
When you don't have an abundance of cupboard space or room in your kitchen cabinets, you need to consider all organisation options…
See: Keep Your Kitchen Clutter At Bay With These Storage Ideas
Use the Walls
When most people think of storing items in the kitchen, they think of using cupboards, cabinets or counter space.
While these are great places to store things, they are far from the only option you have at your disposal.
One often-underrated way to organize and store things in your kitchen is to use the walls. The vertical space in most kitchens remains completely unused most of the time.
This can be done in a number of ways. You can hang shelves to organize things like wine glasses, can hang magnetic boards on the wall or hang your pots and pans on hooks.
Of course, if you are going to use the walls to hang or store certain items that could be dangerous, like a magnetic knife), do so carefully.
Ensure they are out of reach of children and could not potentially harm anyone if they were to fall off.
---
See: How to Design a Kitchen You Can Socialise In
---
Put the Items You Need Within Reach
When organising your kitchen, you should try your best to put the items that you use the most within arms reach.
If you have to root around to the back of each cupboard to get something you use every day, it doesn't make a lot of sense. You will save a lot of time and energy putting everyday items at the front of your cabinets.
Not only should they be close and easy-to-access, but the items you use a lot should be kept at eye-level.
Bottom and top shelves, which require more effort, should be where rarely used items are kept.
Our lives are busy and hard enough, there is no need to make them more difficult with unoptimized storage. This type of thing might seem obvious to some, but that's not always the case.
---
Don't Forget About the Corners
In almost every kitchen, the few areas that are often a barren wasteland of unused space are the corners. Corner cupboards are awkwardly shaped and difficult to get into, and even counter corner tops often go unused.
While this may not make a difference in a large kitchen, it certainly could in a small or medium sized one. You don't have a lot of space to begin with, so you need to take all the space you can get.
Instead of ignoring these corners, both on the counters and in the cupboards themselves, why not optimize them?
There are plenty of things you can do in your kitchen corners to make the space more usable than they currently are.
You could add a lazy susan, have a rotating spice rack that emerges from the cupboard and more. Sure, these changes could cost time and money, but it is well worth it for most people.
---
Consider a kitchen island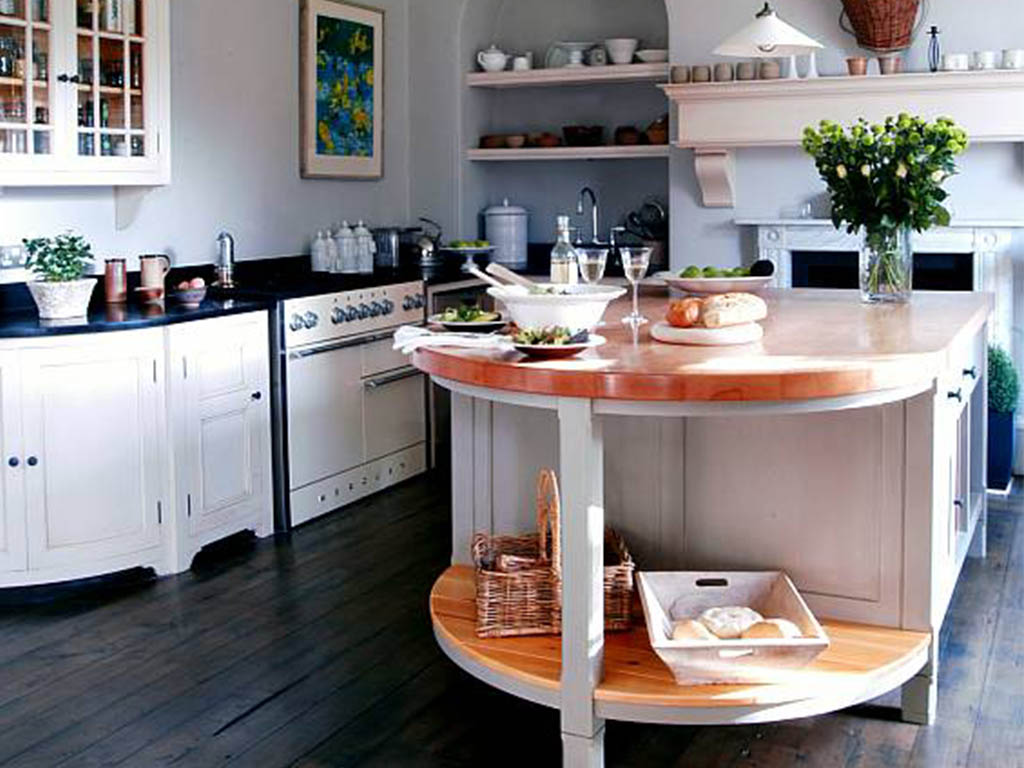 Kitchen islands come in a variety of styles, including some with extra shelving storage on the end to display your kitchen essentials.
If you don't have the space or budget for a stunning kitchen island, why not opt for a smaller, more portable version?
These will not only offer extra storage solutions and clean up any clutter in your cupboards, it will also be able to be used as a handy extra dinner preparation area.
---
Get Creative
While the few tips we have been given so far are helpful, they are quite basic.
However, organization doesn't always need to be basic. In fact, there are plenty of different opportunities to allow you to get creative when it comes to organizing your kitchen.
You could put corkboard or hangers on your wall, pantry door or cupboards, or even could have a pull-out knife block.
The point is, wherever your mind goes when it comes to organization or storage, you can listen to it. There are no rules about how a kitchen should be organized, so feel free to use your imagination.
---
See: People Have Been Transforming This IKEA Pegboard Into Truly Magical Things
---
Use Dividers
Drawers are one of the most versatile ways to store things in our kitchen. They hold every from cutlery, to medicine, and literally hundreds of other things.
While it would be lovely if our drawers magically stayed completely organised and clean over the days and weeks, this isn't the case.
Instead, most of the time, we are stuck with a disorganized mess of random items. Not only does this look bad, but can make it impossible to find the things you're looking for.
One of the best ways to protect against this disaster is to use dividers. You can easily find dividers that are cheap and cheerful, or make them yourselves out of readily available materials?
These will have different areas for different items, to ensure your drawers stay clean and allow you to find things quickly.
Alternatively, you could even apply the idea to your cupboards!
---
Take Inventory Frequently
Whether we have a lot of storage space or not, most of us have too much stuff. This stuff can take up our storage and sometimes can go bad. As a result, it is important to do an inventory check on everything in your cupboards, cabinets, drawers and pantry ever now and then.
This check will help you get rid of things you don't need that are simply taking up a lot of space.
If you don't do an inventory check and see what you have every now and then, it can make it tough to know just what you have, and if you have too much.
Now, this doesn't need to be done every week, but at least once a month you should see if there is anything in your kitchen you don't need or use anymore, and get rid of it.
Follow Inspiralist on Facebook and Pinterest for all your eco-friendly lifestyle and sustainable home decorating ideas.
Sign up to the weekly Inspiralist newsletter and get the top stories delivered straight to your inbox.
Sign Up