In today's glorious modern world, home life revolves around the kitchen, it is the center of the home universe.
If you already have the bedroom, bathroom and hallways of your dreams, it might be time for you now to turn your attention to creating that luxury kitchen you have always wanted.
Whether you're cooking a delicious Sunday brunch for the family, enjoying a romantic candlelit dinner with your partner, or putting your masterchef skills to the test, a luxury kitchen design should also be tailored to suit you and your families particular lifestyle.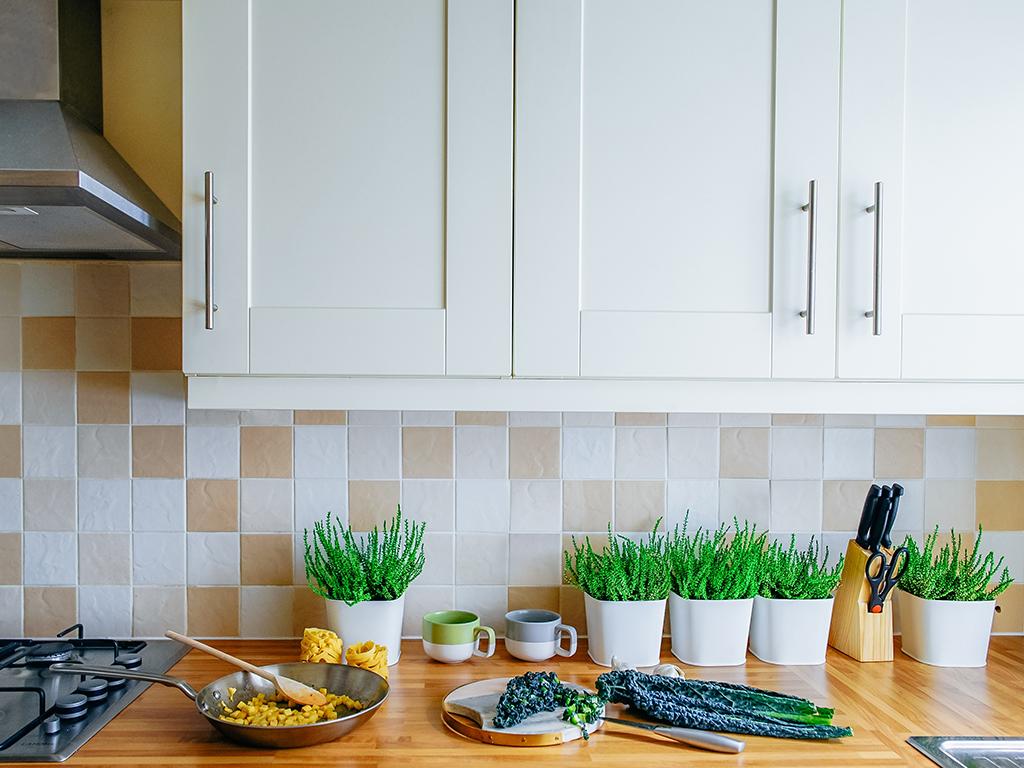 If money were no issue what would you want your kitchen to look like?
Instead, put it this way: if money were no issue, what would you want your kitchen to be used for  – serious cooking, or open-plan entertaining? For causal family living or simple relaxing? Would you invest in a luxurious breakfast bar, focal point feature? Hand-painted cabinets or marble worktops, or would you opt for a complete fundamental change for a completely different look?
Whatever you think you might do, and what you might include, we have scoured the world of luxury kitchens and gathered examples of some of the most impressive design's that will inspire you to up your kitchen to the next level.
TIMELESS, BESPOKE CABINETS THAT NEVER DATe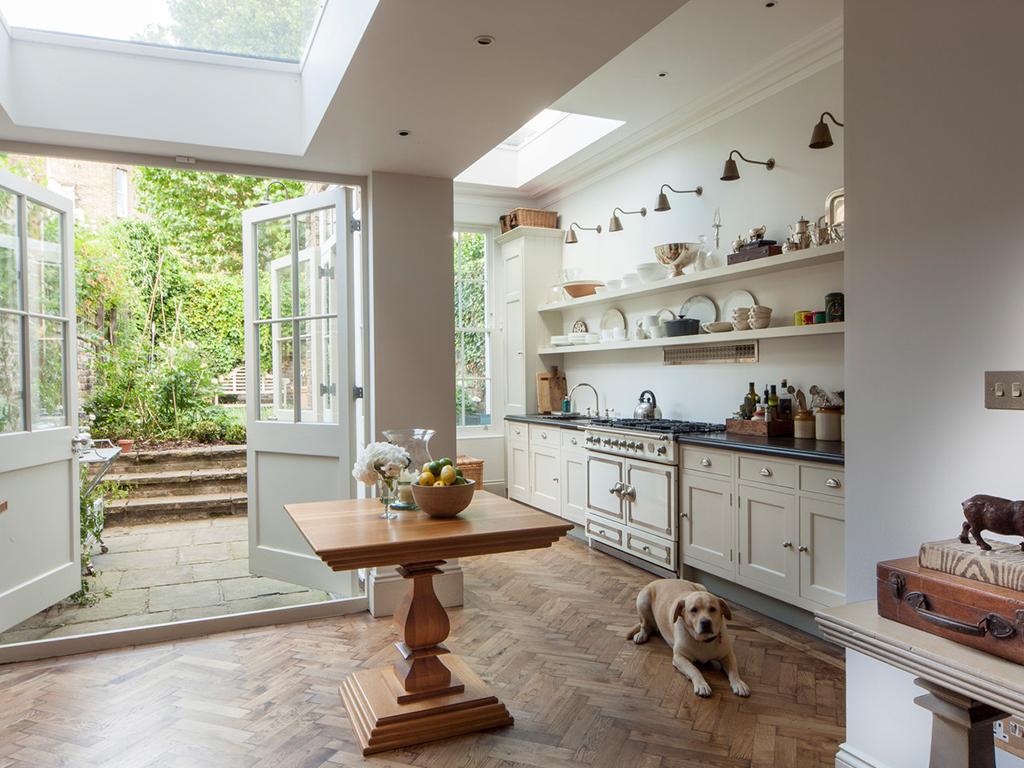 With a relaxed yet elegant interior scheme, this kitchen created by Justin Van Breda is a look everyone, including dogs, can enjoy.
A contrast between a rural-chic atmosphere at the garden level with subtle urban vibes throughout the room, helps to create a dynamic kitchen space.
---
 MODULAR INDUSTRIAL FITTINGS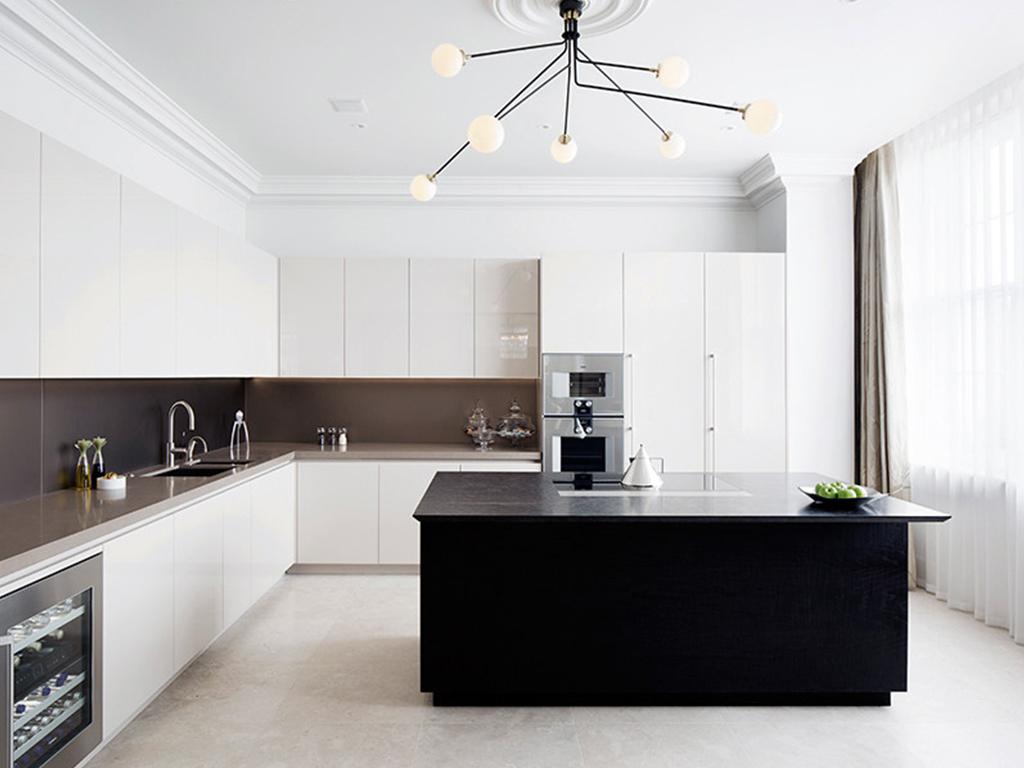 The bright neutral tones in this Mayfair apartment add a sense of modernity – a stark contrast against the traditional parquet floor, which is also packed with luxury.
The centrepiece is undeniably the sleek, industrial fittings, stone floor and white lacquer finishes all over the room. The room's stature is breathtaking, and serves as a meaningful example of how a collection of modern elements fused together can create spectacular kitchens.
---
MARBLE WORKTOP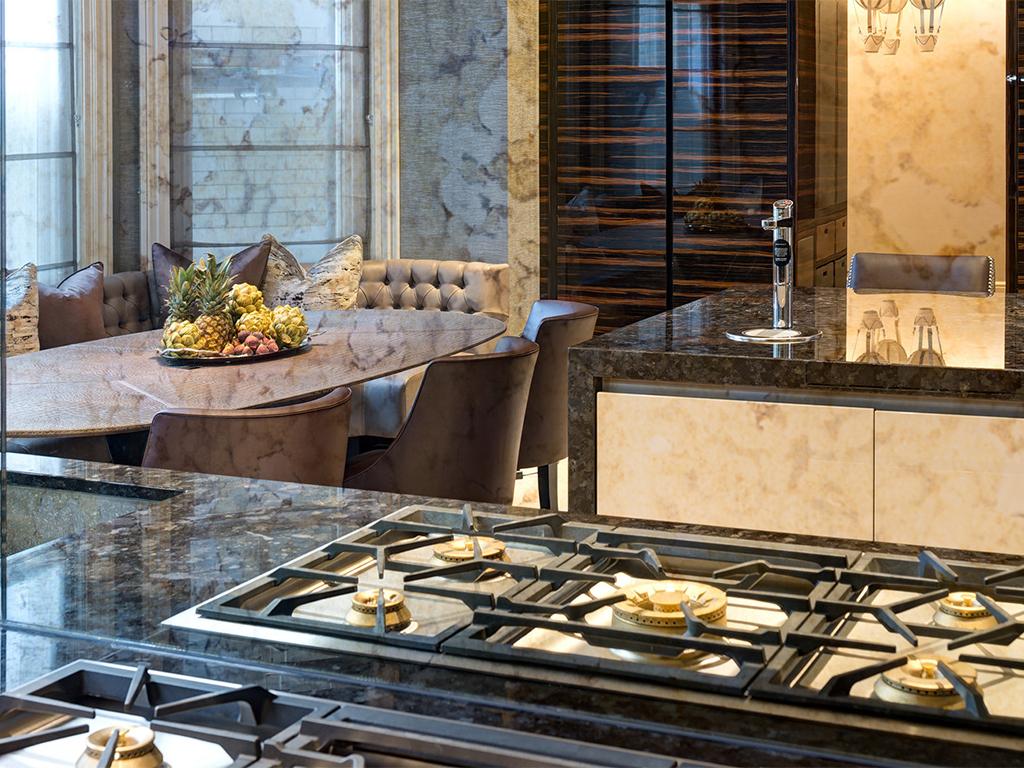 Hill House Interiors have completed a stunning renovation of this Grade II listed home.
The modern fixtures, appliances and colour schemes fit seamlessly together courtesy of the marble finished kitchen tops that scream luxe living.
Combining elements of art deco glamour with the property's period features, this kitchen design is a wonderful example of a contemporary family home, with touches of traditional country living.
---
feature wall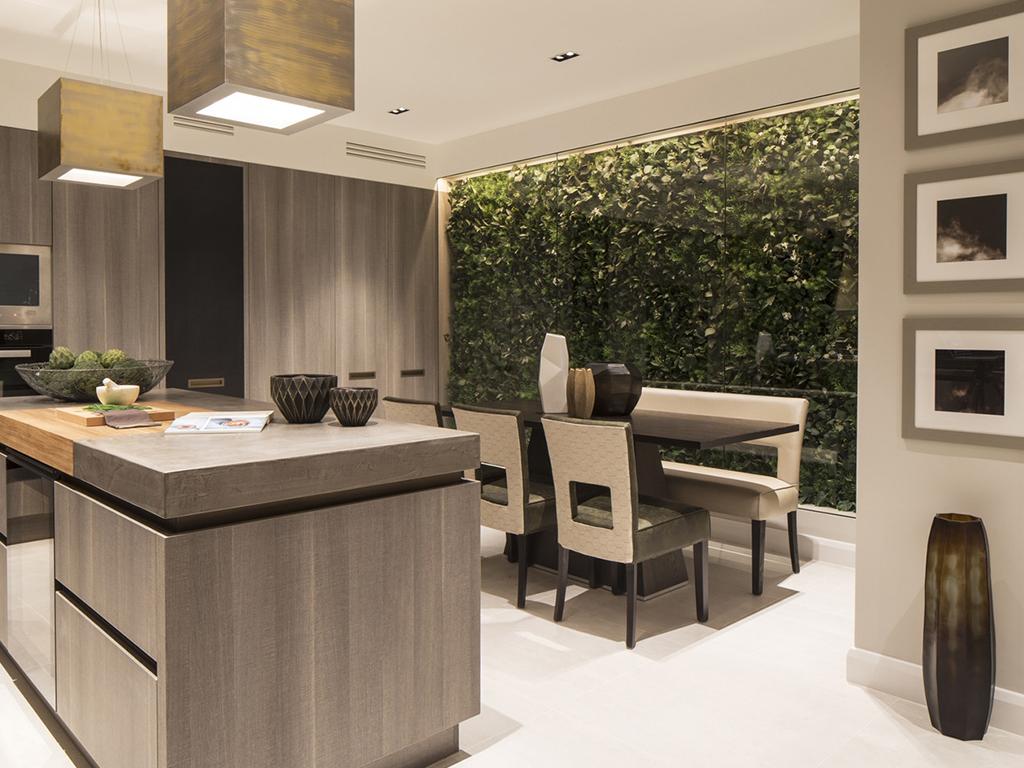 This Roselind Wison kitchen idea manages to marry a number of different design elements to create a remarkable kitchen environment.
Using architectural finishes, ironmongery and a spectacular wall feature, this contemporary kitchen exudes calming tones with beiges and taupes to create a sense of serene luxury.
---
A KITCHEN ISLAND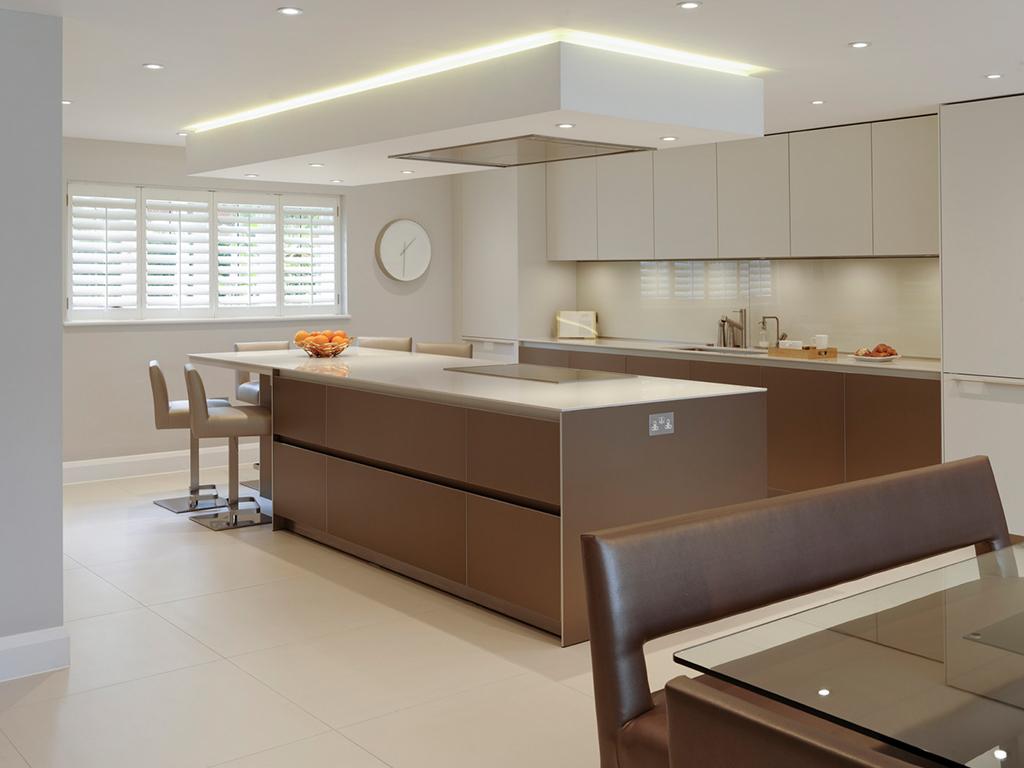 Halo Design Interiors transport you to a kitchen fused with competoary design, minimalism and old fashioned comfort.
The combination of the light tones of brown, grey and yellow mix elegantly with the whites of the walls, cabinets and flooring.
---
KITCHEN for socialising and entertaining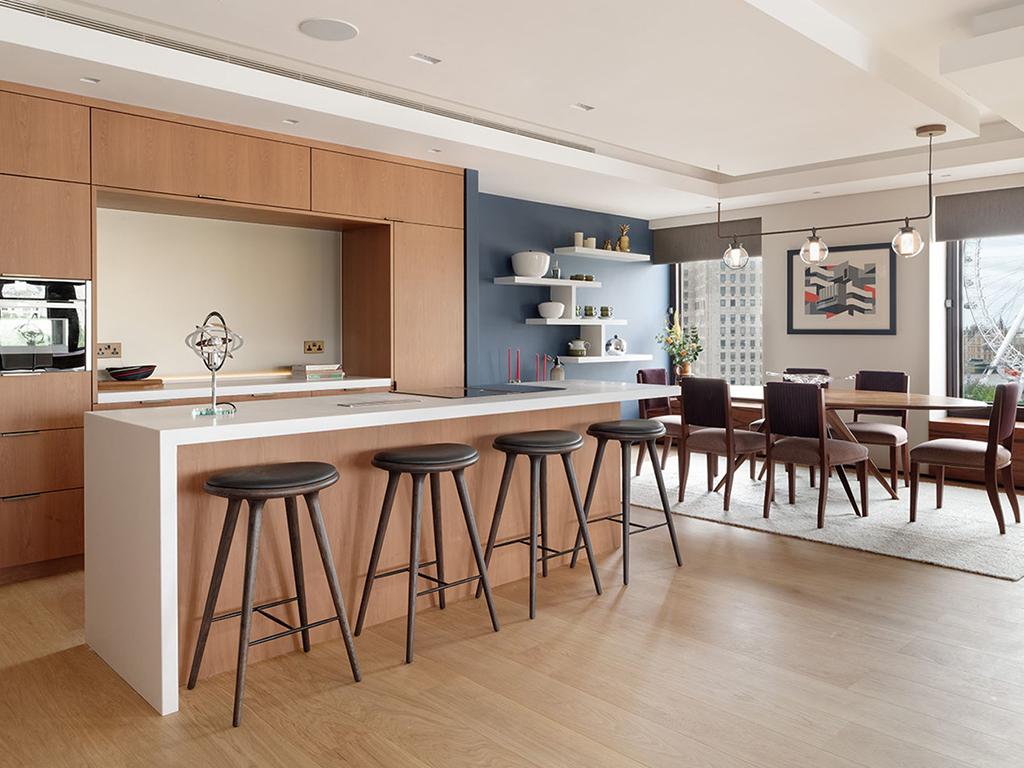 Shades of grainy, stained wood are paired with a deep, aubergine, velvet sofa in the living room in this chic apartment.
There is a pleasing three-way contrast between knotty woods, plush soft furnishings and sleek surfaces, seen in the tables,  window seats and kitchen cabinets. The open spaces, assisted by the contrasting colours schemes help to create a restful and comfortable kitchen atmosphere.
Ultimately, this space is a reflection of those who appreciate time with friends and family.
---
HANDLELESS CABINETS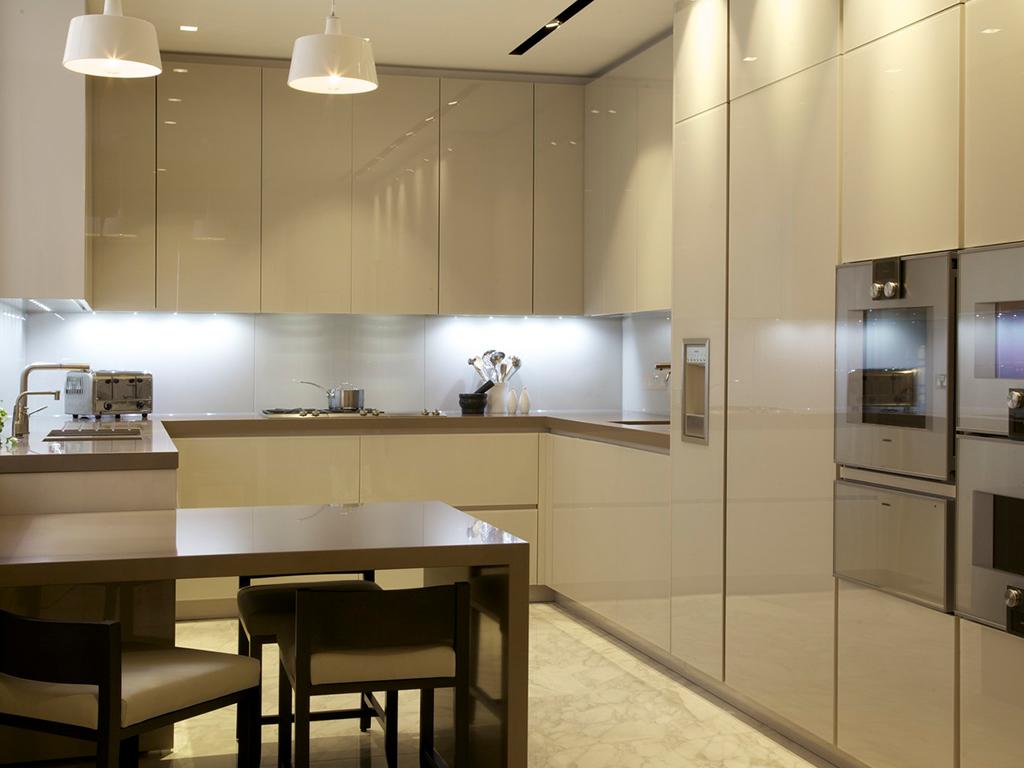 With a goal of designing a contempoary, functional, and spacious kitchen within a relatively smaller space, this kitchen is an impressive example of what can be achieved when you are not blessed with limitless space.
All contempoary kitchen designs now include handleless cabinets, not least for their simplicity and look, but to maintain a continuous flowing feeling to the kitchen.
---
BOLD COLOUR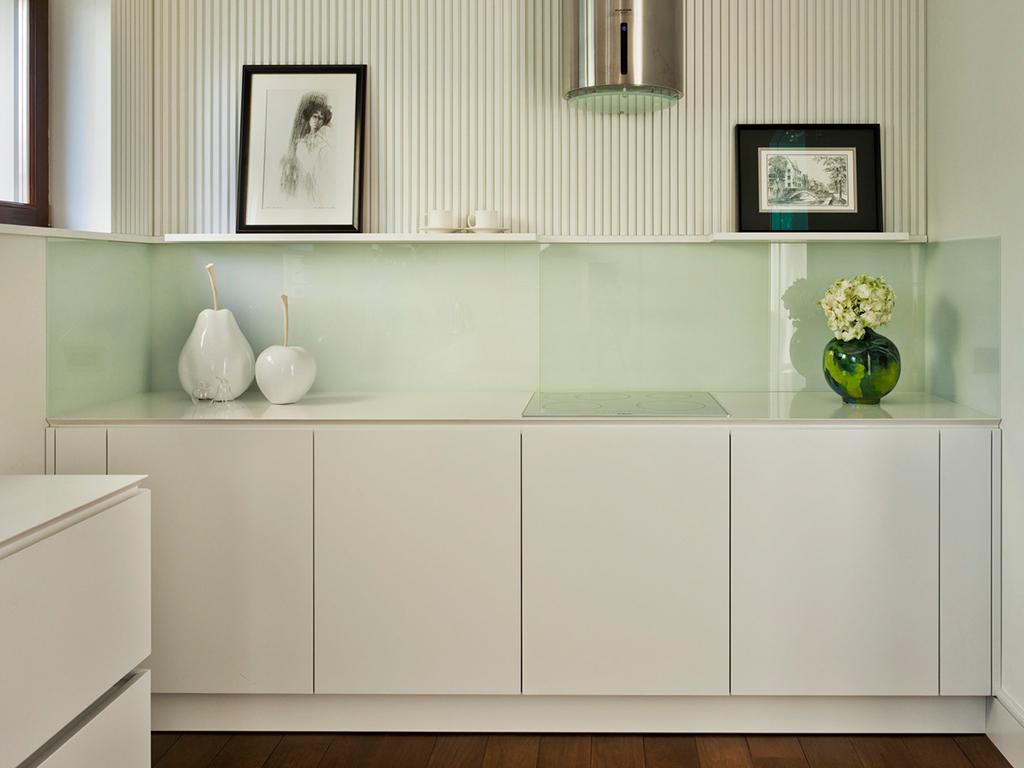 A mid-century aesthetic meets art nouveau in the innovative kitchen example.
The subtle tones of limes, greens and whites blend elegantly to create a calming spot for you to relax in after a long day in the hustle and bustle.
By adding just a touch of colour, this is a stunning example of what a kitchen can look like.
---
SUMPTUOUS WOOD FLOORING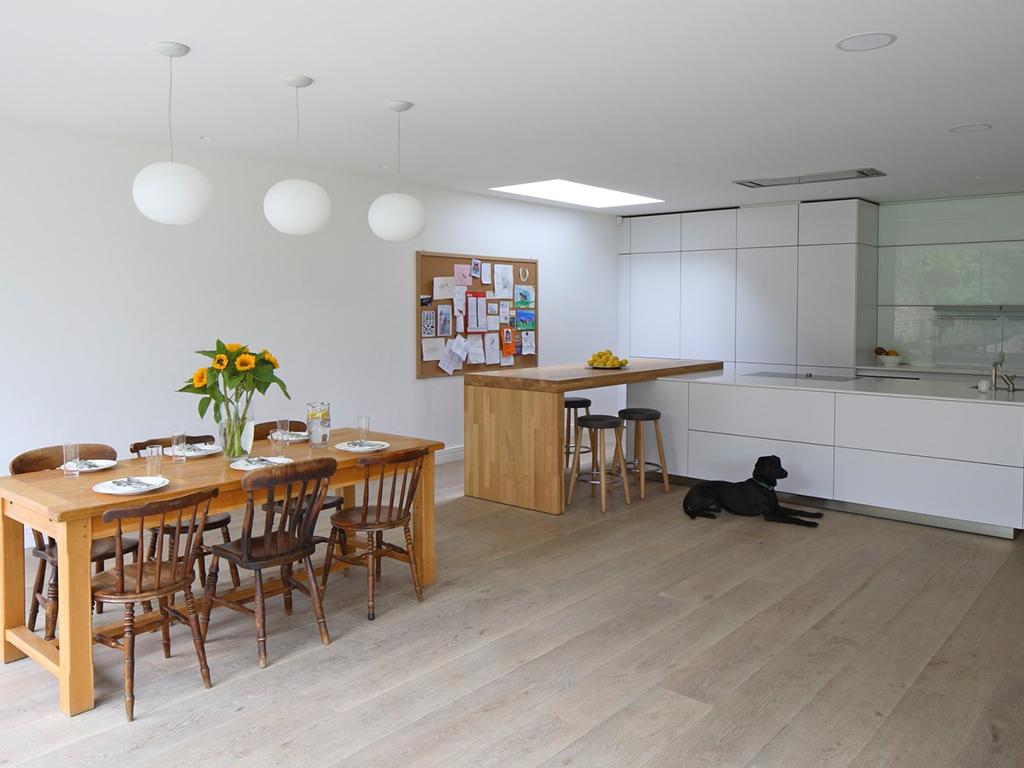 Blending old and new, this stunning kitchen area is bursting with period features while also managing to incorporate its own contemporary elements.
The feeling is one of shabby chic and modern living. The kitchen can function as a formal dining, kitchen area and also a casual eating area the entire family can enjoy.
---
SMART WINDOW TREATMENT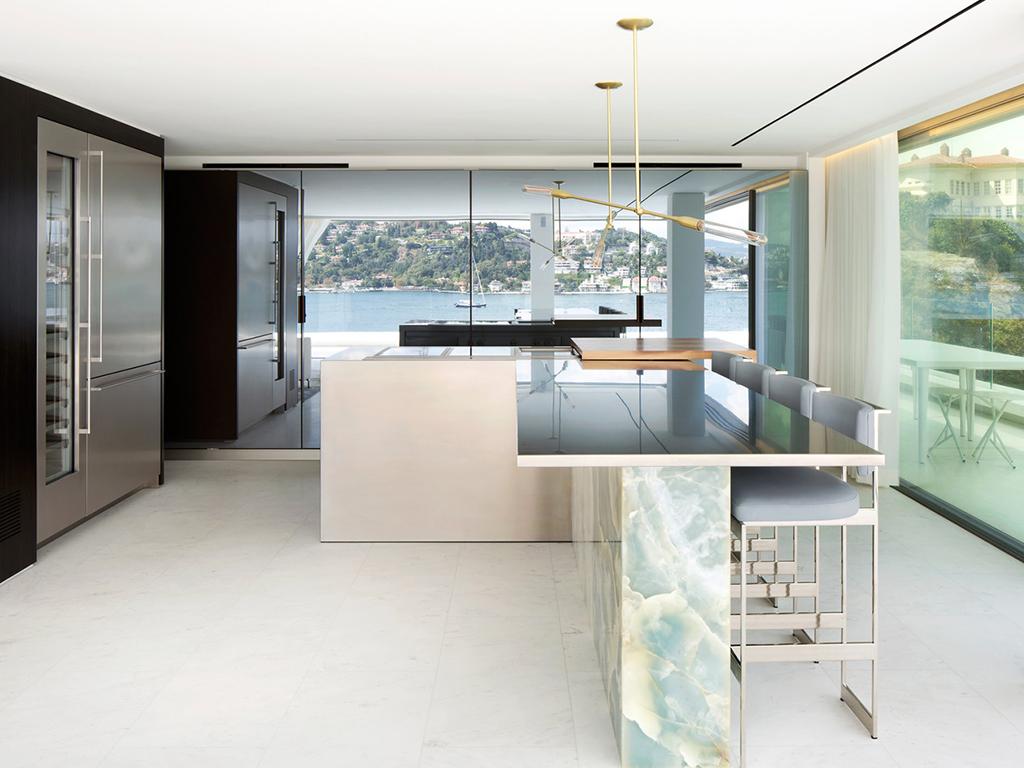 This kitchen property designed by Project Esra mingled local aesthetic with contemporary design to create a one-of-a-kind kitchen environment.
Taking inspiration from the light and water, all the core materials in this kitchen were sourced to create a neutral background so as to emphasis the stunning panoramic views. Functional elements such as the kitchen island inset with blue onyx and bespoke niches lend a sculptural feel.
Follow Inspiralist on Facebook and Pinterest for all your eco-friendly lifestyle and sustainable home decorating ideas.
Sign up to the weekly Inspiralist newsletter and get the top stories delivered straight to your inbox.
Sign Up