The change in weather can spark up our impatience for summer as well as our need to change our interior decoration accordingly.
This West Hollywood home's living room designed by Mandy Cheng, is a stunning source of inspiration for re-decorating your space for that purpose.
The concept of this living room is a nod to the exciting 1920s Mediterranean-style home while at the same time it incorporates a refreshing modern touch with unique light fixtures and focal pieces such as a plush velvet sofa.
Blue and White colour palette
When we think of summer, our mind goes onto sunny days by the beach and scenic views of a blue ocean against a small city made up of white houses.
The prominence of blue and white shades in this space definitely help in achieving a Mediterranean vibe.
These shades can be seen throughout the living room as part of the colour of the walls as well as in small details such as the floor tiles and mosaics.
See: New Anthropologie Outdoor Furniture Collection Is Out and It Looks Like A Summer Dream
Vintage pieces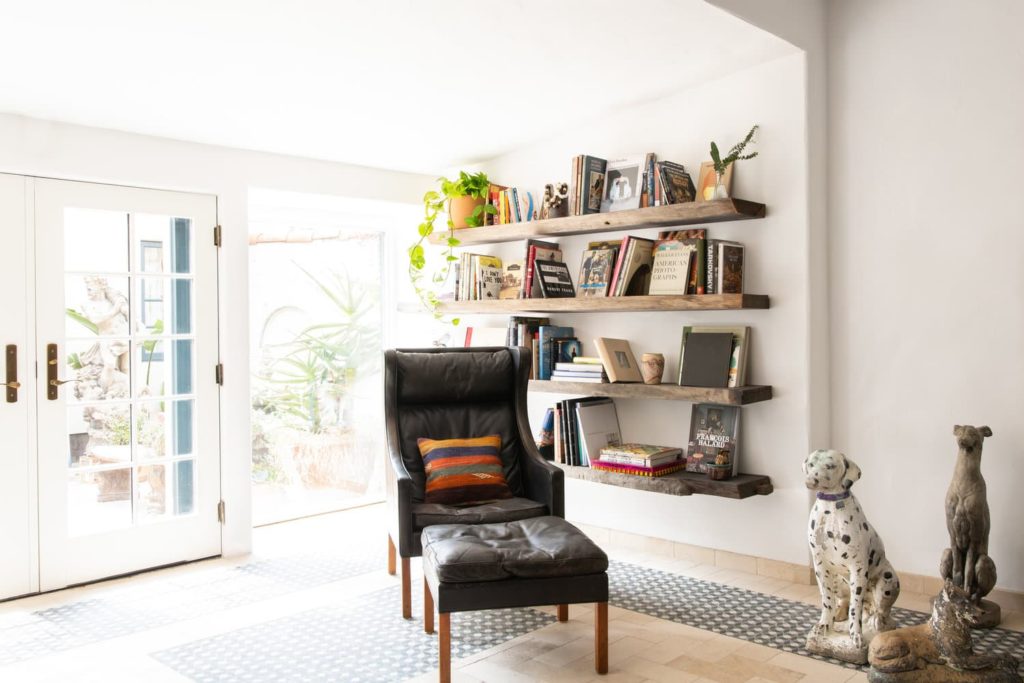 Madeline Tolle / Madeline Cheng
Furniture can play an integral role in achieving your desired theme. Vintage pieces of both modern and more traditional styles create an interesting juxtaposition of two concepts leading to an enticing combination of old and new.
Particularly the characteristics of rusty wood and bamboo are permeating in this space which help to achieve the creation of the traditional Mediterranean vibe.
The intricate addition of a focal piece such as the lush velvet sofa changes the dynamic of the room by adding a bold touch which is toned down by its blue colour.
See: IKEA Has Launched the Dreamiest Bamboo Lamps
Texture and Pattern
Texture and patterns are a discrete yet effective way to compliment the furniture while further establishing the overarching concept.
In this case, the mosaic tiles and french limestone work exceptionally well in accenting the sofa while emphasizing the Mediterranean roots of the home.
Wall arches or ceiling beams
Another complementary element to the Mediterranean concept are the wall arches and ceiling beams. These elements establish the traditional character of the living space as well as allow plenty of light in.
See: This Outdoor Furniture Collection Will Be Perfect For Enjoying Your Garden This Spring And Summer
Follow Inspiralist on Facebook and Pinterest for all your eco-friendly lifestyle and sustainable home decorating ideas.
Sign up to the weekly Inspiralist newsletter and get the top stories delivered straight to your inbox.
Sign Up