The words "shabby-chic" conjures up a myriad of visions; from the stunning soft white grandeur of antique furniture to high street reproductions that have been popping up for the last few years.
Painted furniture has moved on from the initial credit-crunch induced "paint it white, and it's chic" to a more colourful and polished approach.
This year we have seen the rise of the luxe-cycling, also known as the metallics trend in interiors.
If you want to give it a go yourself, Stephanie Briggs, owner of La Di Da Interiors, shows you how to paint your furniture with added metallics…
See: 11 Ways to Feature Sparkly Bedroom Furniture in Your Home
deciding WHAT TO UPCYCLE
Nowadays you can find businesses that are professionally upcycling furniture that may be visually tired but is structurally sound.
Older furniture is often beautifully made but aesthetically offensive in a modern home.
Using a few paint techniques and changing colour and texture enables them another chance to be adored and used for years to come.
It's far more economical than buying new, you get an individual piece of furniture, and it's good for the environment – all positive points.
See: Someone Upcycled a Kilner Jar into a Peter Rabbit Lamp and It's Enchanting
This reproduction demi-lune table from a local house clearance shop was ideal for this project.
Rather than using metallic paint, we are going to achieve a luxury metallic finish with gilding metal…
How to LUX-CYCLE A TABLE BY addING metallics
1. Give the furniture a quick wipe

I'm going to use Annie Sloan Chalk Paint, so there is no need to prepare the surface other than a quick wipe over to get rid of the dust and remove the drawer handle.
---
2. apply several coats of chalk paint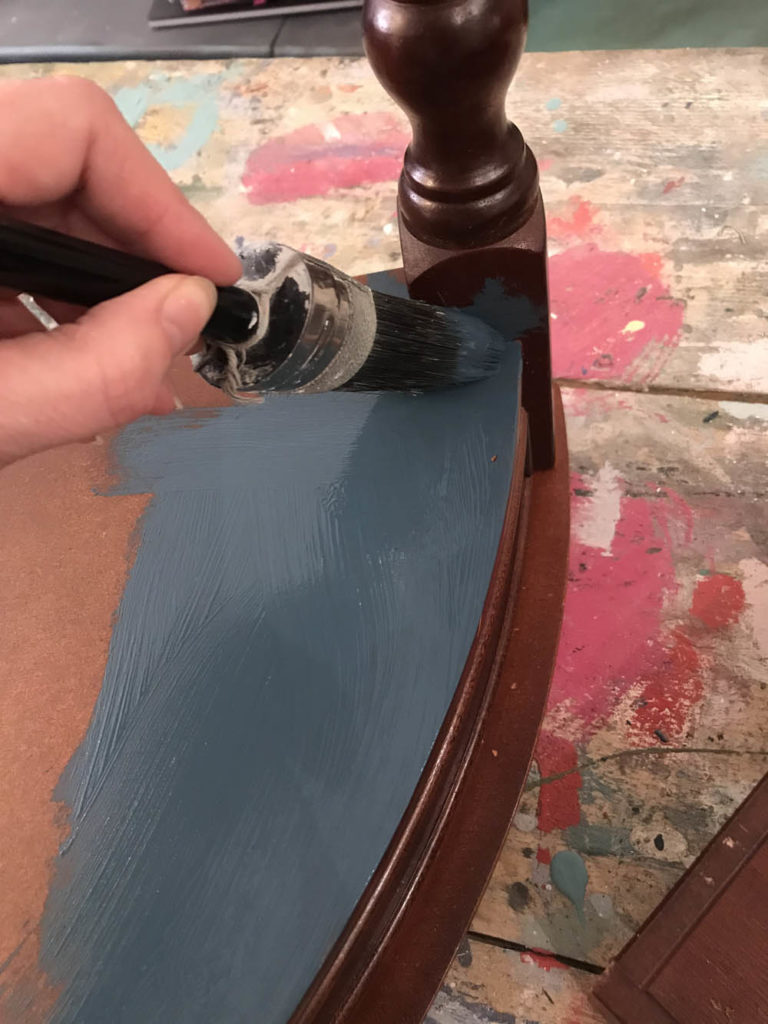 Furniture painting is easy with Chalk Paint, it comes in a wide range of colours, and you can apply with a brush or use a paint sprayer if you're after an uber smooth finish.
There is no need for a base coat or primer. Applying the first coat is quick; it looks a little scrappy at this stage because the surface of this table was shiny, don't panic.
Just leave it to thoroughly dry and then apply the second coat of paint which will give you full coverage.
This particular table had a leather top which I think makes it look a little dated, so I've painted the leather too.
---
3. apply gilding metal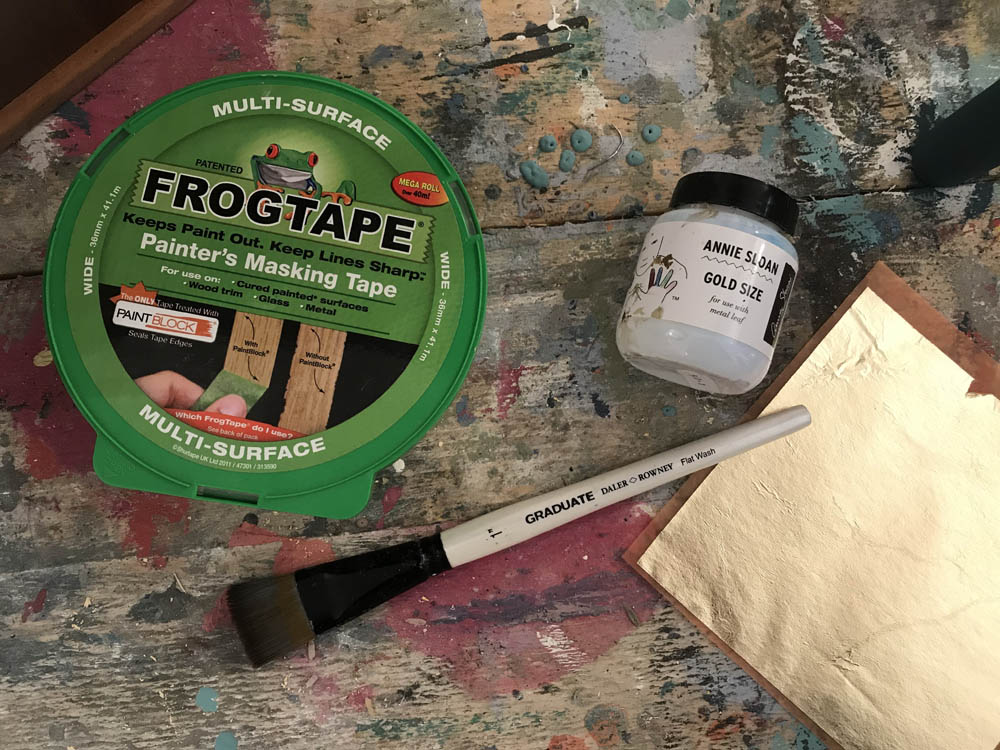 After the paint has dried apply a thin layer of gold size which is a liquid glue specially formulated for gilding.
Only use this on areas that you want to guild. I want to make this into a statement piece with an asymmetric flash of gold.
The size dries in about 10-15 minutes, it will remain sticky, and then you can apply the metal. Gilding metals are available in a variety of metals including gold, silver, aluminium and copper.
Here I'm using brass for a luxe look without the associated price tag. Lay the metal on and press down with a dry paintbrush. Leave to dry overnight.
---
4. add finishing touches
As a feature I have applied a metallic paint inside the drawer – for this, I used a base of Fusion Mineral Paint in Champlian and a top coat of Fusion metallic paint colour, Champagne.
To seal and finish the piece off I applied a thin layer of clear wax all over. The drawer knob was originally silver so to add a touch of gold I used Annie Sloan Gilding Wax in Bright Gold after refitting.
Follow Inspiralist on Facebook and Pinterest for all your eco-friendly lifestyle and sustainable home decorating ideas.
Sign up to the weekly Inspiralist newsletter and get the top stories delivered straight to your inbox.
Sign Up