To help those in search of unique ways to scratch their creative itch, elaborate modern birdhouse sanctuaries are now increasingly becoming commonplace in and around homes.
Birdhouses couldn't be a better way to jump start everyone's creative juices. Gone with the days of simple, wooden boxes with a hole in them. Today, they are sleeker, sustainable, highly-designed, made using high-end materials, minimalistic, and ultra-modern, with their design and make-up entirely up to the builder – perfect for those looking for a new DIY home project.
Below are a collection of elegantly designed and impeccably styled birdhouses that'll let frustrated creatives and wannabe architects live out their ideal design fantasies.
See: A Father and Son Have Built 50,000 New Beehive Colonies Around the World
Twig & Timer Birdhouse
Every home is built with unique angles and hinges, but this innovative birdhouse has the Right Angle.
Built using reclaimed, sustainable clear cedar wood, the modern birdhouse has been crafted to house smaller birds.
The house has been finished with teak oil to help bring out the natural beauty of the materials.
The Right Angle Birdhouse, £85.28, Etsy
---
See: Growing Your Own Food From Home Has Just Gotten Easier Thanks to Lettuce Grow
---
Pleasant Ranch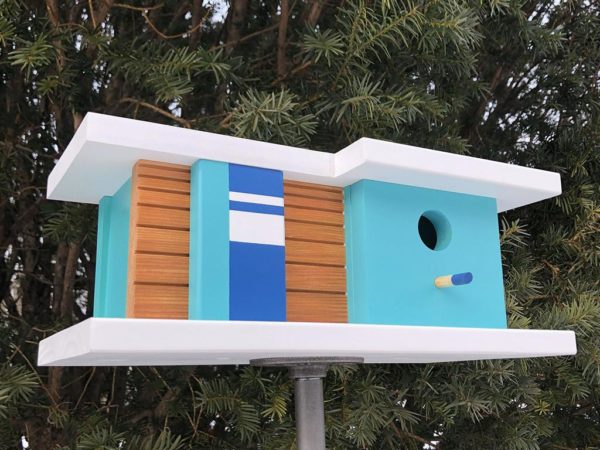 Designed to resemble a Miami Beach abode, the Palm Canyon birdhouse is a nod to midcentury and modern architectural style.
USA-based designers Pleasant Ranch put eight years worth of research and development into this incredible birdhouse. Each house has been made using stainless steel, wood, and lovingly painted with the best outdoor paint available.
Each house comes with two handy clean-out ports in the back, for seasonal cleaning and maintenance.
The house is suitable for most small and medium sized birds.
Pleasant Ranch, £169.71, Etsy
---
Moma dESIGN
Designed in collaboration with ornithological experts, the Bird House from MoMA offers a shelter for hungry chicks in the spring and a safe haven for birds during the winter.
The Bird House features a collection of places birds can rest, nest, and feed. There is even a closed feeder which helps keep the weather from affecting the seeds, or other animals from stealing it.
The Bird House, £69.99, MoMa Design Store
---
Sourgrassbuilt
Ever dreamt of a hillside villa overlooking the Pacific ocean? You can now live vicariously through this modern, West Cost inspired, bird house.
Titled the San Rafael, this bird abode has been made by Sourgrassbuilt, and is inspired by the sixties style Eichler homes of California.
The cute house includes a double-sided bird feeder system, a ceramic dish for water that doubles as a birdbath, and even a rooftop succulent garden. The home is made using bamboo wood and high-end laminate.
The San Rafael, £329.99, Sourgrassbuilt
---
See: Rolls-Royce Shifts Gears From Cars Manufacturing to Producing Pots of Honey
---
Mid-Century Wood Shop
Inspired by the Stahl House, this modernist-style birdhouse has everything necessary for birds to live the high life, even a solar-powered water fountain and swimming pool.
Taking elements from the mid-century landscape of the Hollywood hills in the fifties and sixites, this birdhouse is made using California redwood and has enough space for small and medium birds to nest comfortably.
Each house has been handmade.
The Stahl House birdhouse, £1,550, Etsy
---
See: 99 Hacks is The New Book Helping People Sustainably Reinvent IKEA Furniture
---
Loll Designs
Made from recycled milk jugs, the Pitch birdhouse from Loll Designs is the perfect choice for the eco-conscious.
The simple, yet elegantly designed house, can be mounted directly onto trees or wooden beams relatively easily and is the perfect size for small birds looking for a cosy place to shelter from the elements.
The Pitch comes in a variety of nine colours and is one of the more affordable modern birdhouses on the market.
The Pitch, £97.75, Loll Designs
---
Twig and Timber Birdhouse
Made from clear cedar wood and finished with teak oil, the Camera Shutter birdhouse from Twig and Timber is the perfect house for those with a love for art, design and photography.
The house has a simple interior, comfortable enough for medium and small birds, and is easy to install on a tree or beam. To clean, simply remove back panel.
The houses are handmade and come in a variety of different colour options.
The Camera Shutter, £85.28, Twig and Timber
Follow Inspiralist on Facebook and Pinterest for all your eco-friendly lifestyle and sustainable home decorating ideas.
Sign up to the weekly Inspiralist newsletter and get the top stories delivered straight to your inbox.
Sign Up