Decorating for Christmas often brings to mind the traditional. In recent times, however, it's become more commonplace to embrace modern Christmas decorating ideas instead.
Whether it's opting for a contemporary style or simply seeking to stamp your own personality on your home styling, these ideas will upgrade this year's theme in a jiffy.
Modern Luxe christmas decorating
Reach for a Luscious Material Like Velvet
"Invest in a statement piece like a lush velvet sofa that will continue to impress long after the holidays are over," says Rebecca Snowden, Interior Style Advisor at Furniture Choice.
"Velvet is a gorgeously rich and sensual material that instantly evokes a luxurious vibe.
And it really shines in a jewel tone like emerald green for a touch of glamour in a modern living room."
ADD A BAR CART
A brass finished cart is classy and versatile enough to be used in any season.
If you have more of a cocktail crowd going on, it's the perfect way to present a DIY cocktail counter too.
LAYER UP WITH SENSUOUS MATERIALS
Elevate your layering game by reaching for sumptuous, sensuous fabrics like lush velvet, snuggly wool, and fluffy faux fur.
For instance, plop on a few forest green velvet pillows and drape a woolly blanket over your sofa. If you like how they look and feel, add a white faux fur rug or a cashmere throw to the mix.
---
See: Lavish Ways to Incorporate Jewel Tones into Your Home
---
eco-friendly christmas decorating
A hot trend in the interiors world generally, eco-friendly can also make for a great focal point for modern christmas decorating ideas.
Consider a Seagrass christmas tree Basket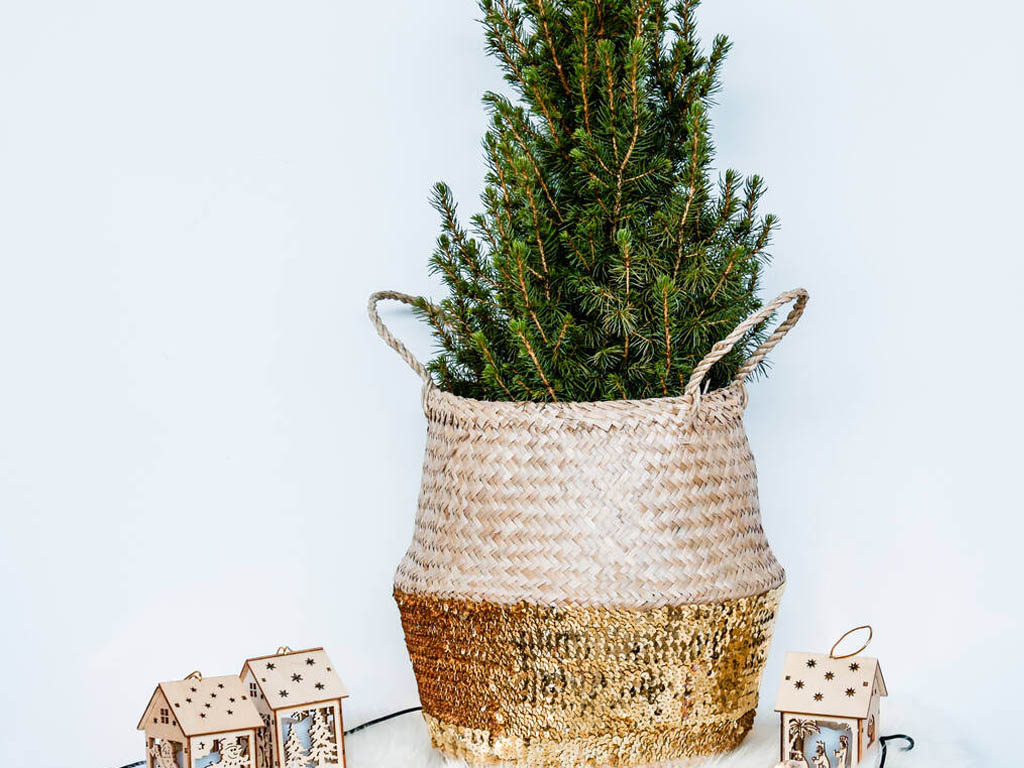 Choose an Eco-friendly christmas Tree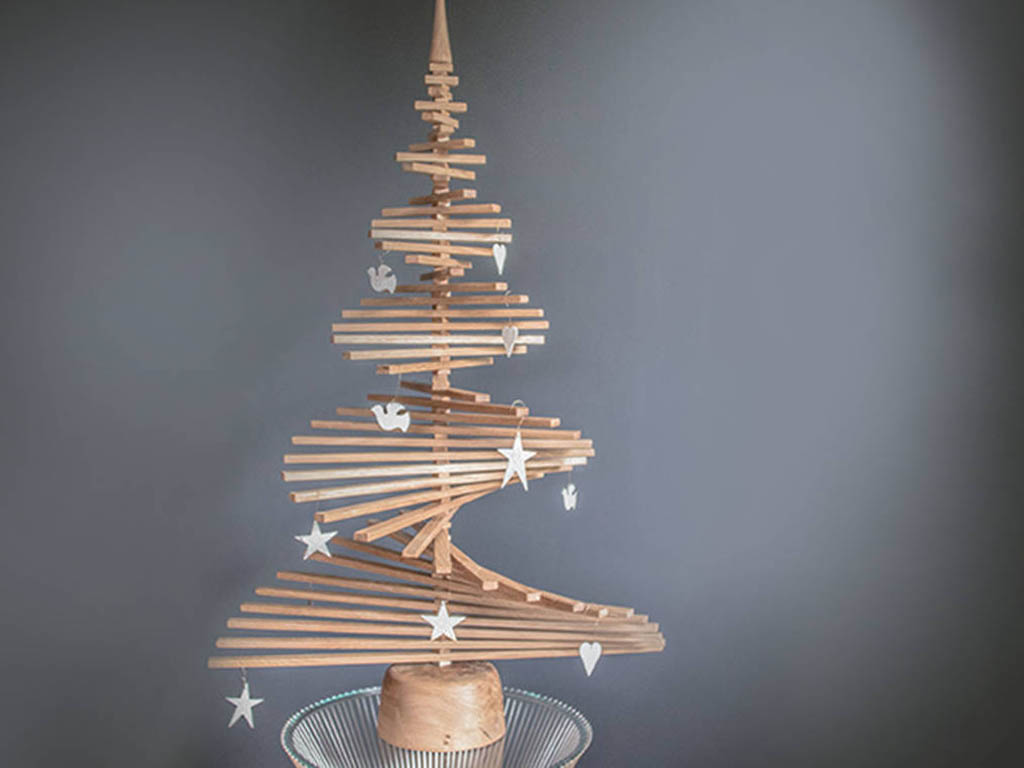 Bamboo Christmas tree ornaments
---
See: Eco Friendly Christmas Gifts Every Environmental Enthusiast Will Love
---
Scandinavian Inspired Christmas Decorating 
Evoke a rustic, forest-inspired Christmas with Scandinavian style.
Go for evergreen branches, pine cones and green wreaths and don't be afraid to add touches of white to your baubles and decor that subtly suggest a white Christmas.
Rustic Touches
Tree Garlands
Scandinavian Christmas Wreath
MINIMALIST Wall Hangings
diy stocking branch
There's just so many ways to get creative and add festive decor around loose, rustic branches on your wall or door, but one of the best is to use it as a way to hang your Christmas stockings.
Black and White Polka Dotted and Striped Baubles
Add a chic edge with contrasting black and white details.
---
alternative christmas decorating 
Anything goes with alternative Christmas decorating. The trick is to bring your own personality and don't be afraid to incorporate a bold millennial trend or two.
Yes, that does include avocado-shaped baubles and cactus Christmas trees!
Get Creative with the colour or shape of your tree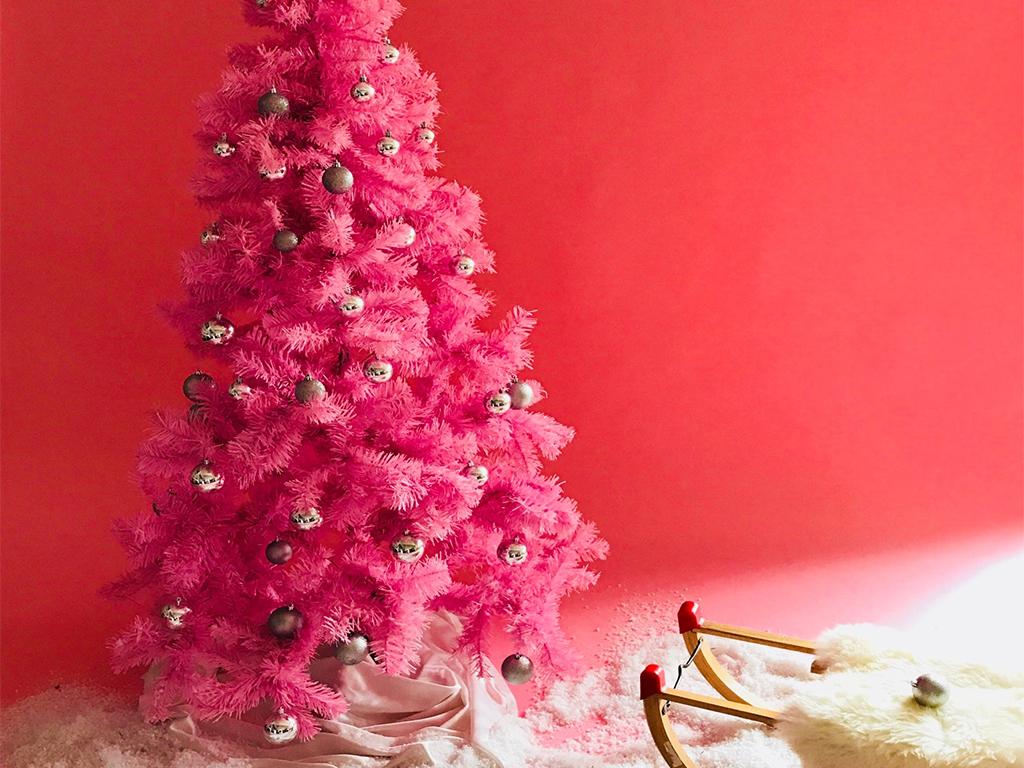 If you want to be truly "out there" why not opt for a pink Christmas tree? In fact, you could really choose any colour you want nowadays.
It doesn't even need to be a tree. Why not simply give your succulents a little festive cheer with a candy cane or Christmas themed pot?
Clash Seasons
Mix it up by adding flowers to your tree instead of baubles.
show personality with Alternative Baubles
From gardening to unicorns, John Lewis has recently showcased alternative baubles in their festive decorating trends.
Food and drink remains a fun trend too, why not fill your Christmas trees with alcohol inspired baubles? It's sure to get your guests talking!
Theme Your Tree to Your interests
Love Disney? Love music? Whatever you're into, an increasingly popular trend is to theme your Christmas tree to what's hot in pop culture.
Simply think of the colour scheme that evokes the theme as your starting point.
Follow Inspiralist on Facebook and Pinterest for all your eco-friendly lifestyle and sustainable home decorating ideas.
Sign up to the weekly Inspiralist newsletter and get the top stories delivered straight to your inbox.
Sign Up