If you're looking to inject a little magic of nature into your home, then you simply must see the inside of this stunning home in Hampstead, London.
Designed by interior design agency Black & Milk, the idea was to inject modern interior design in order to complement the property's exciting architecture.
See:This Renovated Townhouse's Decor Is the Epitome of Modern Design
See:Have You Ever Considered Living Half Submerged in a Pond?
The house was designed by award-winning practice Claridge Architects and included in London's annual Open House event, a celebration of the capital's best architecture.
Boasting a generous open-plan living space, three bedrooms, and a TV room, the house also sits within a generous garden on a private development in Hampstead, London.
The existing generic interiors were transformed by inviting nature in and creating a personal feel that reflected the owner's lifestyle.
See: This Former Shed Space Has Been Transformed Into a Stunning Minimalist Home
A neutral colour scheme with added feature walls of natural fibre wallpaper from Phillip Jefferson creates a cosy atmosphere that introduces some texture and connects outside with in.
Natural tones run throughout, with each room boasting its own palette.
Bringing the ancient woodland that surrounds the house inside was central to this home's design, so adding plants to every room was essential, while smart containers were used to keep each plant watered while the owners were away.
The living room looks to autumn for inspiration, with earthy colours, burgundy accents and pops of black that tie in with the window frames.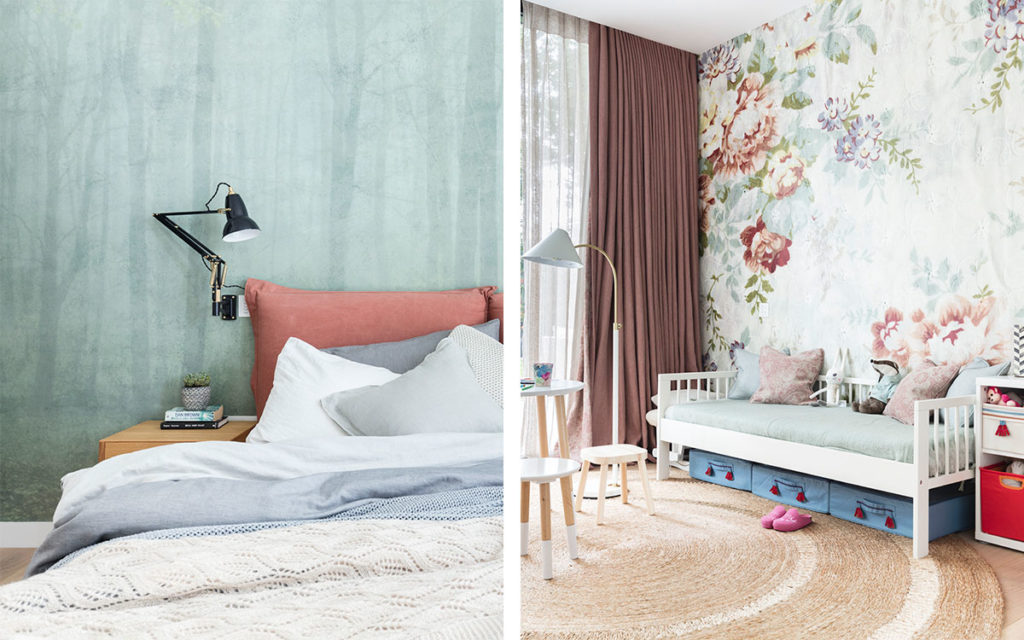 Arguably one of the best uses of nature, however, is present in the bedrooms.
In the guest bedroom, shades of light blue, salmon and green combine, complete with modest touches of trees on the walls.
Meanwhile, the child's bedroom is mostly neutral, but one wall papered with an oversized floral pattern to bring in the 'wow' factor, complemented by dusky-rose curtains.
To see more of this inspirational home visit the official Black & Milk website. 
Follow Inspiralist on Facebook and Pinterest for all your eco-friendly lifestyle and sustainable home decorating ideas.
Sign up to the weekly Inspiralist newsletter and get the top stories delivered straight to your inbox.
Sign Up