It's no secret that bringing the outdoors in can be an immediate mood enhancer in any room, but it's possibly most effective in the bedroom.
As your number one sanctuary and place of rest after a hard day, you want your space to feel calm and relaxing and colour is often the best way to achieve this.
Yet, there's actually many other ways to achieve the tranquil bedroom of your dreams. From selecting the right furniture to themes of nature, these natural bedroom ideas will make you feel like you've entered an outdoor paradise in an instant.
Choose earthy colours
See: The Best Grey Bedroom Ideas Design Lovers Will Go Wild For
Shades of white, cream, brown, burnt orange, grey, tan and beige are some of the best colours to use as it gives you a clean and tranquil base that naturally feels light and airy.
Keep it simple
One of the best reasons to choose a natural theme in your bedroom is just how simple it is to achieve.
You don't need to go all out with accessories, the trick to this theme is pairing down.
Add subtle touches of colour to a neutral base, while interesting natural textiles can add just the right amount of interest.
Add greenery
Set off your relaxing colour scheme with the ultimate way to add interest to any space in an instant. Plants not only look fantastic and are mood lifting, some even have air purifying qualities.
See: 11 Ways to Feature Sparkly Bedroom Furniture in Your Home
Consider natural textiles
Whether it's the blanket on your bed or the baskets your plants sit in, natural textiles are a great choice for making a bedroom feel natural.
Hanging macramé will work well, as will straw baskets to give the room a worldly feel of the outside in.
Add global touches
If you like to travel, then why not bring a bit of personality to your bedroom by adding global touches?
That's not necessarily filling every nook and cranny with every souvenir you can think of but adding rustic touches such as a distressed chest, wall map or globe can work well with a natural bedroom theme.
See: 15 of the Best Bedroom Wall Colours That'll Help You Always Enjoy a Good Night Sleep
Opt for wooden features
A wooden bed can make for a great focus point in a natural bedroom. This can then be teamed with corresponding natural textiles for a feeling of uniformity.
Other ways to include wood may be in your furniture or flooring. A wooden floor looks simply chic plus, added bonus, it's easy to keep clean!
See: To Add Touches of Royalty and Luxury into Your Bedroom Go Purple
INCORPORATE a coastal theme
It's easy to think of an earth theme when it comes to creating your perfect natural bedroom, but what about coastal interiors?
According to Interior Style Advisor Rebecca at Furniture Choice: "Blue and white have always been classic choices for beach decor, pairing beautifully to boot.
Traditionally, the shades of choice have tended to be lighter blues like turquoise and aquamarine, but for a 2019 update, go for darker tones, like deep indigo and navy."
See: The Key to Creating The Perfect, Relaxing Bedroom? By Adding Navy Blue 
consider a forest theme
Alternatively, why not bring a forest theme into your bedroom by bringing in a splash of green to a neutral colour scheme?
A smattering of dark emerald green can evoke feelings of leaves in the woodland, paired perfectly with a touch of gold.
Add nature themed art
A simple way to update a neutral wall is to add framed art. This doesn't need to be expensive or require serious artistic skill, why not press leaves you've collected on walks into frames?
You could even switch it out according to season, using browner leaves in the autumn.
Alternatively, create a gallery wall instead if you'd like even more interest.
ACCESSORIsE with touches of nature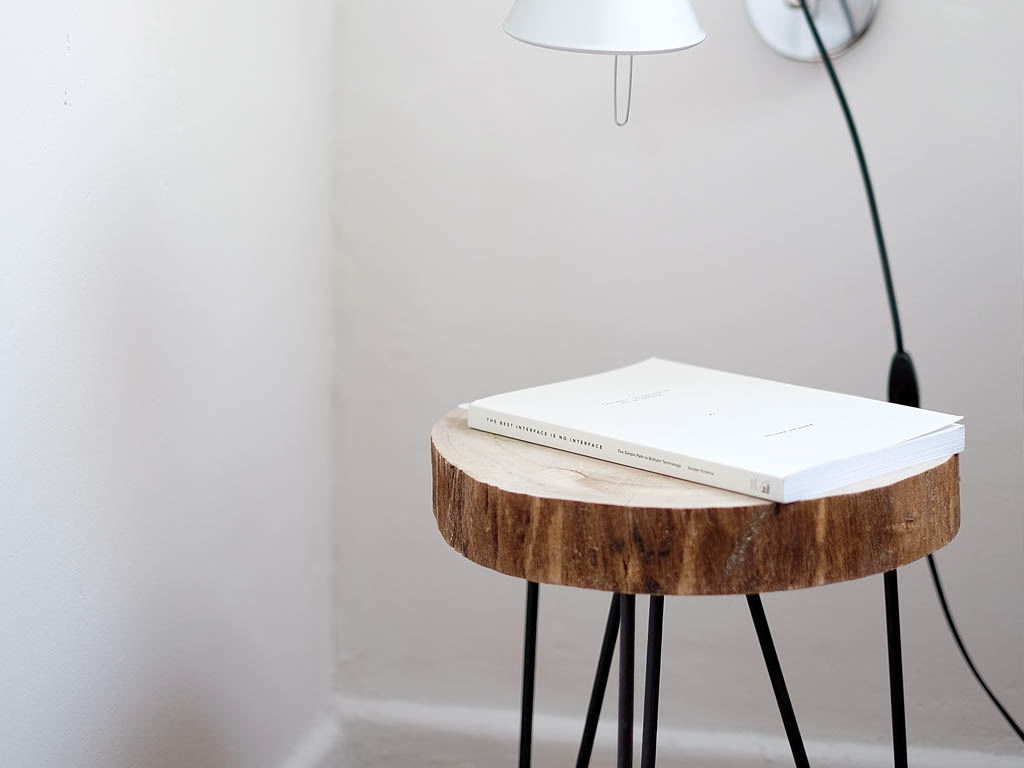 For the perfect finishing touch to any natural themed bedroom, why not draw inspiration from nature itself?
You could add a collection of shells to a ceramic bowl or feature tree trunk tables that'll make a real statement to the side of the bed.
See: Coconut Bowls Are One Of This Year's Quirkiest Eco-Friendly Trends
Follow Inspiralist on Facebook and Pinterest for all your eco-friendly lifestyle and sustainable home decorating ideas.
Sign up to the weekly Inspiralist newsletter and get the top stories delivered straight to your inbox.
Sign Up