In recent years, tiny homes have become increasingly popular as homeowners seek to reduce their environmental impact and save on costs.
This is especially true for eco-conscious millennials who may not be ready to commit to a full-sized home.
Tiny homes are defined as dwellings between 60 and 120 square meters, and may be used as full-time residences, guest houses, or rental properties.
If you've ever considered having your own small home or are ready to take the plunge and downsize, The Zebra are on hand to help…
Why consider a small home?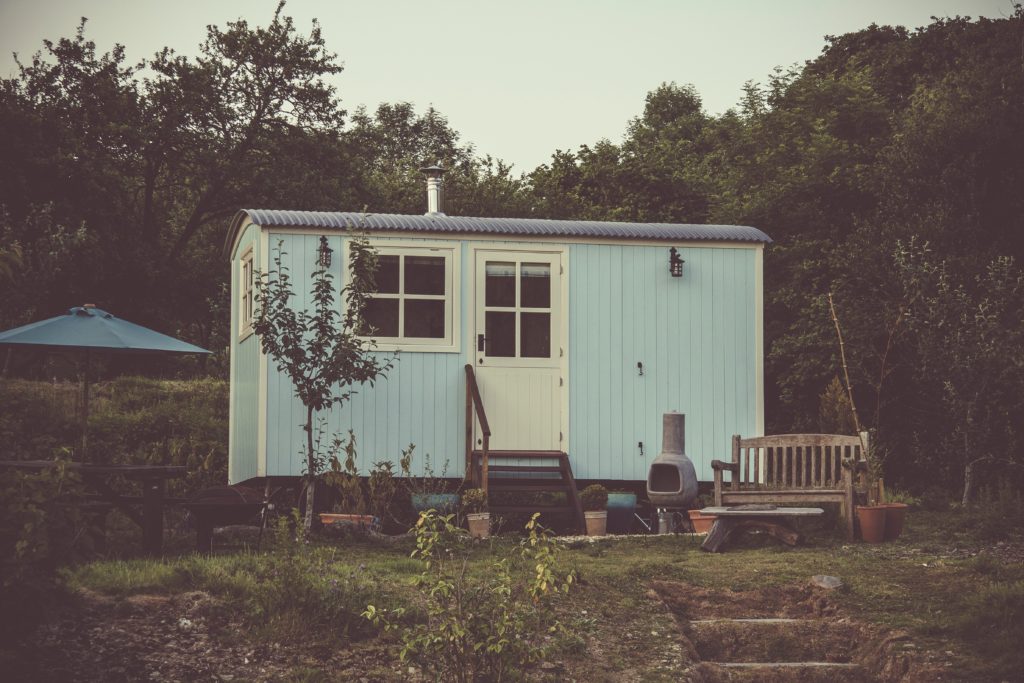 From increased happiness to financial incentives, there's several reasons you may consider a minimal way of life.
 environmental benefits
Small homes require less materials to build overall – some are even made from 100% recycled materials!
Small homes are better equipped for eco-friendly add-ons like rainwater barrels, composting toilets, and solar panels
Small homes typically have fewer maintenance issues throughout their lifecycles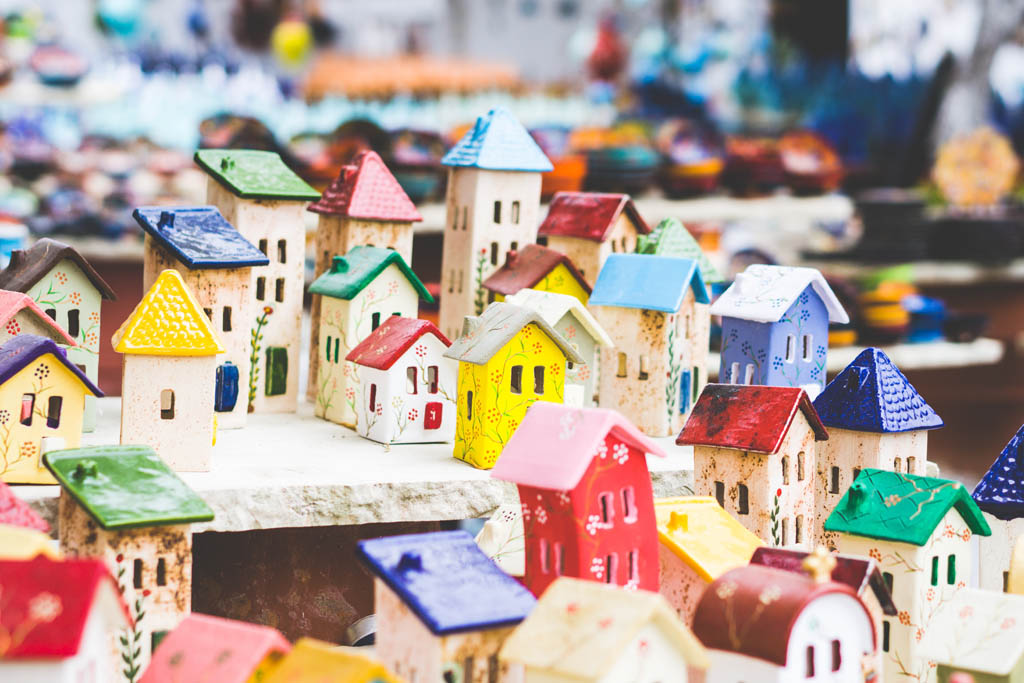 financial benefits
On average, the full cost of a tiny home is equal to the down payment on a traditional home but without the monthly mortgage fees and high tax rates
They allow homeowners to stay out of the volatile housing market and avoid debt or high interest rates, but still qualify for home insurance.
The limited space encourages a minimalist lifestyle, allowing tiny home dwellers to save more than peers living in traditional homes
step towards HAVING YOUR DREAM SMALL home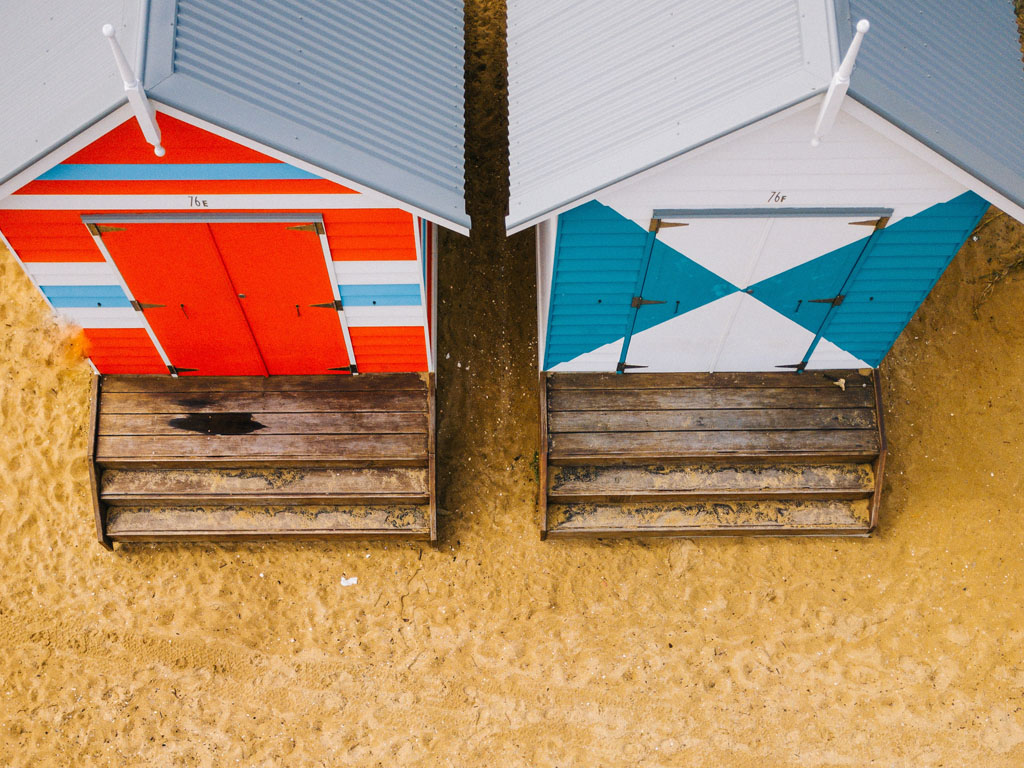 1. Select your tiny home's location
While tiny home living has skyrocketed in popularity over the years, city regulations are still playing catch-up. Permanent living in an RV, which is what many tiny homes are considered, is actually illegal in some cities.
Once you have figured out where you want to live, if you plan to put your home there long-term, check into your city's housing regulations and take the proper steps early on to get your housing plan approved.
This will save you time and money in the long run, and allow you to move into your new living situation sooner.
2. Build your new home
Once you have an idea of where you want to live, the next thing you need to decide is whether you want to build your own home or buy a premade tiny home.
While designing your own home allows you to customize it to your preferences, it's a lot more work and those without a construction background may choose to have a professional build their new home.
Below is an outline of steps to take when building your new home:
Rent a small Airbnb to test tiny home living.
Set a budget.
Decide if you will build it yourself or buy from a builder.
Decide on must-have features and draw a floor plan or look for homes that have those features included.
Find the proper utility hookups and electricity options based on your preferences.
Research materials and decide if you want to use salvaged materials or brand new.
Buy your new home or starting the building process.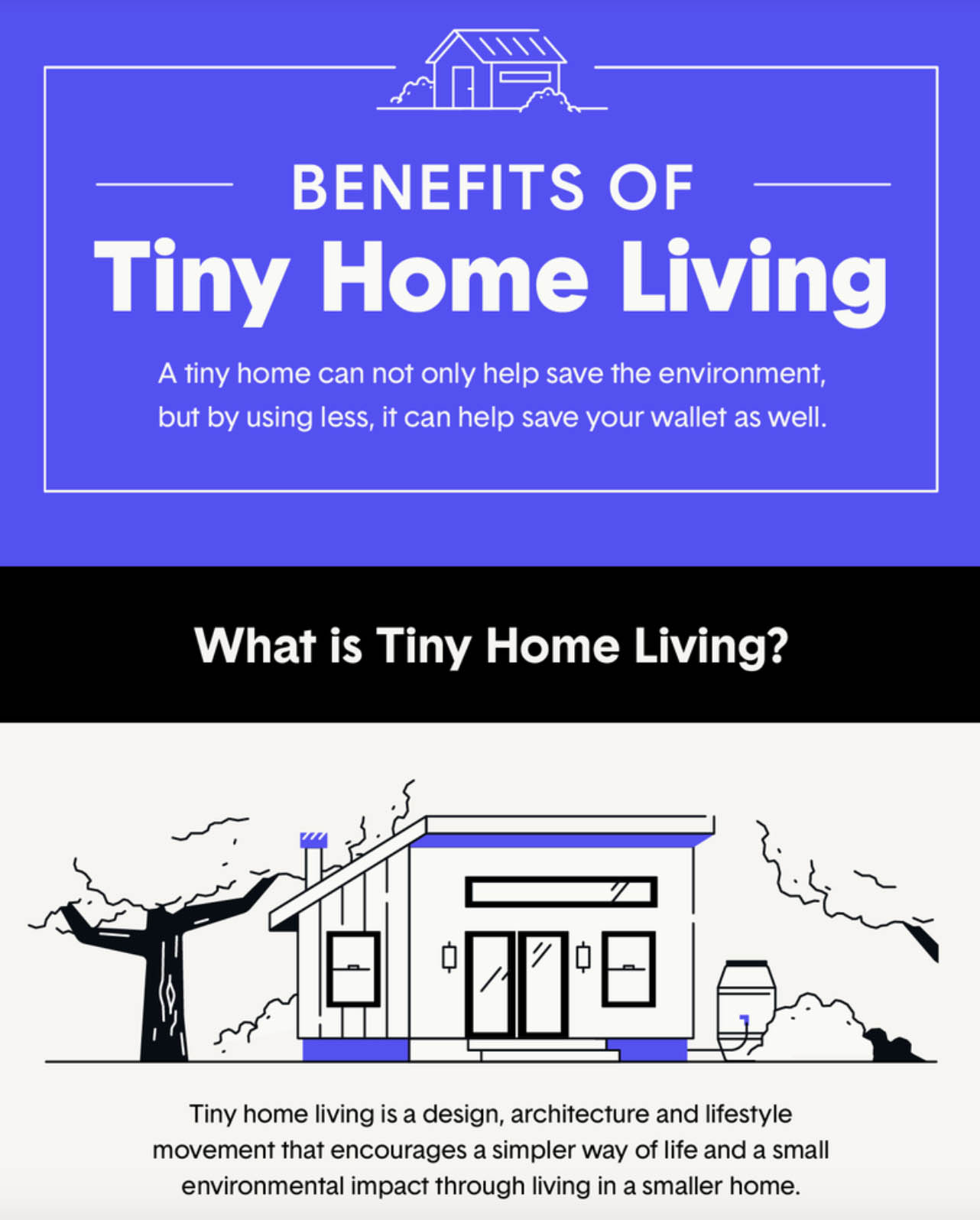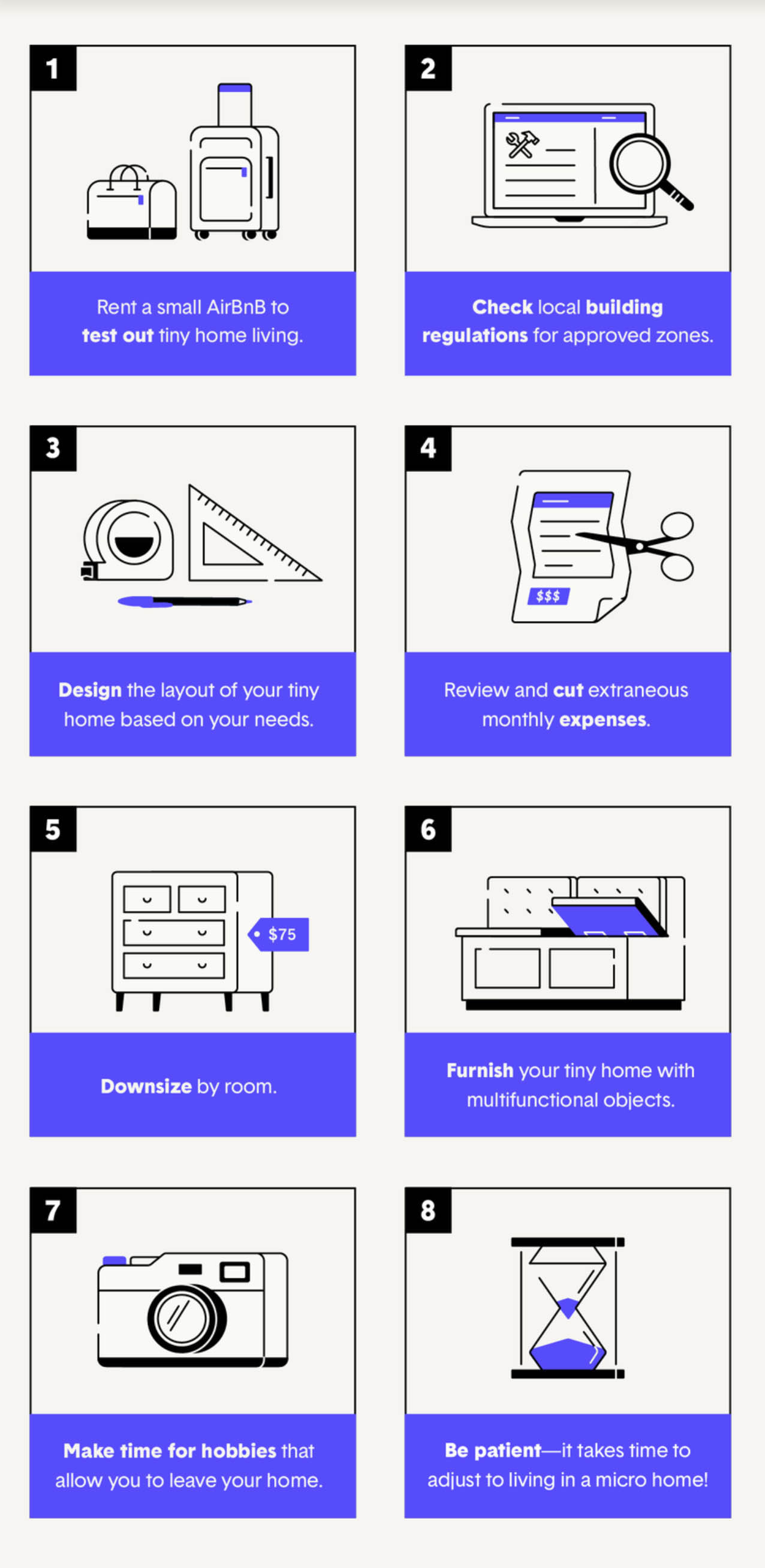 3. Downsize by room
A question many people have while considering tiny home living is how to get rid of all the items they have accumulated over the years. Downsizing can seem daunting, but when taken room by room, it's doable.
For example, when downsizing your kitchen you should aim to get rid of all single-use appliances such as an ice cream maker or waffle iron.
Any movies and books should be digitized to save space and rarely used beauty products and clothes should be donated.
When downsizing, it's important to focus on your needs and only keep the items that help you accomplish those needs in an efficient, space-saving way.
4. Create a budget for your tiny lifestyle
Taking a hard look at your monthly spending patterns will serve multiple purposes on your journey to a minimal life.
Not only will it help you become more aware of what you spend your money on, but it will also help you move more money into your savings which is important to build up before you strike out on your own.
Get started on your savings journey by following these tips:
Track your spending habits with an app like Mint to track your spending habits.
Pick one or two categories to cut back on and set a max monthly budget for each.
Stick to the monthly budget, moving the extra income into your savings each month.
Make note of problem areas for the future so you can continue spending less and saving more.
Research outdoor and cost-effective hobbies to take up once you move into your tiny home.
5. Buy less, but better
Living in a tiny home means your shopping trips are limited to only the necessities. But when decorating your space, it's important to choose furniture and other items that serve multiple functions.
To maximize your space, look for well-made products that will last you a long time to ensure your tiny home won't cause you any additional stress.
Some examples of multifunctional and well-designed furniture pieces are:
Bed or couch that folds into the wall
Hideaway dining tables
In-wall storage
Stools with removable lids for storage
Convertible couch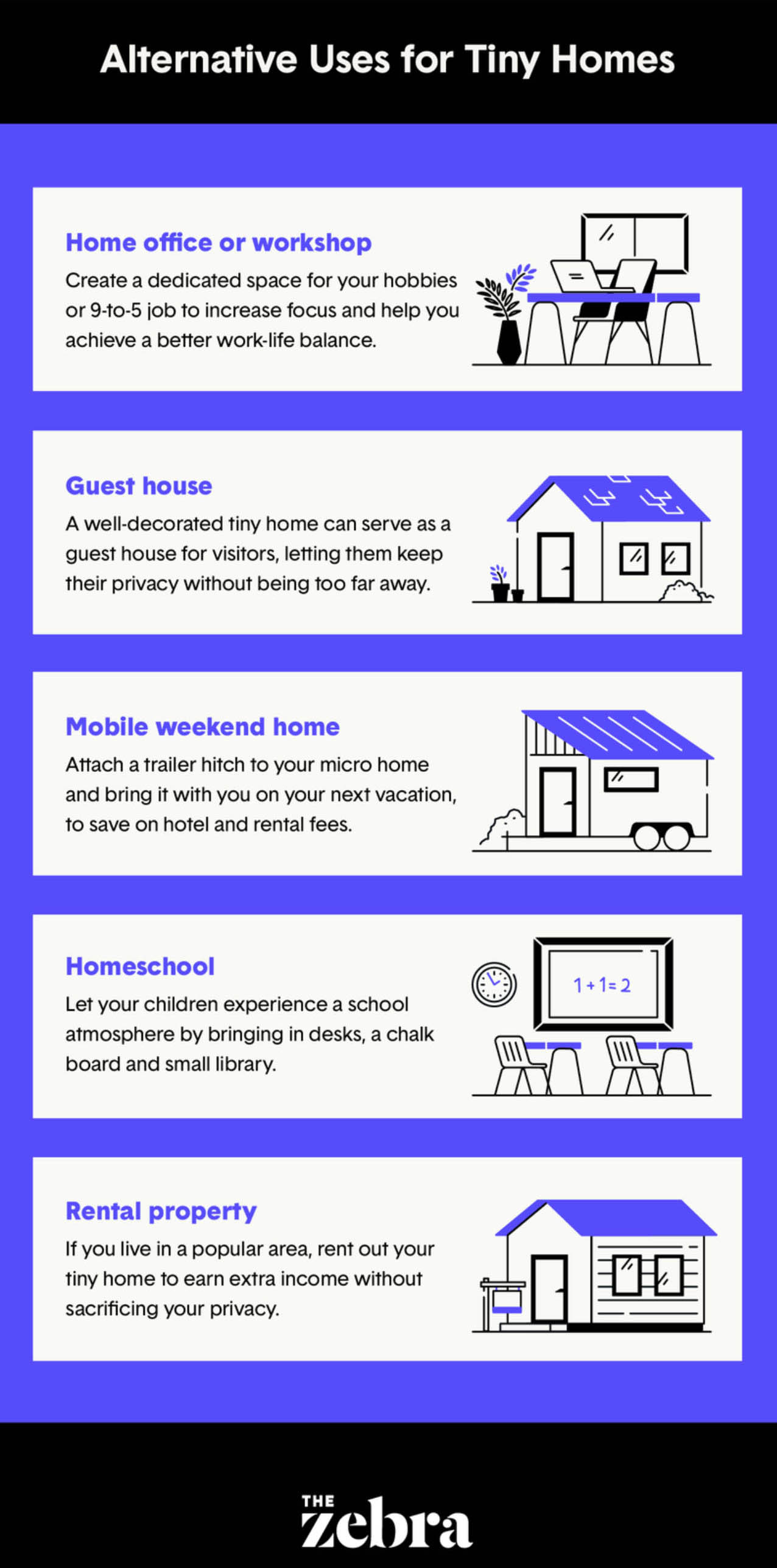 Follow Inspiralist on Facebook and Pinterest for all your eco-friendly lifestyle and sustainable home decorating ideas.
Sign up to the weekly Inspiralist newsletter and get the top stories delivered straight to your inbox.
Sign Up