In an effort to illustrate the positive impact homes can have on the environment when built to harness its green power, a Swedish architectural firm has created a collection of progressive, renewable energy-focused abodes.
The compact homes have been build by Stockholm-based Street Monkey Architects, and feature carefully angled solar panels that harnesses every movement of the sun, have been designed to be completely insulated and airtight, all in the pursuit of making the homes completely sustainable and self-sufficient.
See: This Sustainable Home Has Been Built Using Cork Blocks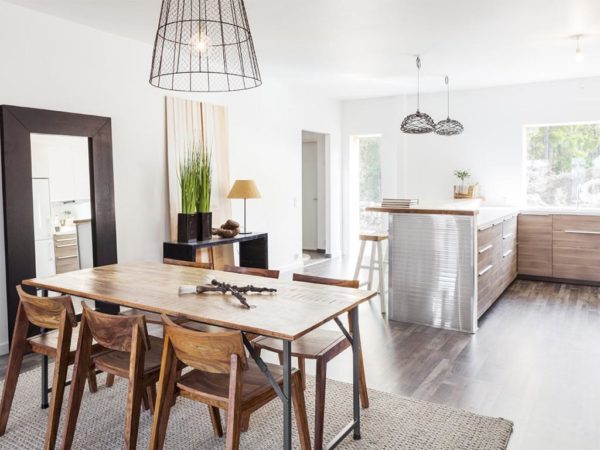 See: Lidl's Latest Houseplant Range Offers an Abundance of Air-Purifying Greenery
The innovative solar homes concept has been created in the town of Orebro, Sweden, and consists of ten immaculately designed abodes suitable for families, couples or singles.
Each home is split over two stories and measure 1,600 square foot. Each unit is composed of six factory-build "modules" which are build off-site, transported to the location, connected together, and are finished with smooth and modern interiors.
All of the homes have been created to gain almost all of its energy from solar power, with on-site batteries available to store distribute any unused energy from the other homes. Four units face east-west with the other six enjoying a north-south orientation.
See: This Stylish Green Company Turns Recycled Plastic Bottles Into the Cosiest Homeware
See: This Lighting Range Is Infusing Homes with a Touch of Luxurious Sustainable Decor Designed to Last
The homes have all be built using sustainability sourced and manufactured materials and have been constructed to guarantee any heat generated is not lost due to poor ventilation or insulation. Each home is almost 100 per cent airtight.
The interiors of each home features an airy atmosphere, with open plan kitchens, dining rooms, private bedrooms and access to outdoor terraces. Each home also includes space for expansion, with each room capable of growing, with renewed energy consumption factored in.
Another unique feature of the solar homes is any energy generated not used can be stored and ultimately sold back to energy companies.
For more information on the Street Monkey Solar homes visit Street Monkey Architects online. 
Follow Inspiralist on Facebook and Pinterest for all your eco-friendly lifestyle and sustainable home decorating ideas.
Sign up to the weekly Inspiralist newsletter and get the top stories delivered straight to your inbox.
Sign Up