What is the best thing about upcycling? It's a chance to inject an older or worn piece of furniture with new life, and there are no limits to what you can create or recreate.
Here, interior designer Stephanie Briggs, owner of La Di Da Interiors, is encouraging the nation to join the upcycling movement by breathing new life into old or worn pieces of brown furniture…
See: How to Upcycle Your Furniture by Adding Metallic Touches
Sourcing Your Furniture
There is a rich source of brown furniture across the UK, from recycling centres, charity shops, auction sites and social media pages.
I bought this very tired looking vintage chest of drawers from our local household recycling centre…
It's worn, part of the veneer is missing, it is peeling, it's scratched and battered, but the drawers and carcass are solid and sound. All it needs is a bit of love and attention.
When looking for upcycling furniture don't be afraid of giving it a through look over: take out the drawers; open the doors; check the hinges and handles; look at the back; pick it up and check it all over.
Avoid pieces with rot, mould, or signs of woodworm.
---
How to upcycle A Brown Chest of Drawers
Step 1: Furniture Preparation/cleaning
If you're painting a piece of furniture you've had in the spare bedroom for years it's probably good to start work on. If you've sourced it from elsewhere then you'll want to give it a good clean.
To begin, grab a bowl of warm water and a squirt of washing up liquid. If the item has been in a kitchen i'd use sugar soap to degrease, which is available at most DIY shops.
Use a cloth and give it a good wipe over.
---
Step 2: Sand and repair where needed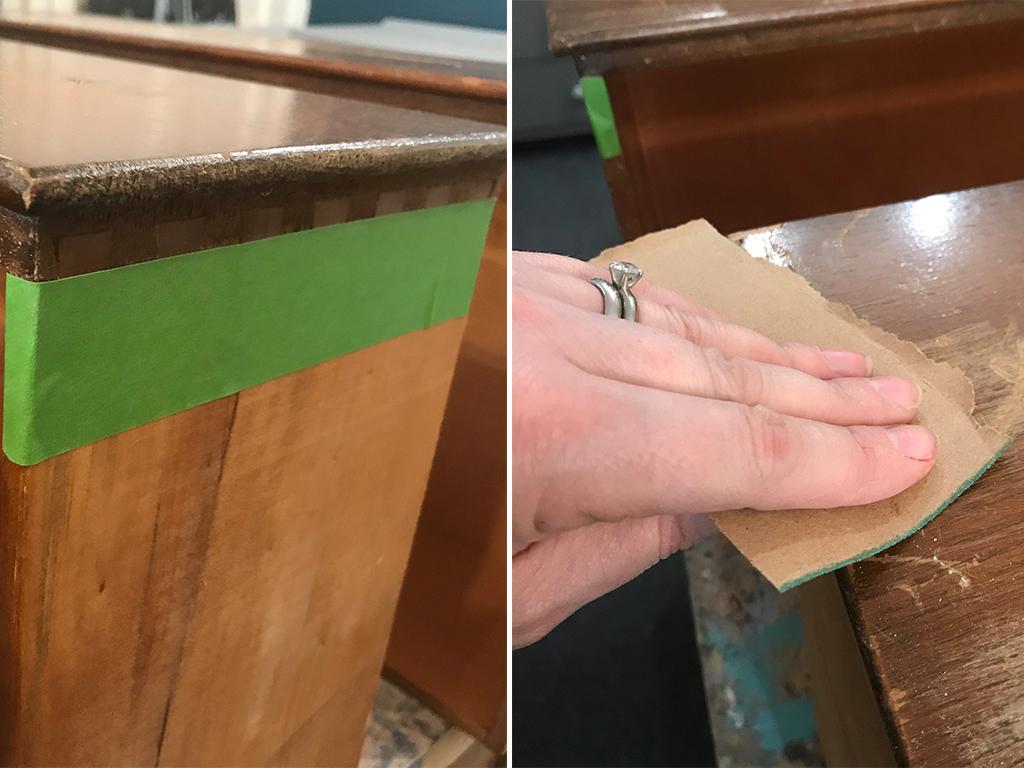 Once the piece has dried use 120 grit sandpaper to get rid of any superficial scratches and rough edges.
Now is also the perfect time to undertake any repairs which might need doing. This particular chest of drawers has some of the veneer lifting, so I've applied wood glue to it and placed it on a flat surface overnight with a weight on the top to ensure it dries flat.
---
Step 3: Take the chest apart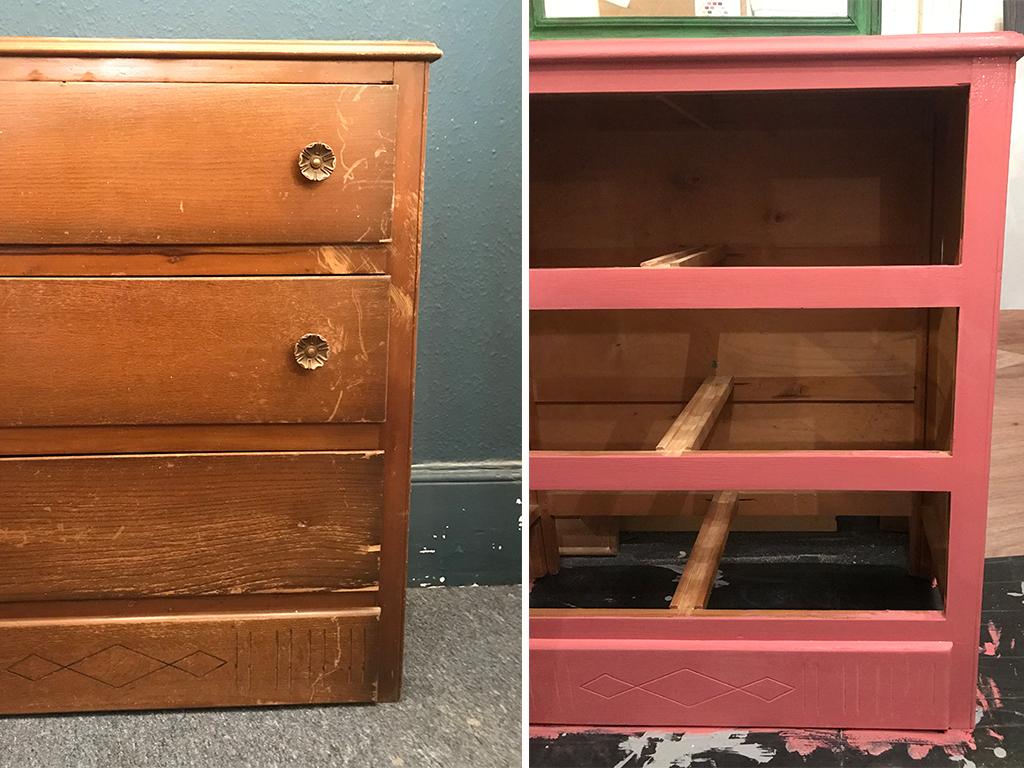 Remove the drawers and number them on the back of the drawer with a pencil.
This makes it easier to replace in the correct order when you're done, because wood is a natural material and will have warped over time and you will often find that each drawer will only fit in the original runners that it came from.
Remove the drawer handles using a screw driver. I love the look of these vintage ones so I'm going to reuse them once they've had a makeover.
---
Step 4: Time for Painting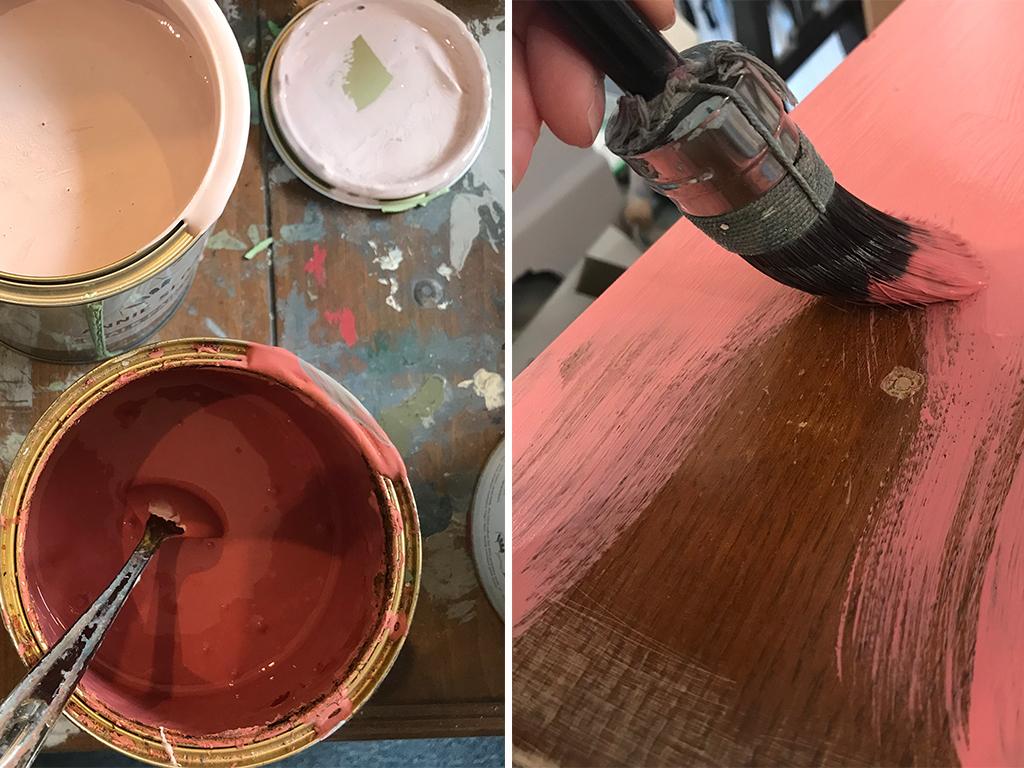 I have mixed a blend of Annie Sloan Chalk Paint using Scandinavian Pink, Antoinette and a tiny bit of burgundy to create a rose pink colour.
Painting furniture with chalk paint is simple because its water based and dries quickly.
One or two coats is usually all it takes to get a good coverage. I use a round brush to apply the paint, but if you're not confident with a brush you can use a small foam roller to get a smooth effect.
---
Step 5: Let it dry
Once painted it typically takes about 30-60 minutes to dry depending on the temperature and humidity, then you're ready for the second coat of paint.
Whilst the first coat on the chest of drawers is drying I've used a Rustoleum spray paint to revive the handles, I chose a metallic gold to compliment the rose pink bringing it bang up to date on trend.
Two light coats is all you need, make sure you are spraying in a well ventilated area.
---
Step 6: Add those Finishing touches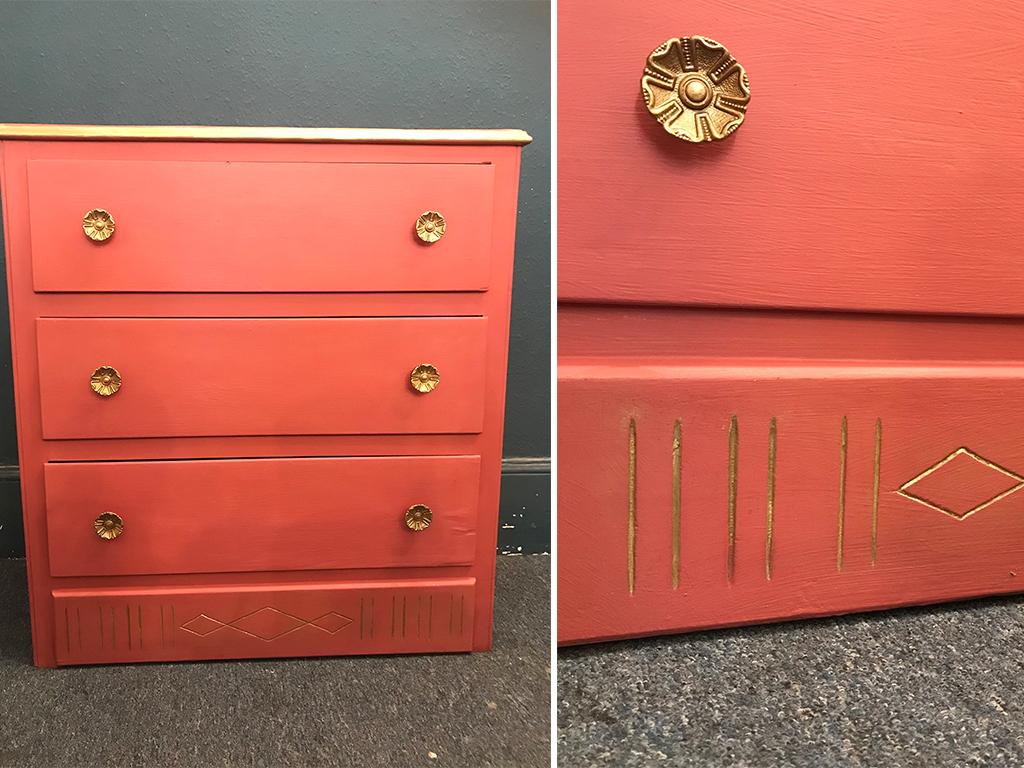 Once the paint has totally dried, it's time to wax and finish.
I used Annie Sloan Clear Wax all over, applied with a brush and then wiped off the excess with a lint-free cloth.
To highlight the pretty vintage features, I used Annie Sloan Gilding Wax in Bright Gold on the edge of the top and in the geometric details on the bottom panel to compliment the gold handles.
With the handles back in place this vintage piece has had a facelift, so it can be used, loved and enjoyed for years to come.
This finished vintage rose chest of draws set is available to buy, along with a host of other upcycled marvels, at La Di Da Interiors online.
Follow Inspiralist on Facebook and Pinterest for all your eco-friendly lifestyle and sustainable home decorating ideas.
Sign up to the weekly Inspiralist newsletter and get the top stories delivered straight to your inbox.
Sign Up