As the world continues to cope with at-home working and distance learning caused by the Coronavirus pandemic, a new furniture collection aims to help those who are not a fan of traditional home office and desk spaces.
The Grafeiphobia: Unexpected Office collection by designer Geoffrey Pascal is a range of office furniture crafted to emulate the feeling of being in bed, ideal for those who would rather work reclining than sitting at a traditional desk.
See: Meet the Sustainable Indonesian-Inspired Furniture Brand That's About to Take Over Your Instagram
See: TIPTOE's Sustainable Furniture Collection Hopes to Change The Way People Decorate Their Homes
The name Grefeiophobia relates to the fear of desks.
The furniture range was inspired by the Neutral Body Position support, developed by NASA for their astronauts in zero-gravity. The neutral body position aims to spread the user's weight over multiple points the body, making for an even sitting position, instead of the typical seat desk position that concentrates force downwards on the back.
The collection includes three different pieces, all catering to different styles of working. It can all be used in a traditional office environment along with remote home workers.
The Basic Besk has been inspired by sitting in bed with a laptop on your lap. It is made using three modules – a back rest, a seat, and a foot rest, which also doubles as a small storage box. To help create suitable back support there is a small rectangle cushion, a large rectangle cushion, and a round cushion.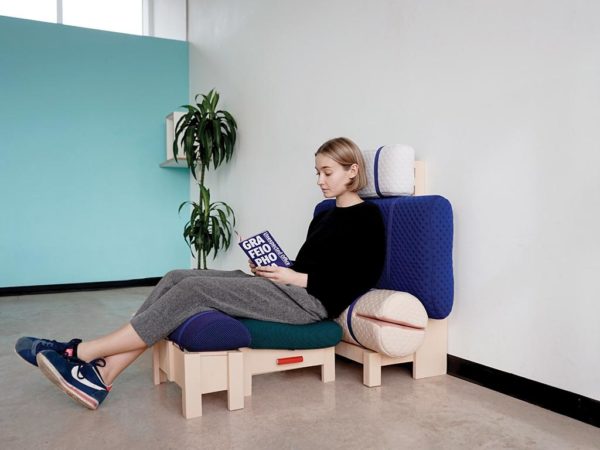 The Triclinium Gum emulates a side-lying position, featuring a sloping frame supporting a mattress, with an cushion for placing between legs. There is an additional desk feature called the "Popsicle" which can be used as a laptop stand.
The Flying Man, is based on laying on your front and working flat. The item consists of three pieces, one for the lower legs, one for the torso, and a desk support for a laptop.
While this collection of alternative office furniture is unique and challenges the traditional working set-ups, it is currently only a concept and not available to buy.
For more information on the Grafeiophobia alternative home office furniture visit Geoffrey Pascal online.
Follow Inspiralist on Facebook and Pinterest for all your eco-friendly lifestyle and sustainable home decorating ideas.
Sign up to the weekly Inspiralist newsletter and get the top stories delivered straight to your inbox.
Sign Up