With eco-friendly shops in the UK only becoming more commonplace, the good news is there's never been more choice.
These sustainable shopping havens are mainly based in London, but you'll also find a variety of places across the country offering great products and services in the most unique of locations. Happy shopping!
See: Eco Friendly Gifts Every Environmental Enthusiast Will Love
Hetu – Vegan Zero Waste Store, LONDON
Where else could you enjoy wine from an upcycled tap but from this celebrated eco-friendly store located in St. Johns Hill, London?
When it's not serving wine in an innovative way, however, this vegan zero waste store is chocked full of sustainable household items and whole foods without the unnecessary packaging.
Hetu, 201 St. Johns Hill, London
Tue-Thu 11:00-19:00, Fri-Sun 11:00-17:00.
---
BYO, London
BYO quite literally stands for 'Bring Your Own' helping customers shop in a plastic-free manner. There's everything from loose nuts to pulses; grains to household goods but you're sure to love the spice wall.
BYO, 147 Evelina Road, London, SE15 3HB
Tuesday – Friday : 9:30am – 6pm | Wednesday – 10:30am – 7:30pm | Saturday: 9:00am – 6:00pm  | Sunday: 10:30pm- 4:30pm
---
THE ZERO WASTE COMPANY, KENT
This store stocks a range of products from local vegan suppliers; including a range of organic vegetables to vegan cheeses, as well as loose refill food.
What's really impressive is that the company have also created the chicest zero waste destination inside through their cafe space which includes plush red chairs and greenery inspired wallpaper.
The Zero Waste Company, 13 The Pantiles, Tunbridge Wells, TN2 5TD. 
Monday 10am-5pm | Tues – Friday: 9am-5pm | Saturday: 9.30am-5pm | Sunday: 10am-4pm
---
See: 10 Inspiring Ways to Introduce Eco-Friendly Interiors into Your Home
---
69b Boutique, london
'London's first store dedicated to a better fashion industry', 69b Boutique specialises in sustainable style showcasing an impressive curation of ethically made pieces from around the world.
The brand's founder, Merryn Leslie, was previously a fashion director for magazines including Vogue and i-D.
69b Boutique, 69b Broadway Market, London E8 4PH
Monday-Friday  10:30am-18:30pm | Saturday  10am-6pm  | Sunday  11am-6pm 
---
M20 Refills, Manchester
M20 Refills might just be one of the most interesting delivery services out there. Rather than delivering milk to your door, this zero waste concept delivers laundry liquids and bodycare products.
Sadly, the company currently only delivers their products through South Manchester and certain parts of Stockport but here's hoping they branch out in the future!
M2O Refills, Delivery through South Manchester and Stockport.
---
Miiixer Zero Waste Hubs, Scotland
Miixer CIC is a non-profit Social Enterprise based in East Lothian who divert over 30 tonnes of material from landfill every month to reuse for community benefit.
Pop into their shop in Dunbar for quality items sold cheaply to local communities, donate to local groups and charities, and support those in need with free goods.
Their Zero Leith Pop-Up is particularly notable for its weekly selection of salvaged treasures. The weirder the better!
Miixer CIC,  ZERO Leith, 120 Ferry Road, Edinburgh EH6 4SR
---
Karavan Eco, london
Since opening their doors in 1995,  Karavan Eco have been advocates of environmentally conscious living. Many of the products from women's groups and businesses are committed to creating a positive social impact.
There's everything from recycled newspaper coasters to fashion items in this wonderous eco bazaaar.
Karavan Eco, 167 Lordship Lane, London, SE22 8HX, UK
Monday to Saturday:  10am – 5.30pm | Sunday:  12 – 4pm
---
See: 9 Eco-Friendly Decorating Ideas to Incorporate at Home
---
harvest, bath
Small but beautiful, Harvest is food shop specialising in organic foods that sells locally grown, unique fruits and vegetables.
They also offer a fantastic range of vegan beauty products, including blushers, lipsticks, foundation, concealer, mascara, deodorants, essential oils and facial washes to keep you feeling fresh.
Harvest, 37 Walcot Street, Bath, BA1 5BN
Monday: 8:30am to 6pm. Tuesday: 10pm to 6pm | Wednesday – Saturday 8:30 to 18:00
---
The Third Estate, London
The Third Estate is an ethical clothing and footwear company based in Camden, London. The brand specialises in vegan shoes for men and women, while also selling organic vegan knitwear and sustainable denim.
Third Estate, 27 Brecknock Road, Camden, London, N7 0BT. 
Tuesday 11am – 7.30pm |  Wednesday – Saturday 10am – 6pm 
---
Wearth London
Wearth London is different from many featured on this list as it's actually an online store.  However, it's more than a worth a mention, as one of the best eco friendly shops London has to offer.
Expect everything from perfect eco-friendly gifts to bamboo toothbrushes, all in one place and available at the click of a button.
---
Unpackaged, London
Unpackaged is both an organic refill grocery and a café & bar founded in 2006 by Catherine Conway in the belief that there was a better way to sell products without unnecessary packaging.
Not only does Conway run her own eco-friendly shop, but the company also offers services for retail including refill systems and assistance on setting up a zero waste shop.
Unpackaged, Two locations in London, Hours according to store. 
---
OmNom Zero Waste, Southport
Omnom has over 100 dispensers serving organic wholefoods, herbs and spices in bulk for you to refill using your own containers.
You can also pick up household cleaning products including washing up liquid, laundry detergent, fabric conditioner and toilet cleaner or indulge in natural and organic skincare products.
Infused extra virgin olive oils and vinegars are also available on tap.
Omnom Zero Waste, 14 Wesley Street, Southport PR8
---
Tokoru, London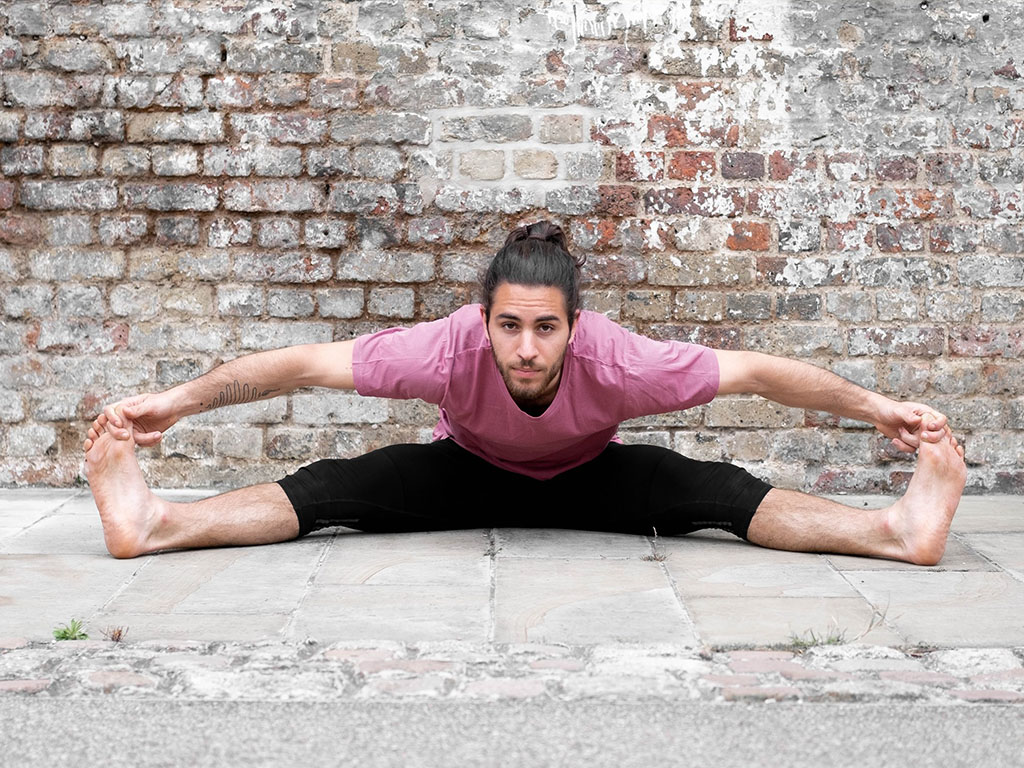 Boasting a wide selection of stylish goods, Tokoru focuses on clothing, living and body.
You can just as easily pick up as a resuable bento lunchbox or your next fashion essential alike, it's all about chic ethical shopping.
---
Content Beauty & Wellbeing, london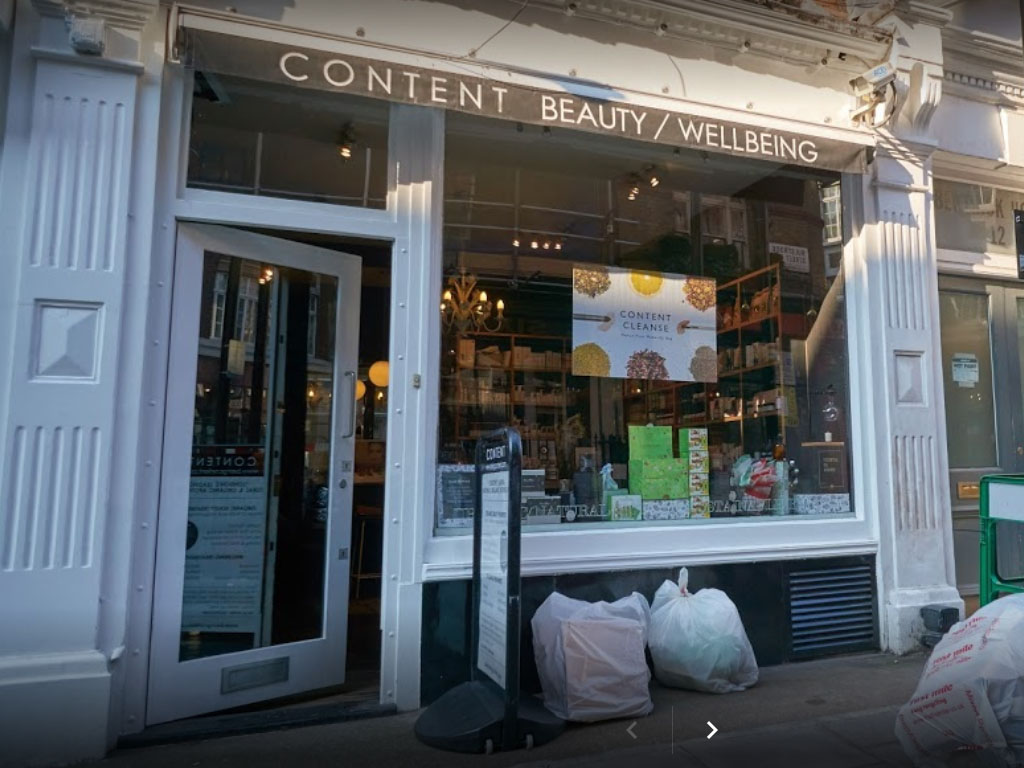 Go alternative with your beauty with a visit to Content Beauty & Wellbeing. Not only are the organic products thoughtfully chosen, the store itself is designed with strong eco focus.
The walls are coloured with non-toxic paint, while the floors have either been restored or repaired using reclaimed flooring and fixtures for that special boutique shopping experience.
Content Beauty & Wellbeing, 32-34 New Cavendish Street, Marylebone, London, W1G 8UE
Monday to Friday: 10am – 7pm |  Saturday: 10.00am – 6pm
---
The Clean Kilo, birmingham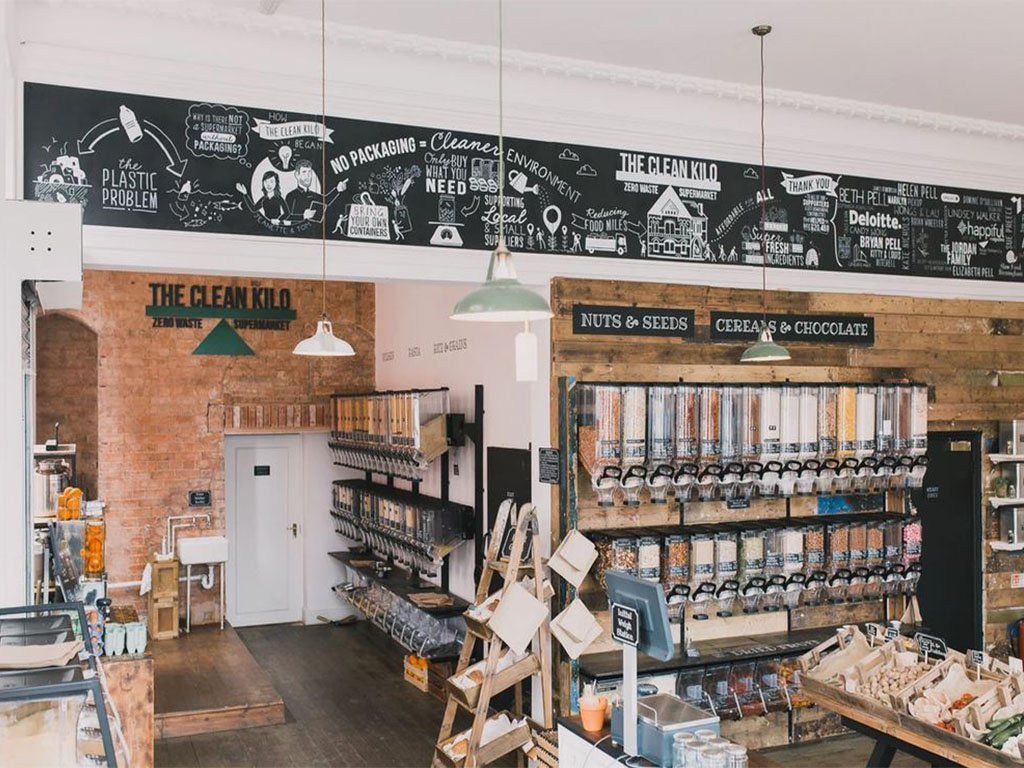 The Clean Kilo claims to be the UK's largest zero waste supermarket, selling not only non-perishable cereals, loose fruit and veg and freshly squeezed orange juice, but a whole zero-waste lifestyle.
This store prides itself on its interactive experiences including asking for any recommendations from staff or getting involved in your food: from grinding your own coffee, to squeezing your own orange juice and making your own peanut butter, it's all here.
The Clean Kilo, 1 Gibb Street, Birmingham B9 4AA 
Tuesday 10am- 7pm, Wednesday: 9am – 6pm, Thursday: 10am-7.00pm  | Friday and Saturday: 9am – 6pm | Sunday: 12pm – 6pm
---
Alara Wholefoods, london
Started in 1975, Alara Wholefoods is a pioneer of natural and organic food in the UK and has been actively involved in many organisations and projects promoting sustainability.
In 2008 they became the first food company in the UK with a zero waste policy.
Alara Wholefoods, 110-112 Camley St, London N1C 4PF
---
Whole Foods UK, london
Whole Foods Whole Foods Market is the world's largest retailer of natural and organic foods and it has several spots in London to nip in for a sample or two.
Even you don't live in London, it's still good news as you can purchase many of the products via Amazon Fresh Delivery.
Whole Foods Market UK, Various locations. 
Sign up to the weekly Inspiralist newsletter and get the top stories delivered straight to your inbox.
Sign Up