A company has managed to create beautiful tiny homes out of recycled shipping containers, ideal for those looking for new sustainable ways of living.
CargoHome is a Texas, USA, based company who design and build tiny homes from discarded shipping containers, complete with rooftop decking, industrial fittings, kitchens, living areas, bedrooms, electricity, and even a working toilets.
See: This Vodka Has Been Brewed From Grain Grown Within the Chernobyl Exclusion Zone
See: Give Your Home a Timeless Makeover With The New Zara Home Spring/Summer Collection
Started by Kenneth Wheeler, CargoHome began life in 2017 as a fun back garden project, which has now grown into a booming family business in 2020, with customers coming from near and far.
Combining their expertise in the building and design world, the company have managed to create a sustainable home of the future.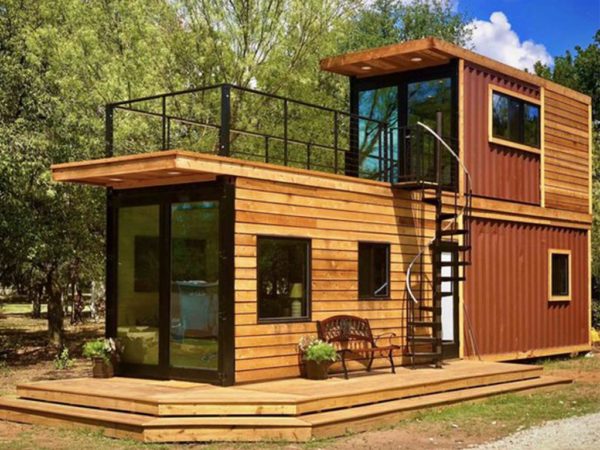 The unique tiny homes embrace a host of sustainable and environmentally friendly aspects and still offer the comfort of a traditional brick and mortar home.
Each home can be designed to the specifications of the owner, with a variety of layouts and amenities available. From fully fitted living room, bedroom and kitchen combinations to spaces featuring individual room setups.
CargoHome currently builds four different models using two standard shipping container sizes. Each unit typically takes two months to complete and range in size from 160 to 480 square feet.
For those who fancy the challenge of doing their own DIY, CargoHome also offer a kits for all their models.
To view all of the various home models, visit CargoHome online.
Prices for the CargoHome recycled shipping containers start at £40,000 range for the smallest models, with the larger versions priced at £75,000. To order visit CargoHome online.
For more information on the CargoHome recycled shipping containers visit Cargohome online.
Follow Inspiralist on Facebook and Pinterest for all your eco-friendly lifestyle and sustainable home decorating ideas.
Sign up to the weekly Inspiralist newsletter and get the top stories delivered straight to your inbox.
Sign Up