Prebricated homes and cabins can be designed for almost any need, these amazing Finnish sustainable cabins focus on both work and play – they even include an relaxing sauna.
Created by Bond Creative Agency, these self-sufficient cabins, dubbed Project O, serve as a unique retreat and feature a host of sustainable and environmentally friendly first aspects that make them some of the most innovative green-focused buildings ever built.
See: IKEA Has Unveiled a Stylish and Sustainable "Home of Tomorrow"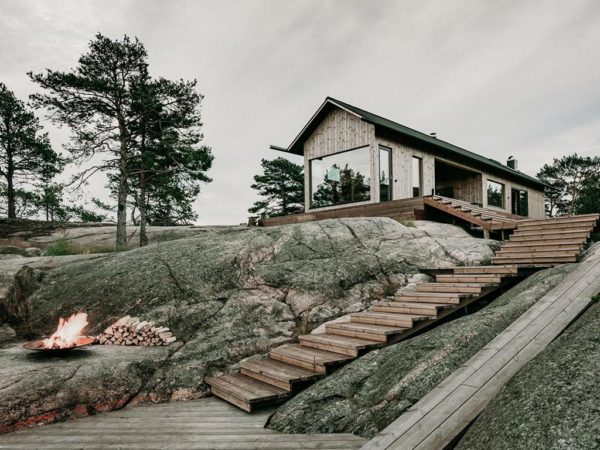 See: This London Restaurant Not Only Offers Sustainably Made Food, But the Decor Is Also 100% Environmentally Friendly Too
The amazing Finnish sustainable cabins are located on a remote five-acre island located along the edge of Finland's Archipelago National Park.
The cabins serve as a secret hideaway for the lead designers on the project, who were looking to find a place to get away from the everyday hustle and bustle of city life.
The home away from home retreat, Project O – which is a nod to the Swedish word of "island" – combines traditional Finnish aesthetics with 21st century modern living.
The building exterior is made using Lunawood pine, while the roof is covered with grey felt covering to help make sure both cabins fit seamlessly into the surrounding landscape.
See: These Norwegian Mini Homes Offer Low-Impact, Sustainable Living on Wheels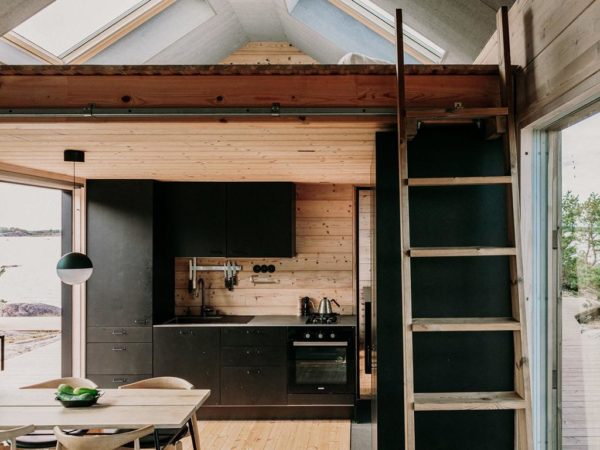 See: A 21st Century Green-Focused Modern Wharf Is Being Planned To Help Regenerate a Forgotten London Waterfront Space
The main cabin contains a living space, dining area, kitchen, bedroom and a second lofted sleeping area.
A covered terrace, overlooking the stunning national park, offers an outdoor entertaining space, which is bookended by the main living area and a second cabin structure.
The second cabin houses a shower, toilet and a sauna – which helps to heat the running water and the floors throughout the two buildings.
Inside the cabins is where modern living and traditional scandi-style come together.
The interiors are pared down, with the wooden floors, ceilings and walls offering a simple aesthetic, while modern appliances offer the comforts of 21st century living.
Each cabin includes running water, flushing toilets, heating and cooling, a fully operation kitchen.
To heat and power the cabins, solar panels generate energy while a water filtration system converts sea water into drinking water.
To view the stunning Finnish sustainable cabins visit Bond Creative Agency.
Follow Inspiralist on Facebook and Pinterest for all your eco-friendly lifestyle and sustainable home decorating ideas.
Sign up to the weekly Inspiralist newsletter and get the top stories delivered straight to your inbox.
Sign Up