From plant-filed, sustainable rooms to a roof garden stuff with an abundance of greenery, a new hospital in the North of England has been built with nature at its core to harness positive energy.
The Maggie's Centre for cancer patients, based in the grounds of St. James University Hospital, Leeds, UK, is a new centre aiming to provide patients and families with a space offering a soulfoul and welcoming feeling, inspiring visitors with hope and perseverance through an all-natural, green-focused aesthetic.
See: These Affordable Solar Homes in Sweden Produce as Much Energy as They Use
See: A New Kind Of Urban Farm Is Taking Over Fruit and Veg Delivery
The new hospital, which focused on caring for cancer patients and their families, has been designed and built by Heatherwick Studio, the UK – based firm, who specialise in innovative architecture and interior design.
The hospital uses natural, sustainable materials, immersing the building in plants and greenery, helping patients and visitors find a sense of soulfoul calm and relaxation.
The building's frame is made form sustainably sourced prefabricated wood parts.
Three large mushroom-shaped areas set counselling and social spaces. Surrounding these are a kitchen, lounge and exercise rooms, all sitting under a curved open-timber grill roof.
A number of the walls are glazed, offering views over tree and plant filled gardens. Internal walls have been coated in lime plaster to help maintain the internal humidity and natural outlook of the building.
See: Planter Docks Could Be the Next Frontier in Adding Greenery to Your Home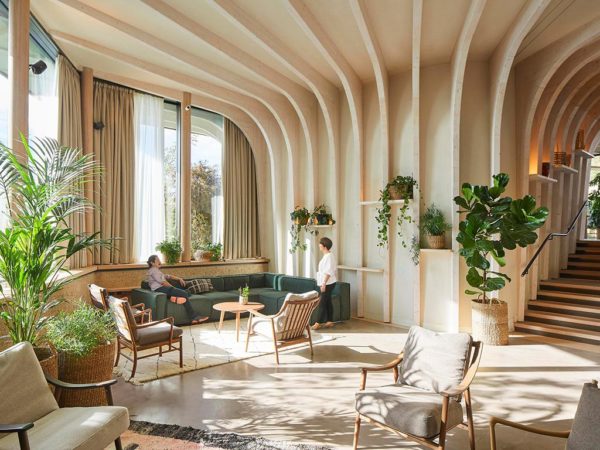 See: This Simple Soap Bar Transforms Into a Good Luck Charm Once It Has Been Used
Landscape gardens Balston Agius designed the outdoor area, creating a unique planting scheme, which is filled with native species to the Yorkshire area. Evergreen trees and shrubs were also added to provide colour, even in the winter.
Internally, thousands of plants grow from wicker baskets and pots cover hallways, windowsills, staircases and mezzanine spaces.
There are also two cork and beechwood tables positioned in the main Maggie's centre space.
To view the entire Heatherwick Studio Maggies Centre space visit Heatherwick Studio's online.
For more information on the Heatherwick Studio Maggies Centre  Leeds visit Maggie's online.
Follow Inspiralist on Facebook and Pinterest for all your eco-friendly lifestyle and sustainable home decorating ideas.
Sign up to the weekly Inspiralist newsletter and get the top stories delivered straight to your inbox.
Sign Up