Sustainable housing designers Henning Larsen have revealed a potentially revolutionary new neighbourhood made entirely from wood and sustainable materials.
The new low-rise neighbourhood, baaed in Denmark, will be home to an estimated 7,000 residents, all living in completely timber-based homes and be surrounded by an abundance of green spaces to help encourage a healthy balance between human life and nature.
See: The National Trust Reveals They're Planting 20 Million Trees In the UK Over the Next Decade

See: This Eco-Friendly Ferris Wheel Displays Your Succulents with Fun and Style
The impressive 18-hectare development, which is being called Fælledby, has been earmarked for construction on a former junkyard on the outskirts of Copenhagen and was the winning proposal in a design competition held by By & Havn.
Each home will be made entirely from timber, with the aim of reducing the volume of negative pollution generated from homes and also the carbon footprint created when building traditional housing.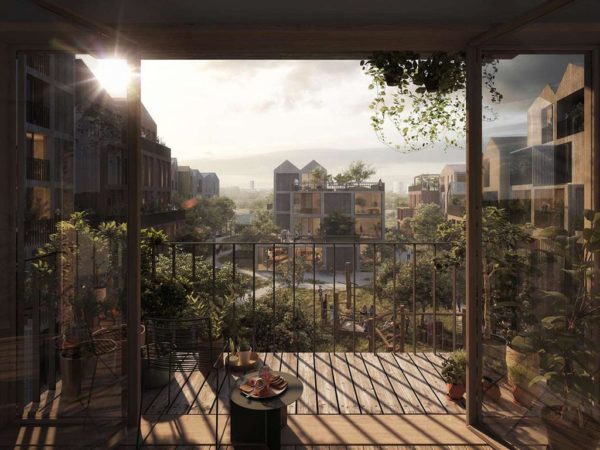 All homes will include modern amenities, from electricity, gas and water.
In addition to the wood housing, 40 percent of these new neighbourhoods will be dedicated to open, green landscapes, ponds and rivers, to help encourage biodiversity and native plants and wildlife to thrive and live in.
Once complete, the environmentally friendly neighbourhood will be divided into three individual sections, all with the purpose of creating an intimate, small-scale sense of community.
Each section will feature a close-knit community dynamic, with active street corners, green corridors and a concentrated city centres where people and nature will be able to live in harmony together.
To view the complete designs for the Henning Larsen timber neighbourhood visit online.
For more information on the Henning Larsen timber neighbourhood visit Henning Larsen online.
Follow Inspiralist on Facebook and Pinterest for all your eco-friendly lifestyle and sustainable home decorating ideas.
Sign up to the weekly Inspiralist newsletter and get the top stories delivered straight to your inbox.
Sign Up