Luxury comes in all shapes and sizes when it comes to hotels in the UK. From the grand and opulent to the small and perfectly formed, the home made toiletries to the historic mansions and contemporary spas.
Here, the Good Hotel Guide shares 15 of the top luxury hotels in the UK…
Hambleton Hall, Oakham
See: 7 Simply Stunning Hotel Bathrooms That Are Almost Too Good to Be True
The perfect place to find yourself utterly spoiled, Hambleton Hall in Rutland is a spectacular country house hotel where owners Tim and Stefa Hart provide a warm and friendly ambience and food that's a joy.
The turn-down service is meticulous. and the Michelin-starred chef Aaron Patterson continues to win acclaim for his wonderful modern dishes, all surrounded by elegant, stately design.
---
Lewtrenchard Manor, Okehampton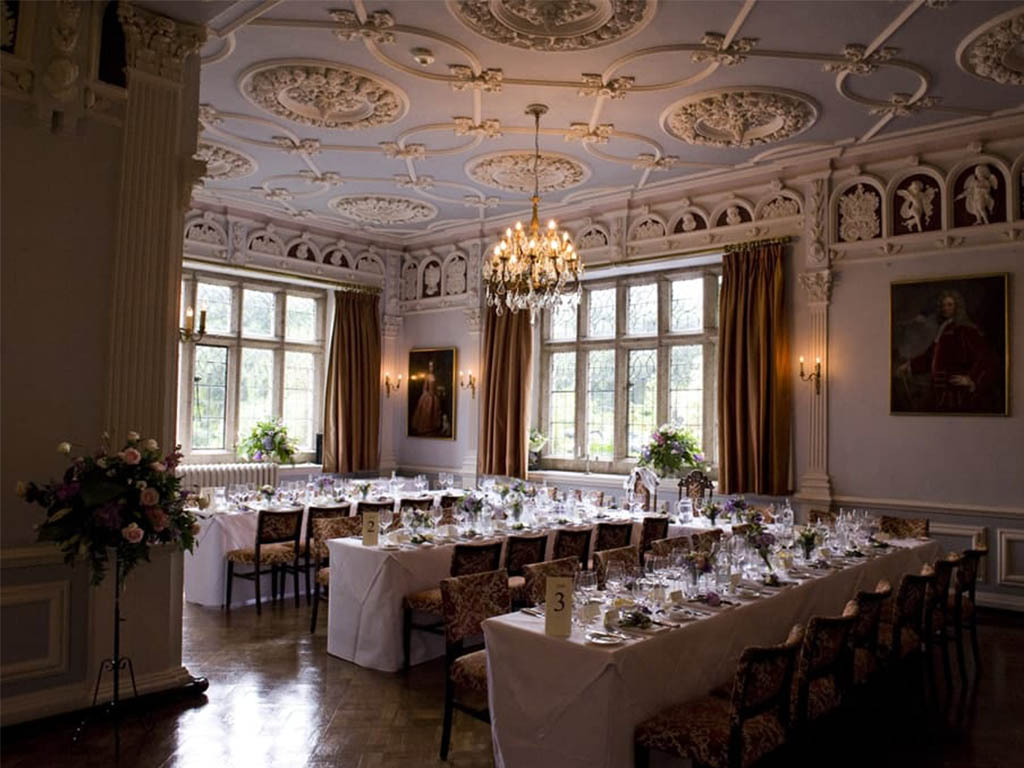 Once home to the Duke of Albemarle, Lewtrenchard Manor is a beautiful house where everything is uniformly excellent.
The historic hotel in Devon is welcoming and hospitable thanks to proprietors Sue and James Murray.  With rooms overlooking the surrounding parkland, little luxuries are part of the charm, such as reclining in a roll top bath at the end of the day.  Of course, the food is second to none thanks to Chef Tom Browning.
---
Chewton Glen, New Milton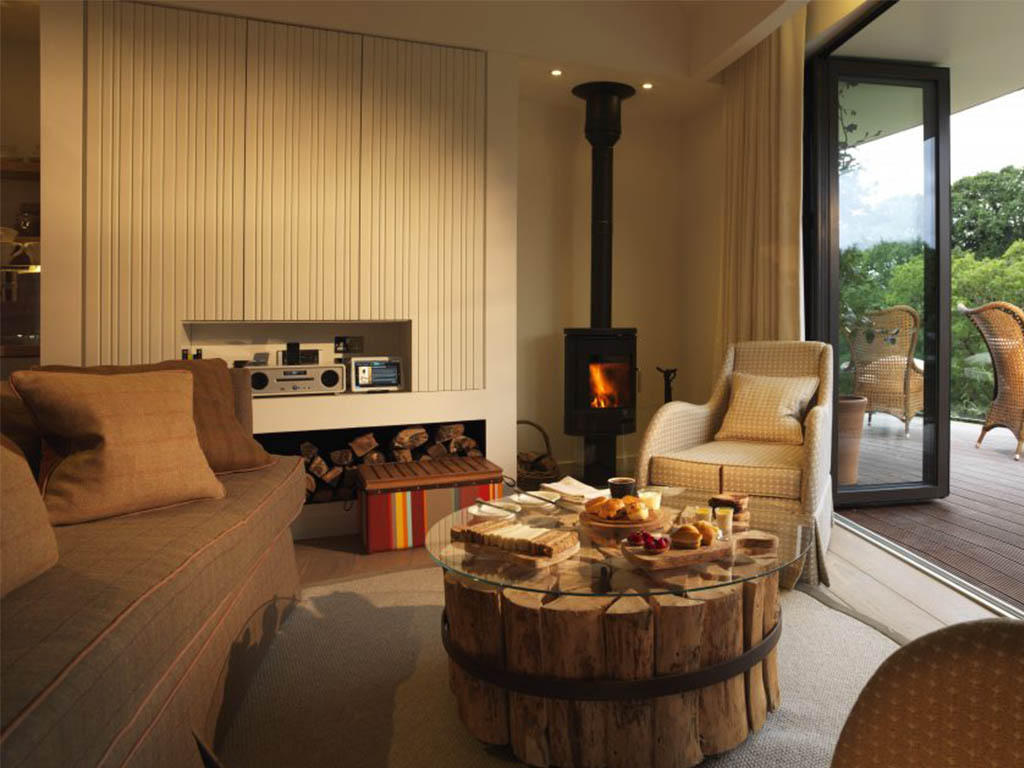 A five star country house hotel with a superb reputation that continues to keep Chewton Glen at the forefront of British hospitality after 50 years, it is also the home of one of the UK's most luxurious spa experiences.
Surrounded by exceptional gardens, renowned for its food, and always pushing innovation with the likes of their treehouse suites that are quite literally in the treetops, the spa provides exceptional luxury and wellbeing.
At its centre is a hydrotherapy spa pool under a painted sky.  Then there are tennis courts, a dance studio, a gym, a swimming pool, a nail studio, aromatherapy saunas, crystal steam rooms and twelve individual treatment rooms offering a range of therapies.
---
See: There's a Dog Afternoon Tea Experience If You Fancy Dining in Luxury with Your Pet
---
The Scarlet, Mawgan Porth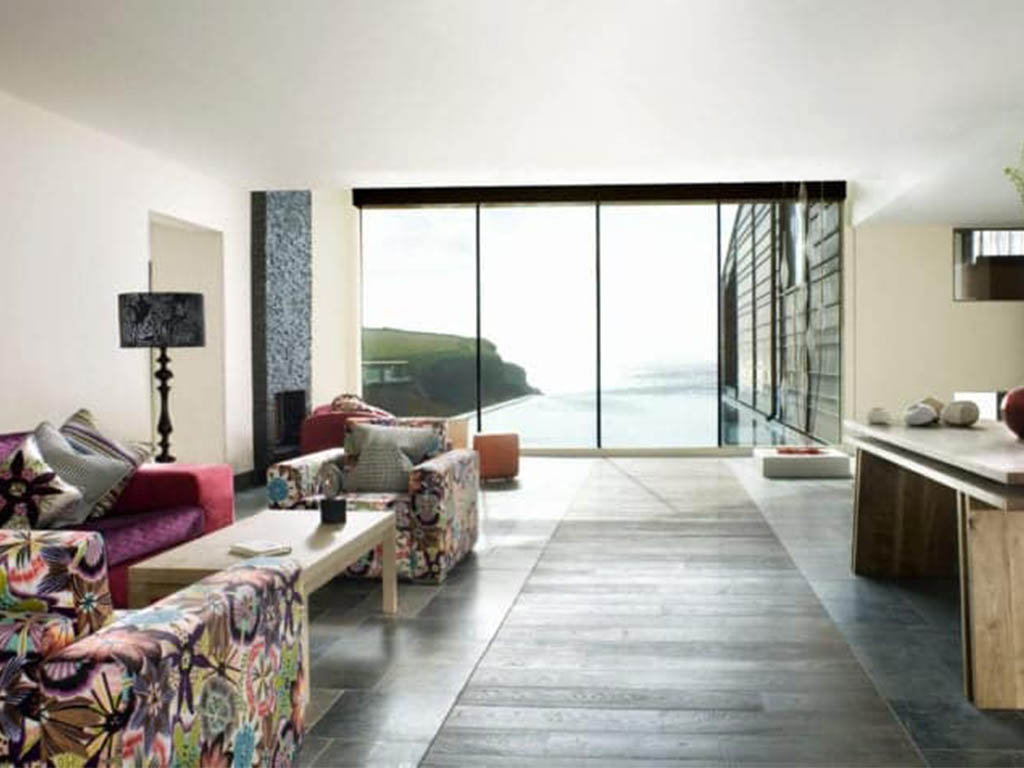 Best known for being amongst the best of luxury eco spas, The Scarlet is somewhere for special occasions.
Nestled into the clifftop with views of views over Mawgan Porth Beach, perhaps the best view is from the outdoor hot tub, but really, you could take your pick from any number of locations around the hotel and spa.
It is a bucket list destination where contemporary design and glass-dominated architecture houses a spectacular pool that's bathed in natural light, Ayurvedic inspired treatments are the order of the day, and there's a rhassoul where you can slather yourself in mineral rich muds.
We are also particular fans of the relaxation room with its cocoon-like pods hanging from the ceiling.
---
Langar Hall, Langar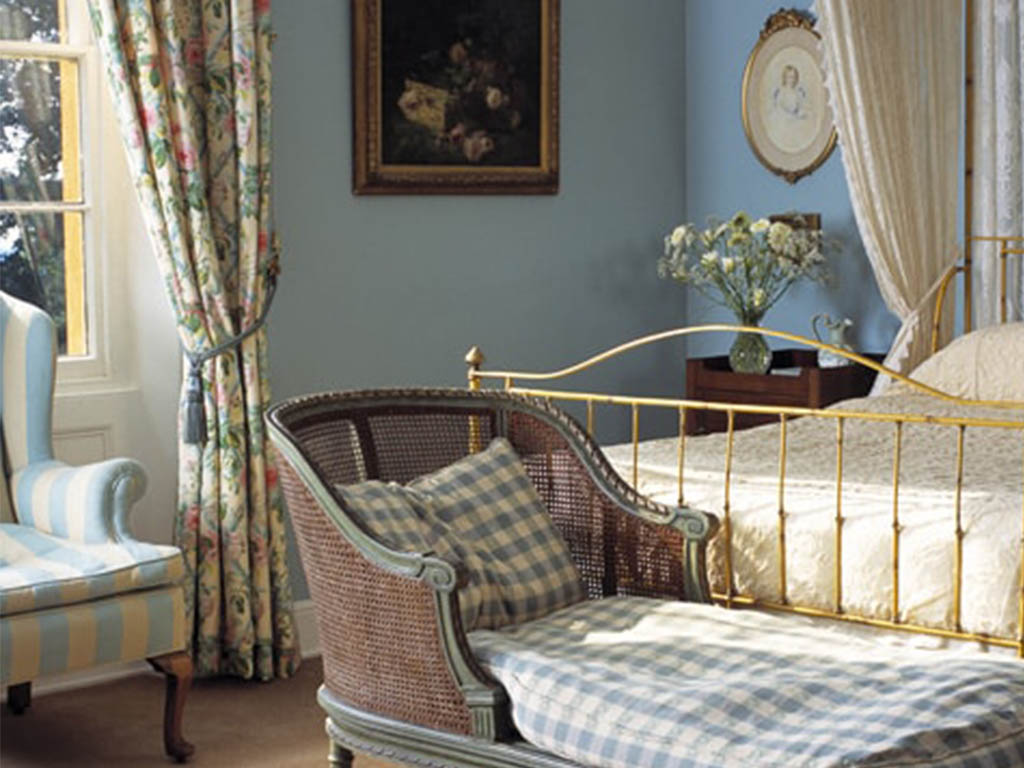 High standards are faultlessly maintained at this hotel in the Vale of Belvoir. Langar Hall was run with spirit by Imogen Skirving, the well-loved chatelaine, until her sudden death in 2016, and has been in the family since 1860.
Guests are welcomed into the stately abode with warmth and kindness, and there is a jovial atmosphere which, despite the luxury of the place, welcomes children to play on the swings and trampoline outside while you enjoy afternoon tea.
---
See: For a Relaxing European Getaway Think Barcelona And This Modernist Catalan Hotel
---
Burgh Island, Bigbury on Sea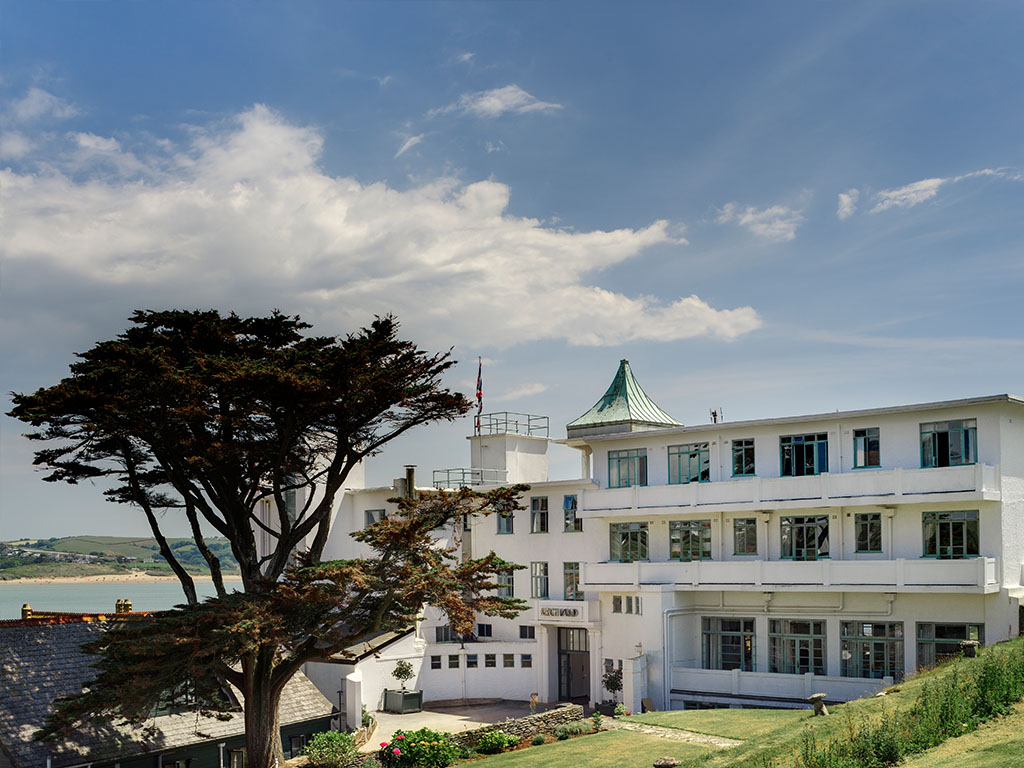 This impossibly romantic and entirely unique hotel is unlike anywhere else you will ever stay. On a private island off the coast of Devon, Burgh Island was built in the late 1920s and rather than simply being an art deco themed hotel, it is in fact a genuine art deco hotel.
You get to it by sea tractor, leaving your car on the mainland and taking the unconventional transport across the sand/water (depending on the tide) to the hotel itself.
Famed for its white tie dinners, it's romantic to a fault, but also a chance for groups of friends to indulge in their best Gatsby fantasies.
No stranger to a good imagination, this was also once a haven for Agatha Christie, who wrote the likes of Poirot while staying here.
---
Hotel Endsleigh, Tavistock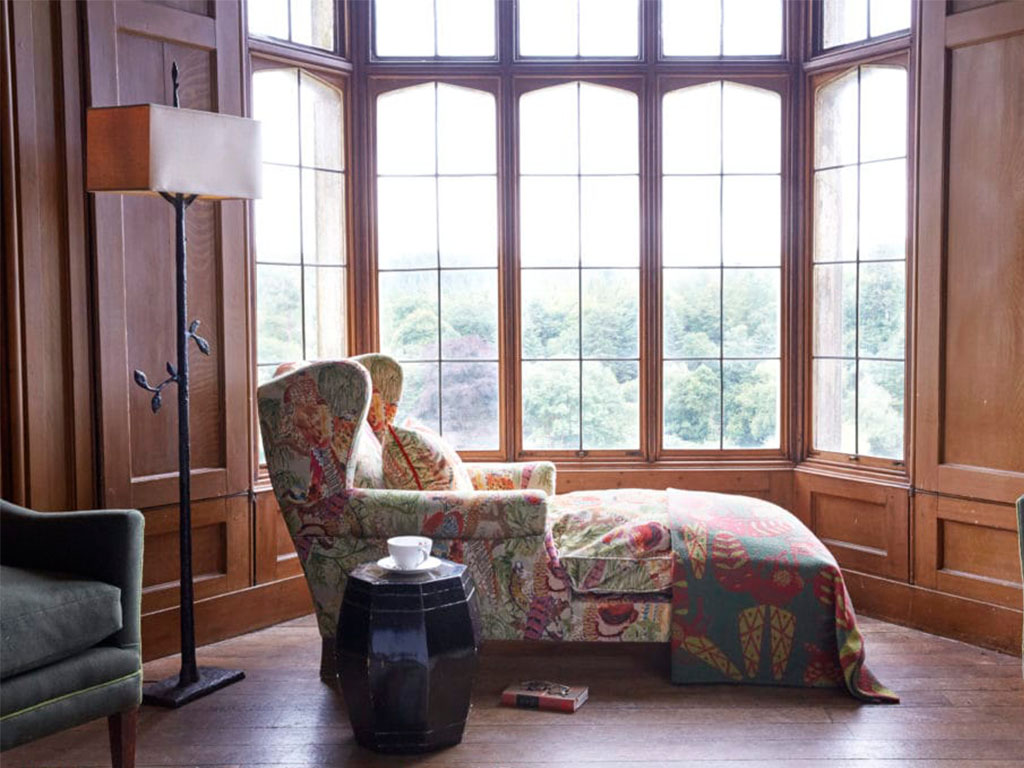 Built for Georgiana, Duchess of Bedford, Hotel Endsleigh was once a fishing lodge.  It stands in a 'magical' landscape of grottoes and follies created by Humphry Repton, on the banks of the Tamar, while inside interior designer Olga Polizzi contrasts rustic simplicity with antiques, hand-painted wallpaper and modern artwork.
---
Lime Wood, Lyndhurst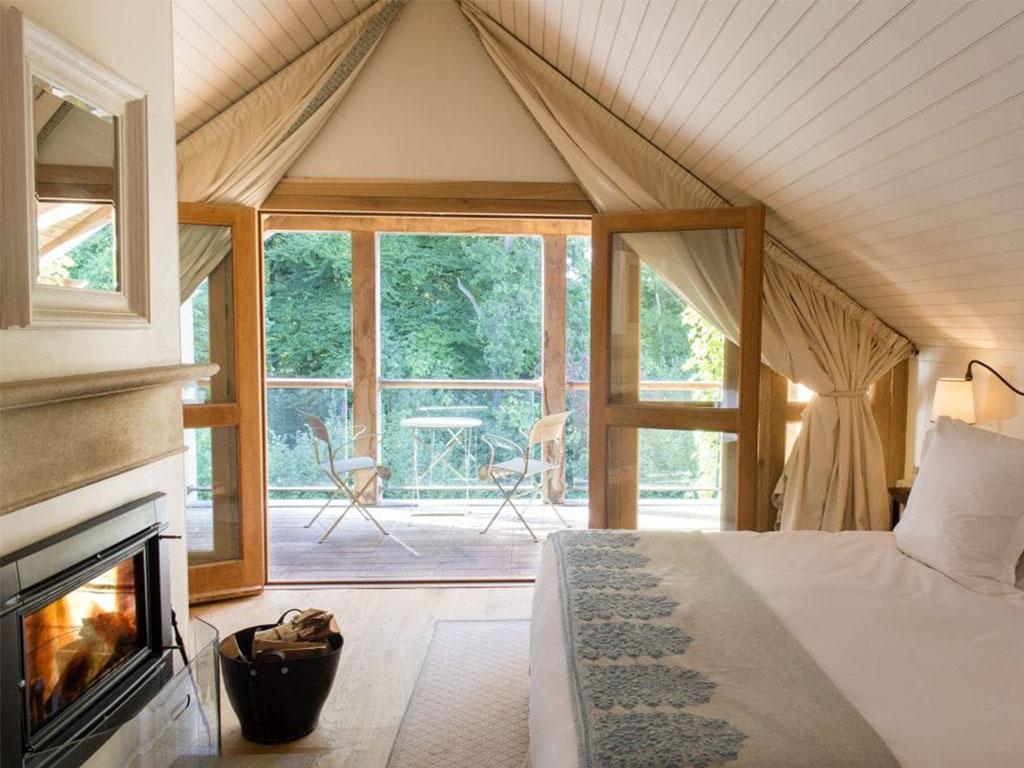 An oligarch of the modern luxury hotel and spa world, Lime Wood is a beautiful New Forest hotel.  The luxurious Georgian stone mansion is surrounded by exemplary grounds, and offers both sumptuous suites and rustic family cottages to reside in.
Meanwhile, always looking to improve, in 2018 they added a log cabin into the mix, cantilevered over the small lake, for that extra touch of wow factor when you wake up in the morning.
Wellies and waterproofs are provided and food is exceptional, while in the grounds the spa is centred around the gardens and is the ideal marriage between wellbeing and pampering.
---
See: This Hotel Floats In a Lake and Offers Eco-Friendly Accommodation
---
The Capital, London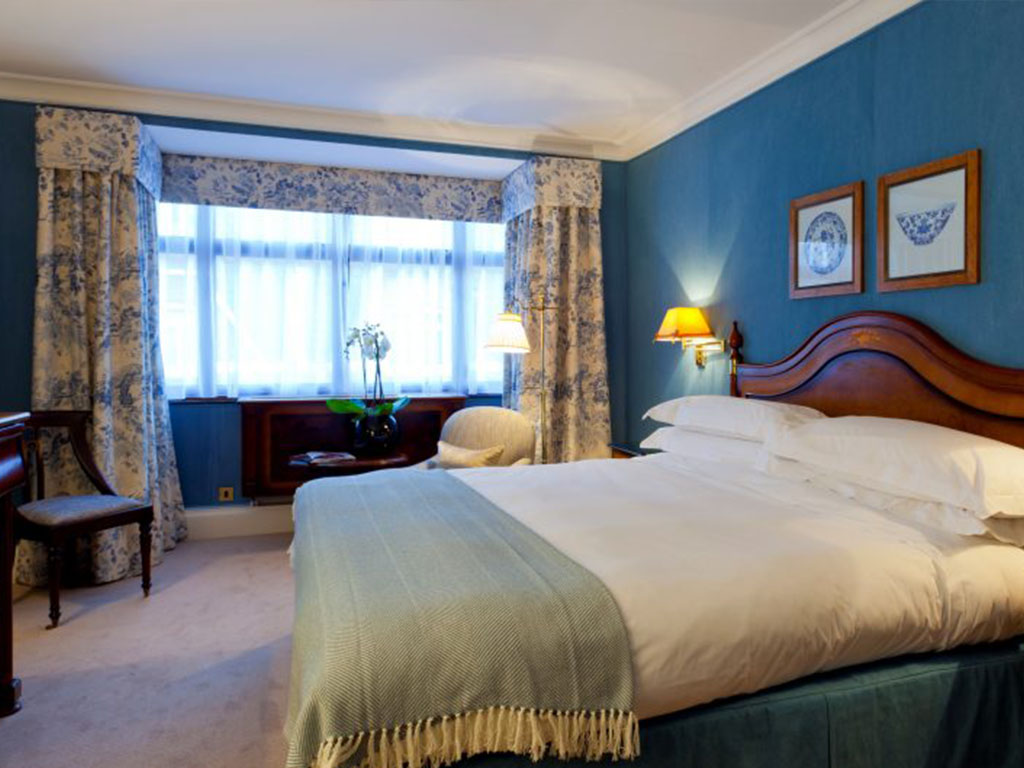 Wonderfully located in central London, The Capital has a reputation for old school service and hospitality.
Launched by Scotsman David Levin more than 45 years ago, it has the best pedigree in the industry – perhaps that's why head concierge Clive Smith has been there for 25 years.
Single rooms and spacious suites are all available, and when it comes to dining it's a Michelin-star experience courtesy of chef Nathan Outlaw.
---
Barnsley House, Cirencester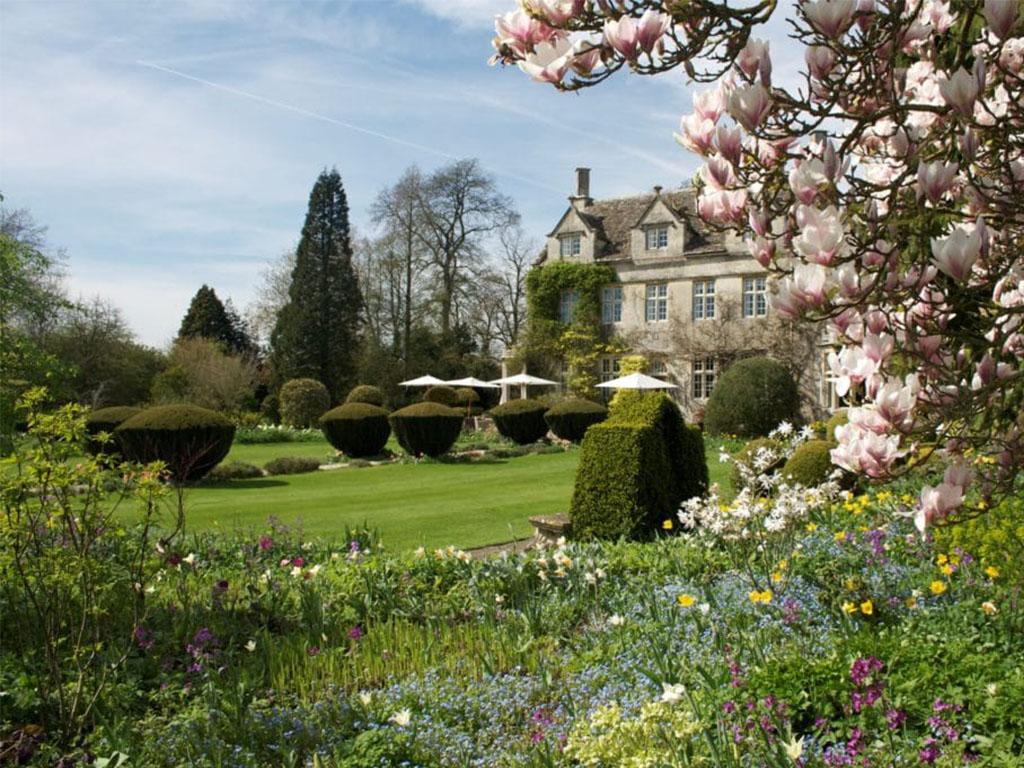 In the centre of a Cotswold village, Barnsley House is a characterful and historic property offering contemporary hospitality.
Surrounded by gardens designed by Rosemary Verey, it is a place where everything has been done with intent.
Refurbished in a style that's luxurious and modern but sympathetic to the history of the country house, guests can choose to stay in a variety of rooms including luxurious two-storey suites or a private garden retreat with an open fire.
At dinner, choose between the elegant Potager restaurant (no children at dinner time) or the cosy Village Pub. This might be a country retreat but it has all the most sophisticated elements of a lavish hotel.
There's a private cinema, and in the grounds sits an exquisite new spa that fuses the indoor and outdoor worlds in seamless style.
---
See: Very First Underground Luxury Hotel Features Floors Underwater
---
Romney Bay House, Romney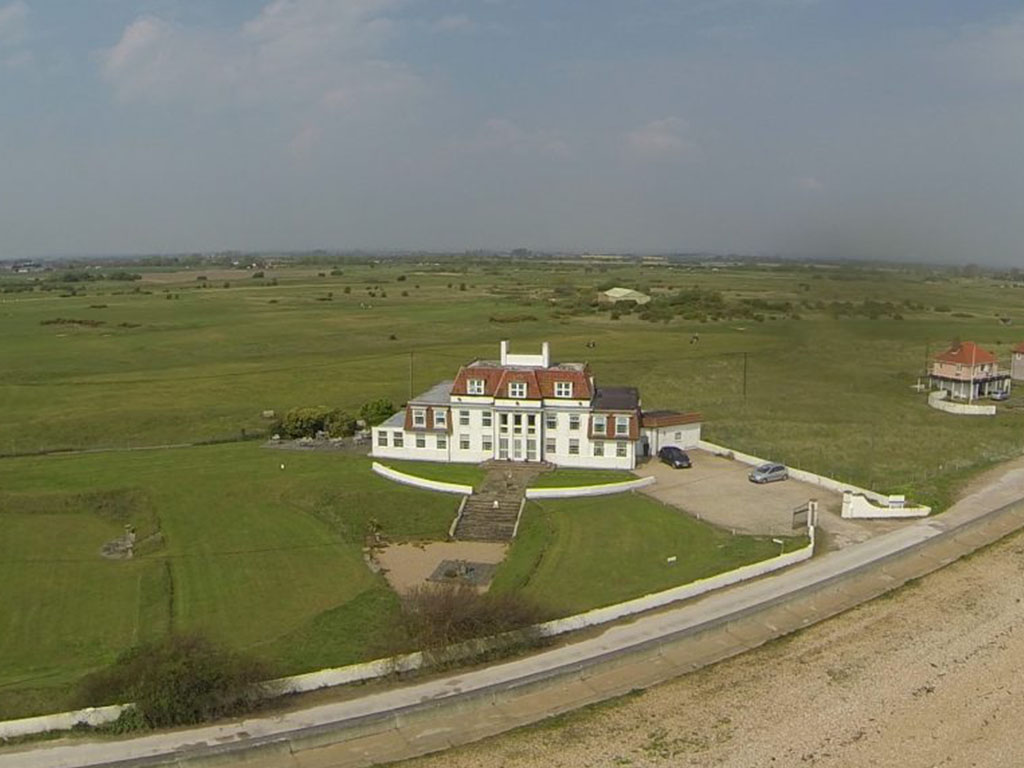 In picture perfect Kent, Romney Bay House is a secluded, historic property that was built by American actress and journalist, Hedda Hopper in the 1920s.
Still retaining its Art Nouveau style, today it sits in rugged splendour, looking out across the English Channel.
It has won multiple awards as a seaside hotel and fuses elegance with the desperate urge to take off your shoes and run into the sea.  Bring a book and something to write your novel on.
---
The George Hotel, Hathersage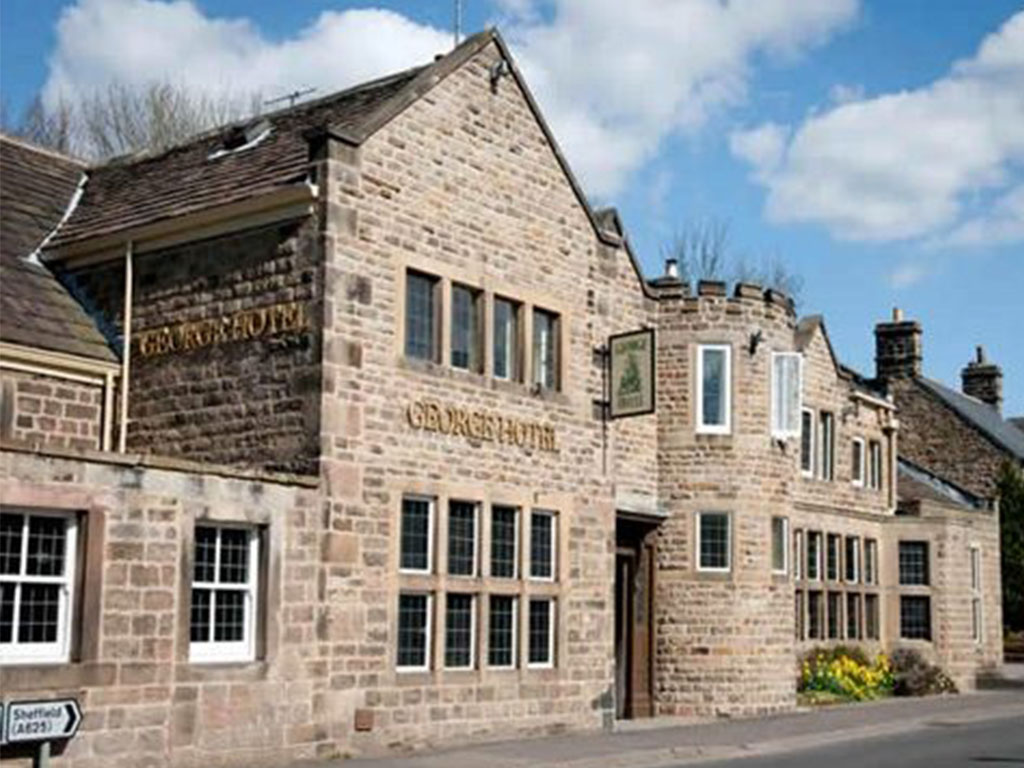 In the heart of the Peak District, The George Hotel is a 500 year old inn that oozes rustic charm.
It has honed the finest of warm welcomes over the centuries, while inside rooms have been updated in plush style that still fits with the history of the property. It is luxurious in the cosiest sense of the word, offering a superb base from which to explore the scenic surrounds.
Those long walks in the Dales are made even better when you return to a mouth watering menu of British produce served in the award-winning restaurant.
---
See:This Hotel Bestows Sustainable Luxury Interiors Fostering Wellness
---
Balcary Bay Hotel, Auchencairn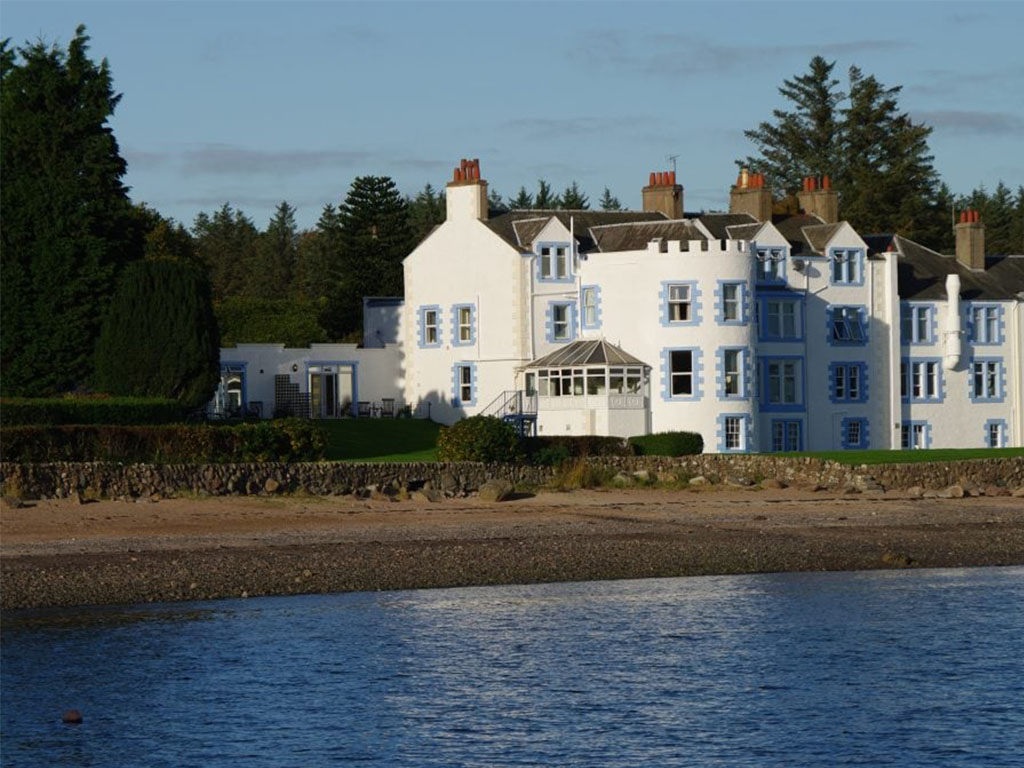 Overlooking the Solway, Balcary Bay Hotel is romantic, secluded and tranquil. Like a piece of confectionary on the landscape, the white and powder blue property sits on the water's edge surrounded by three acres of mature landscaped coastal grounds and just s few steps from the beach.
Walkers and cyclists revel in the ample opportunity to get out and explore, but equally you could be forgiven for simply enjoying your time taking in the views from the beautiful rooms and public areas of the hotel.
---
The Salutation, Sandwich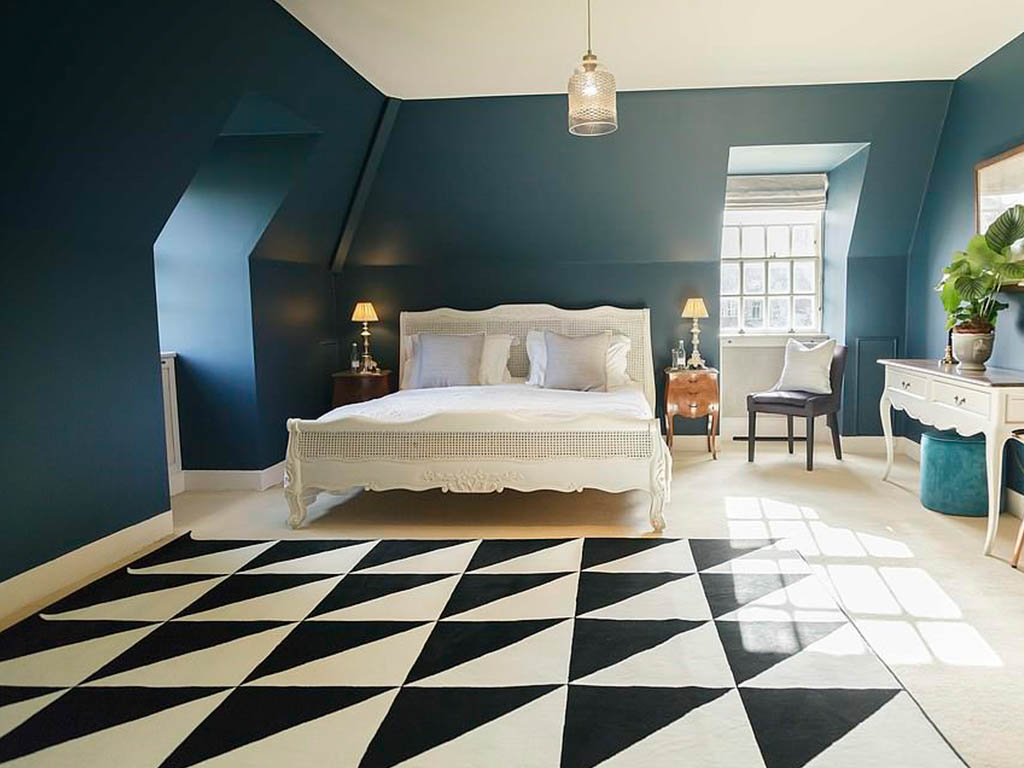 A relative newcomer to the hotel scene, The Salutation in Kent is a stylishly refurbished Queen Anne property surrounded by gardens that, this year, won a gold award at the RHS Chelsea Flower Show.
Everything here has been carefully thought about by the loving owners, who serve as much home grown produce as possible, host events and gardening courses, have carefully selected antiques and artwork to fit in with the house, and even create their own natural skincare products, made on site and available to buy.
---
See: This Hotel Has a Different Idea for Bedtime and Relaxing
---
The Southernhay, Exeter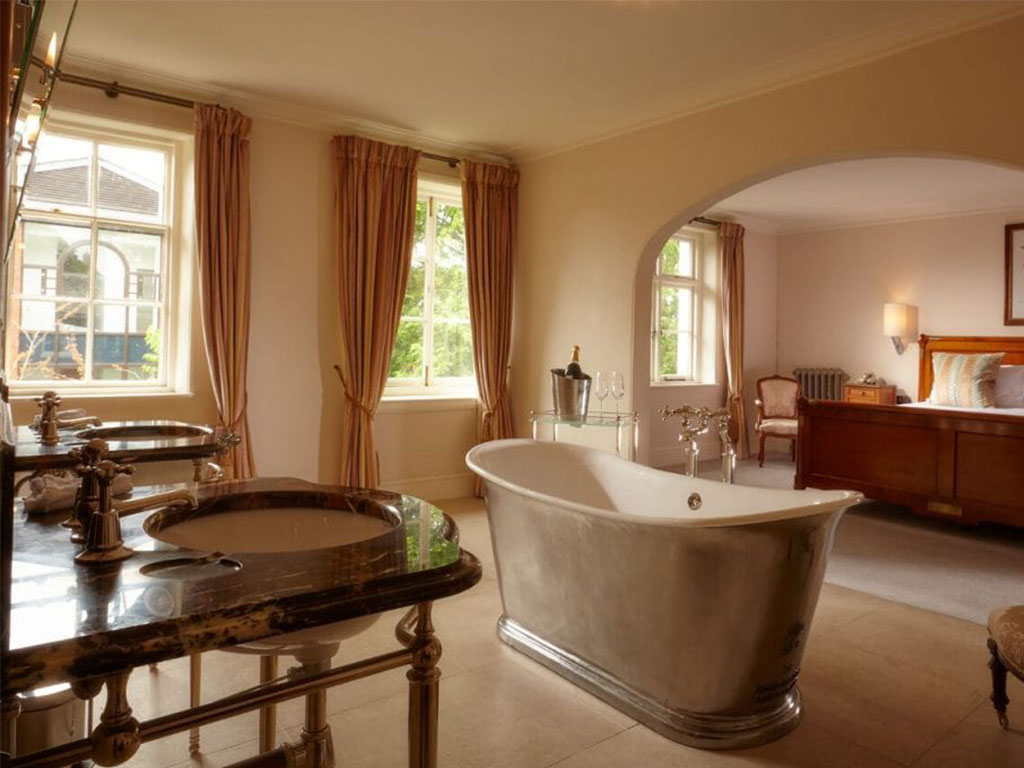 An exquisitely decorated boutique hotel on a quiet street in Exeter, Southernhay House Hotel fuses the best of personality, history, contemporary style and service.
Deliciously styled with rich colours, antiques and furnishings that complement the Georgian architecture, the staff have a 'nothing is too much trouble' attitude, the food is exceptional and the environment is one you could happily sit and have coffee in all day long.
There's a bag of local fudge to greet you in your room on arrival, and in the morning be sure to spend lots of time luxuriating in super comfortable beds with a cup of tea.
Follow Inspiralist on Facebook and Pinterest for all your eco-friendly lifestyle and sustainable home decorating ideas.
Sign up to the weekly Inspiralist newsletter and get the top stories delivered straight to your inbox.
Sign Up