Silo is the London restaurant revolutionising the way sustainable dining is offered through their food and interior design.
The Hackney Wick – based eatery is nestled between a design studio for indie artists and a craft distillery and the innovative restaurant has set out to create a zero waste and closed loop food production process to guarantee diners are enjoying a fully sustainable experience.
See: A Company Is Using Recycled Plastic Bottles and Single-Use Plastic Bags To Rebuild Roads
See: This Unique Dining Kit Has Been Made From Recycled CDs and Food Packaging
Restaurants and cafes today are all trying to embrace a greener way of food preparation and serving.
Whether that be making use of local vegetable and fresh produce, sustainable cooking processes or innovative serving ideas.
Silo are embracing all of those basic green ideas and giving them a super-charged environmental update.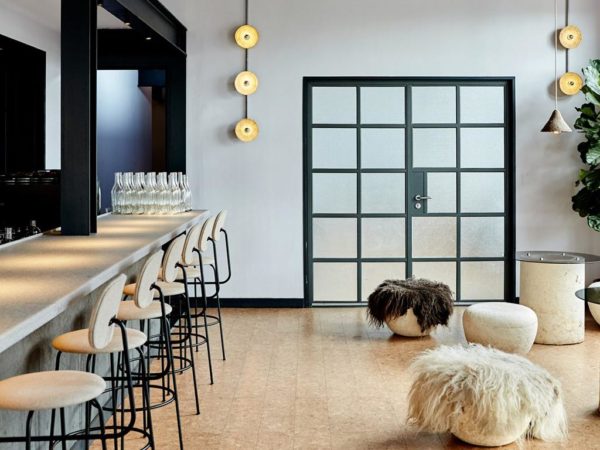 The London restaurant make the most of all types of fruit and vegetables, using "wonky" – misshapen produce – meat prepared nose-to-tail – where chefs utilise every part of the animal.
All produce delivered to the restaurant comes packaged in reusable containers, crates or pails.
Butter and oat milk are also made in-house, and any food that is not used or eaten is eventually is composted on-site.
Silo also make sure the serving plates, cutlery, overall decoration and interior design has a sustainable first focus.
The centrepiece of their all-white dining room is a fluted bar, which has been made from recycled plastic packaging. The tables diners sit at are made from recycled plastic, with the table legs made from sustainably sourced ash wood and cork.
Even the glassware from dinner services bottles crushed, moulded and then kiln-fired by a local potter to create the restaurant's wall lights.
The plates customers eat from are all also made from recycled plastic bags.
To view the Silo London sustainable restaurant in full and learn more about the sustainable and environmentally friendly features they incorporate into their day-to-day processes visit Silo online.
For more information on Silo London sustainable restaurant visit Silo online.
Follow Inspiralist on Facebook and Pinterest for all your eco-friendly lifestyle and sustainable home decorating ideas.
Sign up to the weekly Inspiralist newsletter and get the top stories delivered straight to your inbox.
Sign Up