To help give succulents a more colourful and airy persona, this Etsy shop has created a collection of groovy planters perfect for bringing out the best in your indoor greenery.
Succulent Artworks have designed a range of fun planters for succulents, and other indoor plants, inspired by the iconic hippie mobile – the Volkswagen camper – perfect for those looking to use their plants to spread the love.
See: These Incredible Plant-Filled Coffee Tables Double Up As Indoor Gardens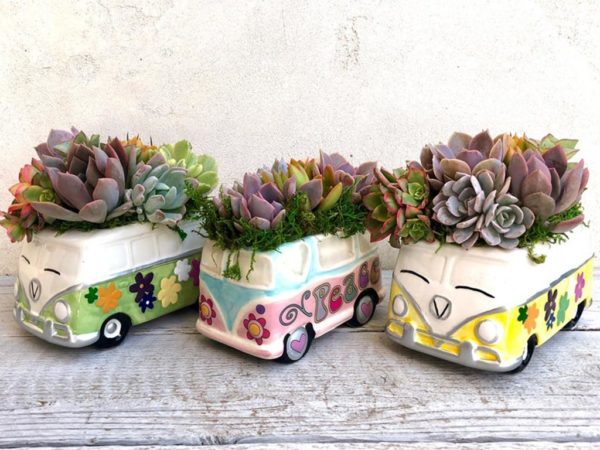 See: Toffee Rose Are The Sweet-Inspired Flowers Taking Over Homes This Spring
Succulent Artworks specialise in creating extraordinary succulent designs and planters. Their aim is to perfect the way homes display their indoor greenery using fun and playful designs.
The VW succulent bus planter is equipped with an assortment of brightly coloured succulents, ready to purify your home. The buses come in two sizes and a variety of hues. The larger bus option comes in green or yellow, while a smaller version rolls with pink. Each side of the planters have also been covered in hippie – inspired flowers to bring out the full 60's vibes.
In addition to the VW bus, Succulent Artworks offers a wide range of creative designs. To view the entire collection visit Succulent Artworks online.
Prices for a planter from Succulent Artworks range from £38 for hanging succulent baskets, £58.95 for the Volkswagen bus, to £448.56 for a 24 inch succulent wreath. To order visit Succulent Artworks online.
For more information on the Succulent Artworks Volkswagen bus, or other planter ideas, visit Succulent Artworks online.
Follow Inspiralist on Facebook and Pinterest for all your eco-friendly lifestyle and sustainable home decorating ideas.
Sign up to the weekly Inspiralist newsletter and get the top stories delivered straight to your inbox.
Sign Up