In an effort to help people reconnect with nature and their natural surroundings, Matthew McConaughey has designed a rustic, sustainable, off-the-grid abode to escape to.
The Academy award-winning actor has launched an environmentally friendly hideaway called; The Reserve, for people looking to embrace a nature-first approach to life and experience a new way of relaxing.
See: Minimalist Scandi-Style Posters Aim to Save Australia's Koalas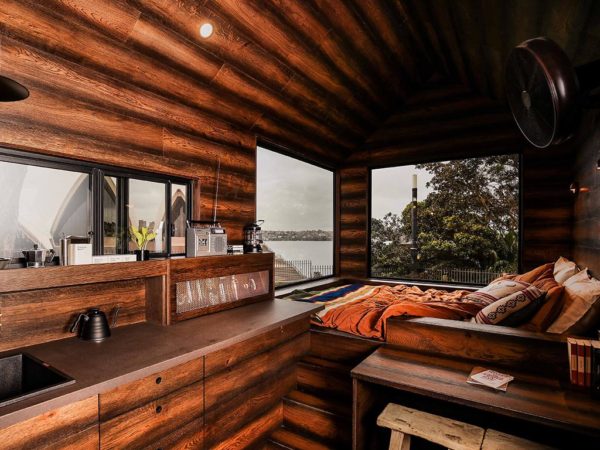 See: Step Inside the UK's Chicest Eco-Friendly Airbnb
The Reserve has been designed by McConaughey and the founders of home startup company Unyoked, who create wellness and unique off-the-grid cabins for those looking for a dose of adventure.
The cabin has been built using 100% sustainable materials, is powered by solar energy, and even includes a hidden bar complete with everything McConaughey would enjoy while on an nature-focused escape.
The Hollywood actor has also added a number of other personal touches such as vintage books he has enjoyed reading and a range of cassette tapes – which can be played using the cabins vintage cassette stereo system . There are also signs promoting his own brand of American Whiskey; Longbranch, throughout the space.
The eco-cabin is being released as part of American whiskey brand, Wild Turkey, promotion and will be based on the Central Coast region of Australia, where would-be explorers will be able to rent out the space.
A percentage of proceeds generated from renters, and £1 for every bottle of Longbranch brand whiskey is sold while the cabin is open, will be donated to Unyoked's charity partner, The Foundation for National Parks & Wildlife, who look after Australia's wildlife and wilderness.
To view The Reserve Matthew McConaughey eco-cabin in full visit the Unyoked online.
The cabin features a minimum two-night stay and ranges in price from £250 for a weeknight to £320 for weekend stay. To Book visit Unyoked online.
For more information on The Reserve Matthew McConaughey eco-cabin visit Unyoked online.
Follow Inspiralist on Facebook and Pinterest for all your eco-friendly lifestyle and sustainable home decorating ideas.
Sign up to the weekly Inspiralist newsletter and get the top stories delivered straight to your inbox.
Sign Up