If you're looking to whip up a magical treat, then look no further than this brilliant unicorn pancake pan from Tefal.
Whether it's a weekend treat or a special occasion such as Pancake Day, this non-stick pan whips up unicorn pancakes in a matter of moments.
It works by having an outline of an unicorn in the pan, while a squeezy bottle with a precision tip is also included to ensure your pancakes are drawn to perfection.
Simply wait until the pan is at cooking temperature – indicated by the Thermospot that will turn bold red – then draw the outline so it has time to brown, before filling in the gaps with the rest of the mixture.
It even has a matching version of the mythical creature on the exterior of the pan so it's sure to be the coolest cooking accessory you have in your kitchen.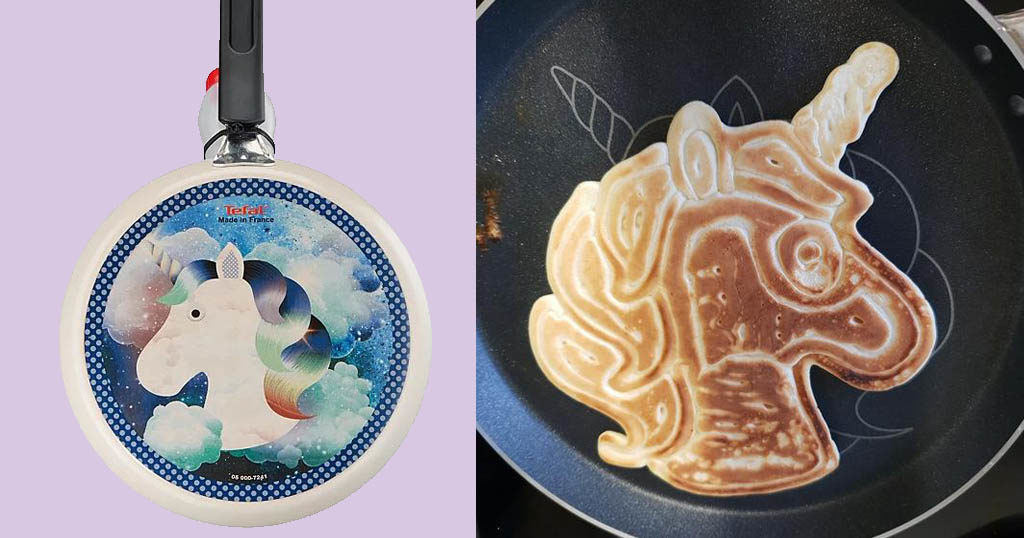 Of course, it most certainly makes the easiest unicorn pancakes to perfection, with several users on the ASDA website posting their very own takes on the baking trend.
You could even spend time decorating them with sprinkles and icing or go traditional and pour over a load of oozing sticky syrup.
It's never been easier to create your own edible art like a pro, the product also has a number of features that makes it simple for the whole family.
Tefal's new and improved easyglide non-stick coating, which is 50% more effective than previous coatings, makes pancake flipping even easier.
Then there's the ergonomic handle which ensures that kids can enjoy tossing pancakes without fear of burning fingers
Then just pop it in the dishwasher when you're done – simple!
Tefal Non-Stick Unicorn Pancake Pan Bundle is available now from ASDA for £15. 
Follow Inspiralist on Facebook and Pinterest for all your eco-friendly lifestyle and sustainable home decorating ideas.
Sign up to the weekly Inspiralist newsletter and get the top stories delivered straight to your inbox.
Sign Up