Living in the city can limit peoples access to tranquil, private gardens, one brand is aiming to help people make the most of their outdoor space – no matter their size.
The Urban Balcony is a modular wall structure interpreting urban living, help those living in cities enjoy a green space packed with enough outdoor essentials to create somewhere people can go to relax, entertain and work.
See: Reinvigorate Your Home By Transforming It Into a Leafy, Jungle-Style Hideaway
See: A New Plant-Based Material Has Been Developed and Could Mean the End of Harmful Plastic Waste
More than half of the worlds population now live in urban areas, according to research by Our World in Data.
With this mass migration descending on cities, space, especially outdoor space, is limited, making every inch counts.
Making the most of small balconies, gardens or outdoor areas, therefore, is vitally important.
See: This Application Will Help Hapless Plant Parents Keep Their Succulents Alive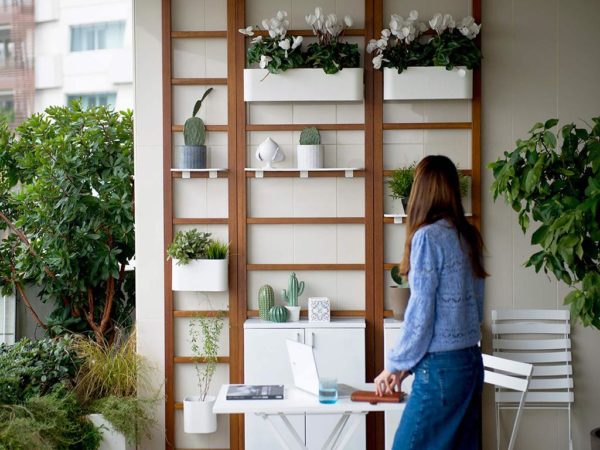 See: A Website Is Selling Plants from Garden Centres That Would Have Gone to Waste
Designed by Meneghello Paolelli Associati for Unpoiu, the Urban Balcony is an interconnected, flexible system, which can be configured for 21st century modern terraces for eating, reading, working, entertaining, relaxing and tending to plants and flowers.
The frame helps people take full advantage of that small outdoor space, balcony, terrace or extension, without having to invest in an extension or new home.
The innovative frames are made using durable iroko wood and come with a complete range of white aluminium accessories that can be attached to the rugs. More accessories can be added to upgrade the kit.
To make an order request visit Unopiu online.
To view the entire Urban Balcony kit range visit Unopiu online.
For more information on the Urban Balcony kit visit Urban Balcony online.
Follow Inspiralist on Facebook and Pinterest for all your eco-friendly lifestyle and sustainable home decorating ideas.
Sign up to the weekly Inspiralist newsletter and get the top stories delivered straight to your inbox.
Sign Up