As more and more people continue to work from instead of traditional office spaces, one architecture firm devised a unique home working space, complete with an all-natural aesthetic and hidden spaces.
Architects Harrison Design created a studio space for screenwriter Matthew Michael Carnahan's at his home in Virginia, featuring an abundance of secret spaces that help to provide a hideaway packed with creativity and mystic.
See: Reconnect With Nature Using These Impressive Living Wall Kits
See: A Hospital Has Been Designed with Sustainability and Nature In Mind To Help Patients Find Calm and Soulfulness
As the COVID-19 outbreak continues to ravage the world, those who can have been working from home in accordance to the lockdown and social distancing protocols.
The vast majority of these home working spaces are make-shift, uncomfortable and often not conducive to creativity.
Matthew Michael Carnahan and Harrison Design are reinventing the home working space, showcasing what can be achieved if you have the space, time and money to build your very own perfect office environment.
See: These 6 Desk Plants Will Brighten Up Any Makeshift Home Office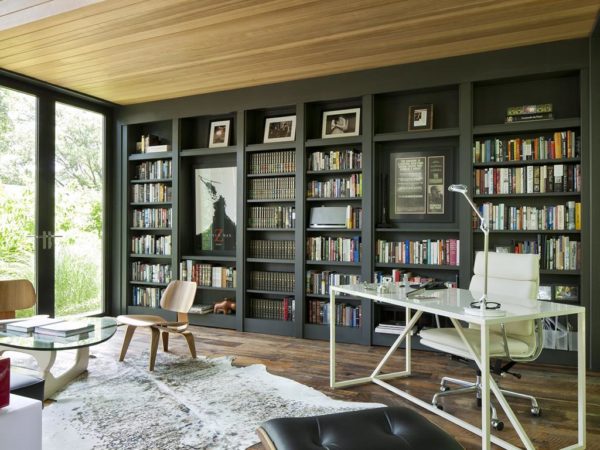 See: Treat Your Home To An All-Natural Update With Forest London
The father of three was previously working from his basement and was in search of a quiet place to work on projects.
Enter Harrison Design who created a space in the back of his garden.
The studio is 400-square feet and has a predominately glass front facade, with sustainable timber fitting, which can be opened up to let the space fully embrace nature.
The interior is all open plan, and fits a desk and sitting area comfortably. There are floor-to-ceiling bookshelves, which is where the unique magic happens in this design project.
The shelves can slide open to reveal a concealed bathroom and storage room, along with a well-equipped mini bar.
The design aims to offer a unique creative space that fuses both nature and work life. Traditional office spaces tend to focus more on bland, neutral colour tones and lack mother natures eco-touch. This space is non-traditional and perfect for those in search of something better than the kitchen table, spare room, basement or another uncomfortable setting.
To view the entire the Harrison Design writers refuge visit Harrison Design online.
For more information on the Harrison Design writers refuge visit Harrison Design online.
Follow Inspiralist on Facebook and Pinterest for all your eco-friendly lifestyle and sustainable home decorating ideas.
Sign up to the weekly Inspiralist newsletter and get the top stories delivered straight to your inbox.
Sign Up