With at-home working becoming the norm during the Coronavirus outbreak, finding that perfect space to maximise productivity has now become essential.
The Workstation Cabin, designed by Hello Wood, might offer a solution. The unique structures provide home workers with their own private retreat in the comfort of their garden, offering a space created for those looking for an escape they can work from without being interrupted.
See: Planter Docks Could Be the Next Frontier in Adding Greenery to Your Home
See: Architects Are Developing New Eco-Friendly Ways To Build Homes in Busy Cities
In the age of COVID-19, working from home has become most people's short and medium term situation with office spaces still considered at-risk for spreading the virus.
With that means finding a place to work in peace, but, for most, that can be a challenge.
Family members making noise, uncomfortable tables to work from, issues with seating or a host of other typical problems experienced in homes shared with others.
The workstation cabin could provide a solution.
See: IKEA's Latest Helpful Accessory Will Transform Your Noisy Home into a Tranquil Oasis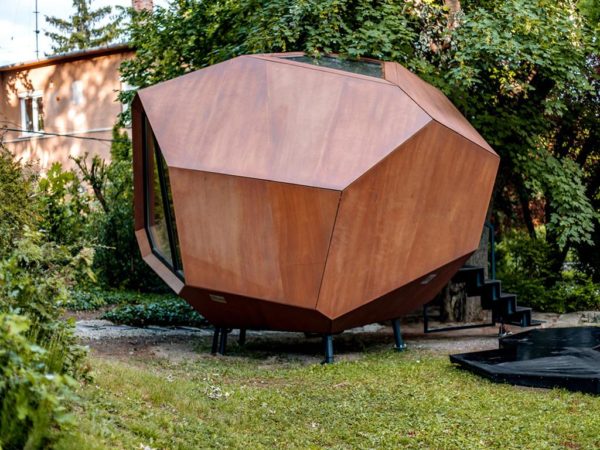 See: Blue Steel Shelving and a Countertop to Die For Are Is Just Two Dreamy Design Details To Borrow From this Coffee House
The eight-square-meter, pebble-shaped structure is compact and aims to fit seamlessly into any outdoor space – while still offering a highly-functional office environment to work from.
The cabin is made from Natural Scots pine wood, and it has been insulated and soundproofed to make sure those inside enjoy a cosy and distraction free experience.
The cabin aims to deliver a comfortable space for people to work from, whilst also bringing those inside a little bit closer to nature. The interiors offer a stripped back wooden look, and the large windows provide an abundance of natural light.
To make sure the cabin achieves the goal of being environmentally friendly and sustainably focused, the cabin uses minimal energy with all fixtures and fittings made from recycled materials.
The unique space can even be used as a temporary bedroom, playroom for children or relaxing quiet place.
Each cabin is delivered turnkey, with built-in electrical outlets. Additional customisation is offered from heating, air conditioning, mood lighting, sound systems, Television installation, wireless internet, landscaping and even a terrace.
For more information on the Hello Wood Workstation Cabin visit Hello Wood online.
Follow Inspiralist on Facebook and Pinterest for all your eco-friendly lifestyle and sustainable home decorating ideas.
Sign up to the weekly Inspiralist newsletter and get the top stories delivered straight to your inbox.
Sign Up