Much like their owners, cat need a good supply of clean water to say fit and healthy but have you ever considered using a water fountain specifically designed for cats?
Running water is said to be much more attractive to moggies than the average cat bowl and if your friend is particularly picky about the quality of their water, you may have just found your new best friend.
Looking for the best of the best? These fountains are chosen from a combination of style, functionality and performance.
See: This Indiana Jones Style Cat Bridge Is Purrfect for Feline Explorers
LOATAD cat Water Fountain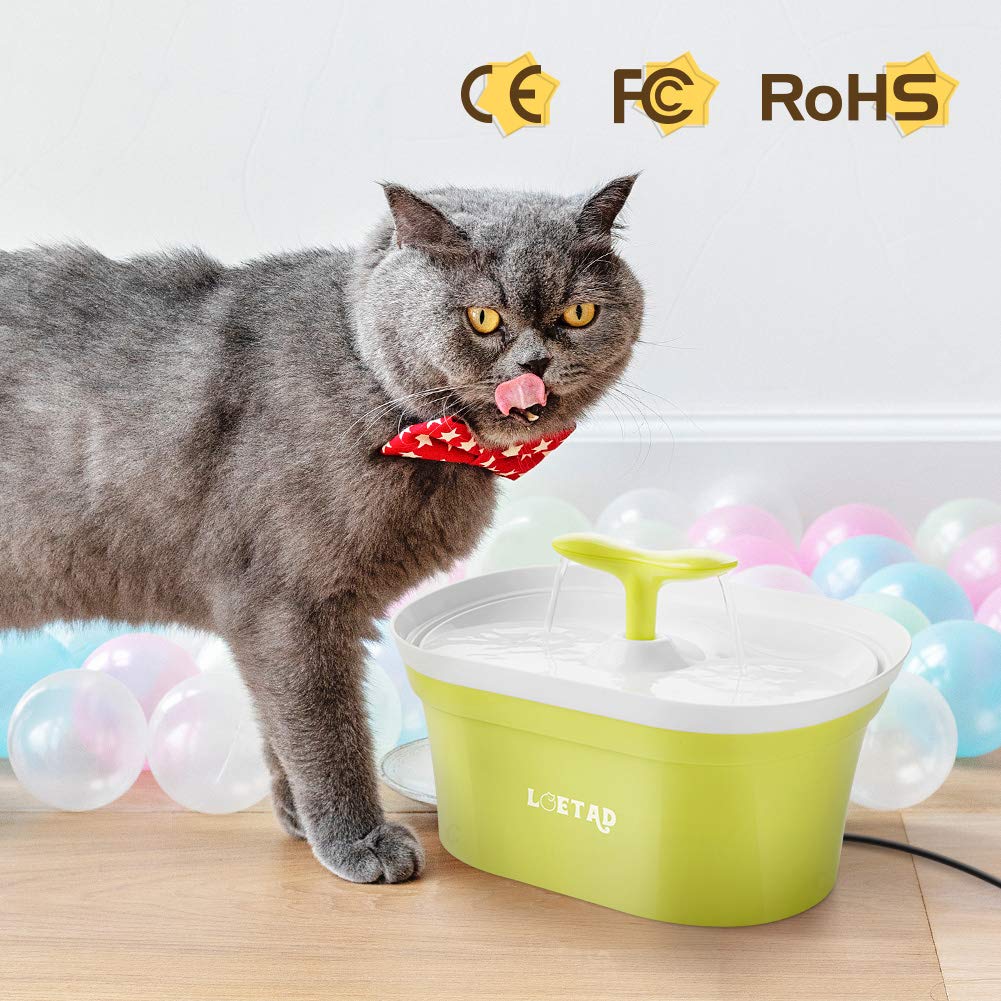 Featuring 3 water flow settings and a delicate flower waterfall design, this stylish water drinking fountain includes a carbon filter to soften tap and help prevent urinary tract disease.
It's applauded for being easy to clean and set up, for holding plenty of water and for being compact and quiet.
LOATAD Pet Water Fountain, Amazon, £20.99
---
See:This Cactus Cat Tree Scratching Post Is Everything Your Feline Needs in Life
---
SEMAI Cat Water Fountain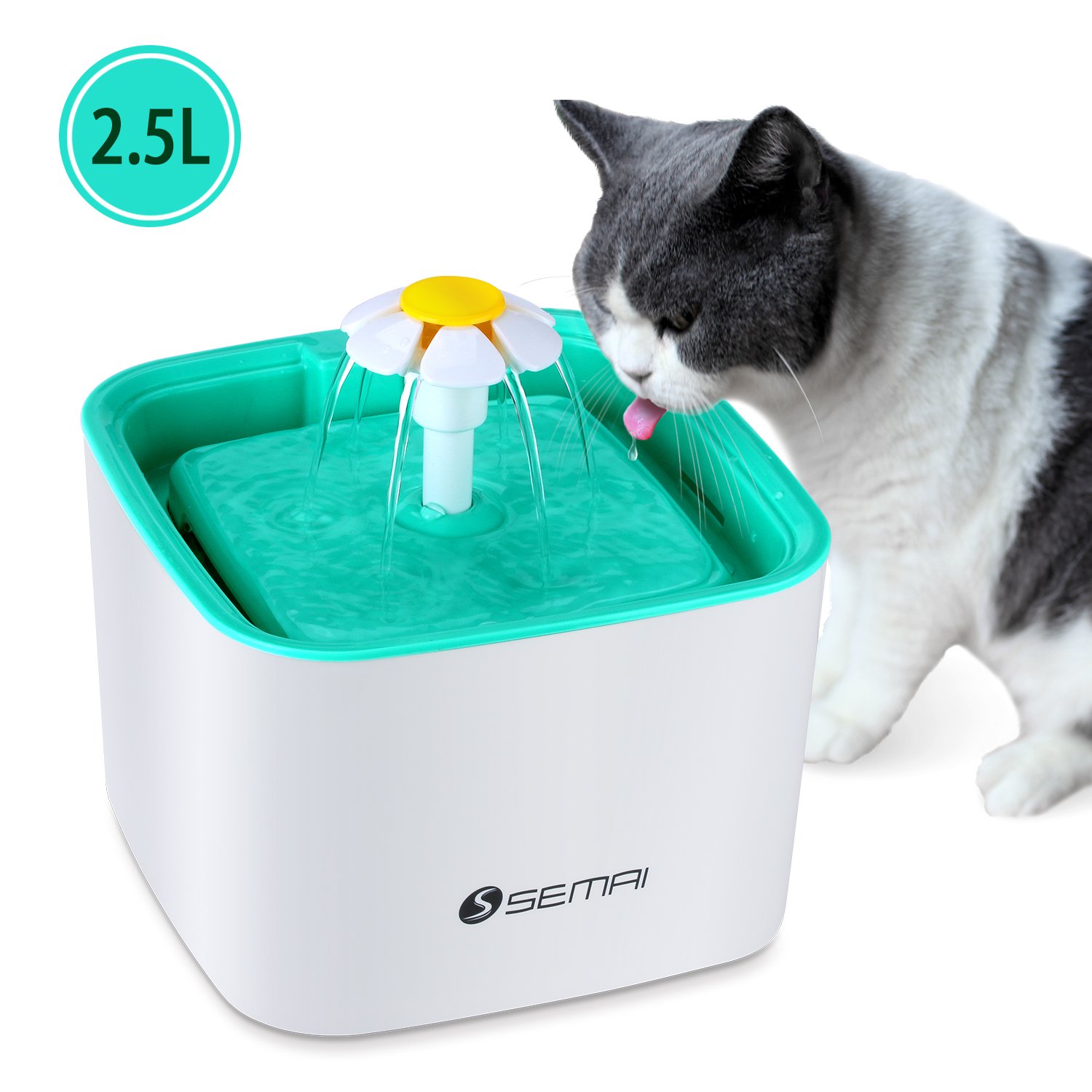 Holding an incredible 2.5 litres of recirculating fresh water, the SEMAI's quality heavyweight design means your kitty won't be knocking it over in a hurry.
It's easy to set up, completely silent and comes with 2 filters that will last long time.
Not to mention, the cutest little flower sitting on top!
Semai Pet Fountain, Amazon, £18.99.
---
See: Glamping for Cats Exists if Your Feline is all About the Luxury
---
DRYMARTINE FLOWING Cat Water Fountain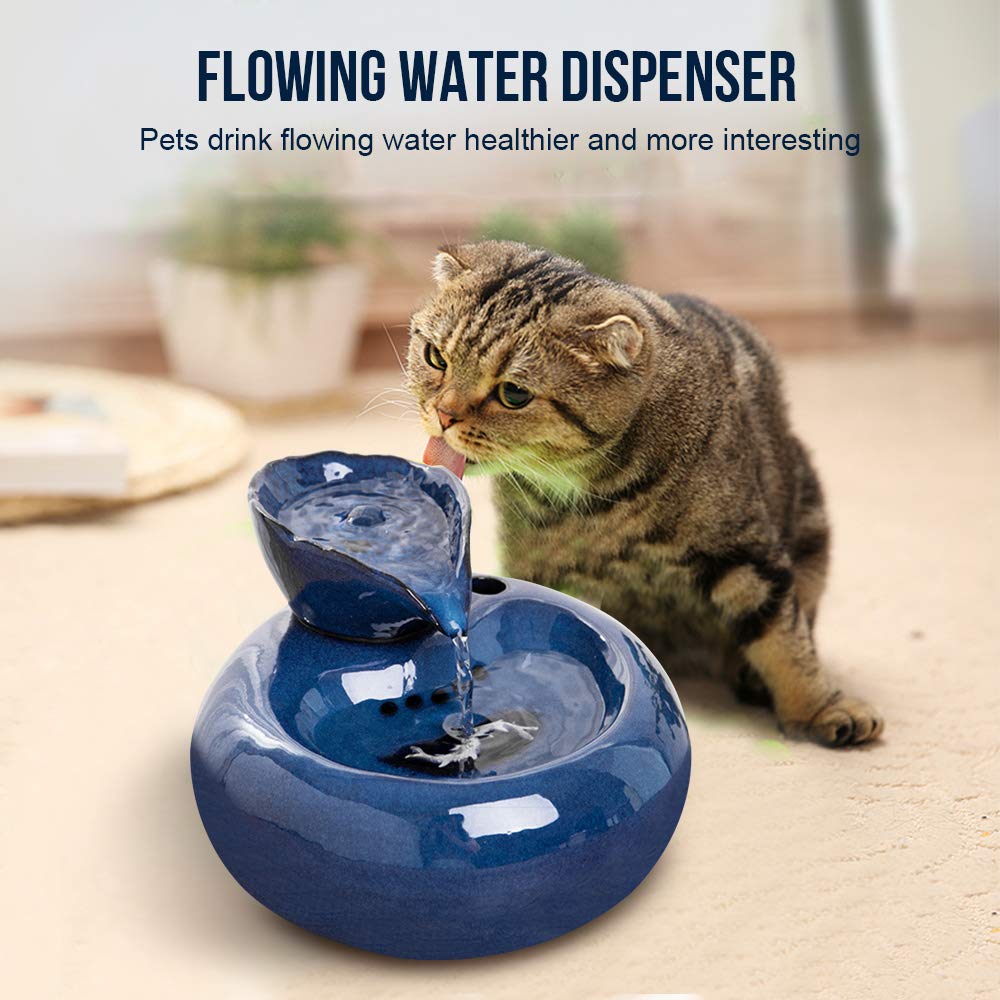 For those looking for a bit of style and functionality around the home, this elegant ceramic water fountain could do the job quite nicely.
Its beautiful blue exterior is definitely eye catching while the fountain itself is applauded for being subtle and soothing.
DryMartine Cat Water Fountain, Amazon, £35.99 
---
Pet Friend Cat Fountain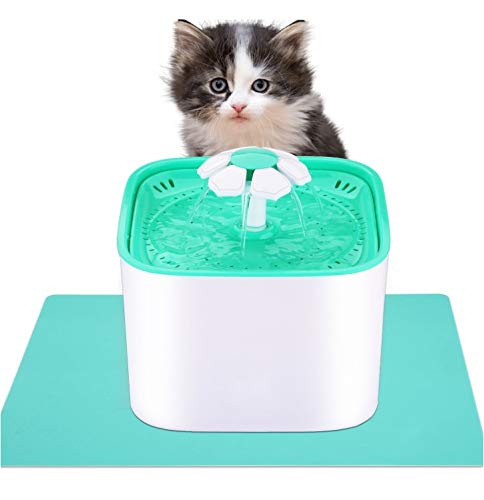 The Pet Friend Cat Fountain holds a respectable 2 litres and features replaceable charcoal filters that cleans and purifies your cat's drinking water.
There's four different water actions in total including a flower waterfall, flower bubble, bubble fountain and a gentle fountain each which can be changed to appeal to finicky picky drinkers.
Pet Friend Cat Fountain, Kettering Koi, £15.95
---
See: This Modern Cat Lounge Is Perfect for Those Fancy Moggies
---
Catit Flower Fountain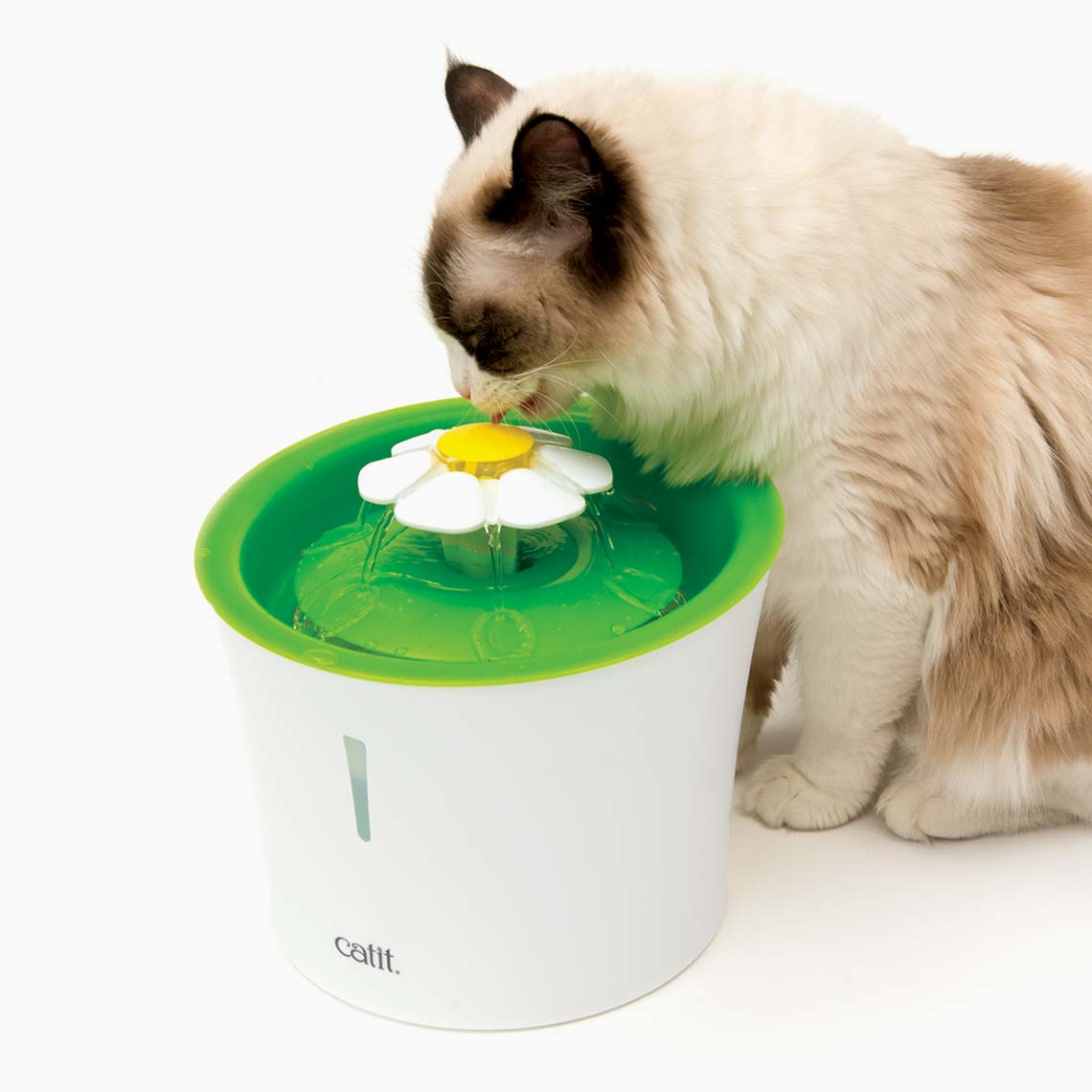 A best seller for a reason, Catit combines an adorable flower design and round design with great functionality.
The top of the unit slopes, meaning you can offer your cat the higher or lower side depending on what they prefer. While, the flower attachment offers varying  flows of water down a grooved surface.
Not to mention, it's applauded for being easy to clean and compact in style.
Catit Flower Fountain, Argos, £24.99
---
Cat Mate Drinking Fountain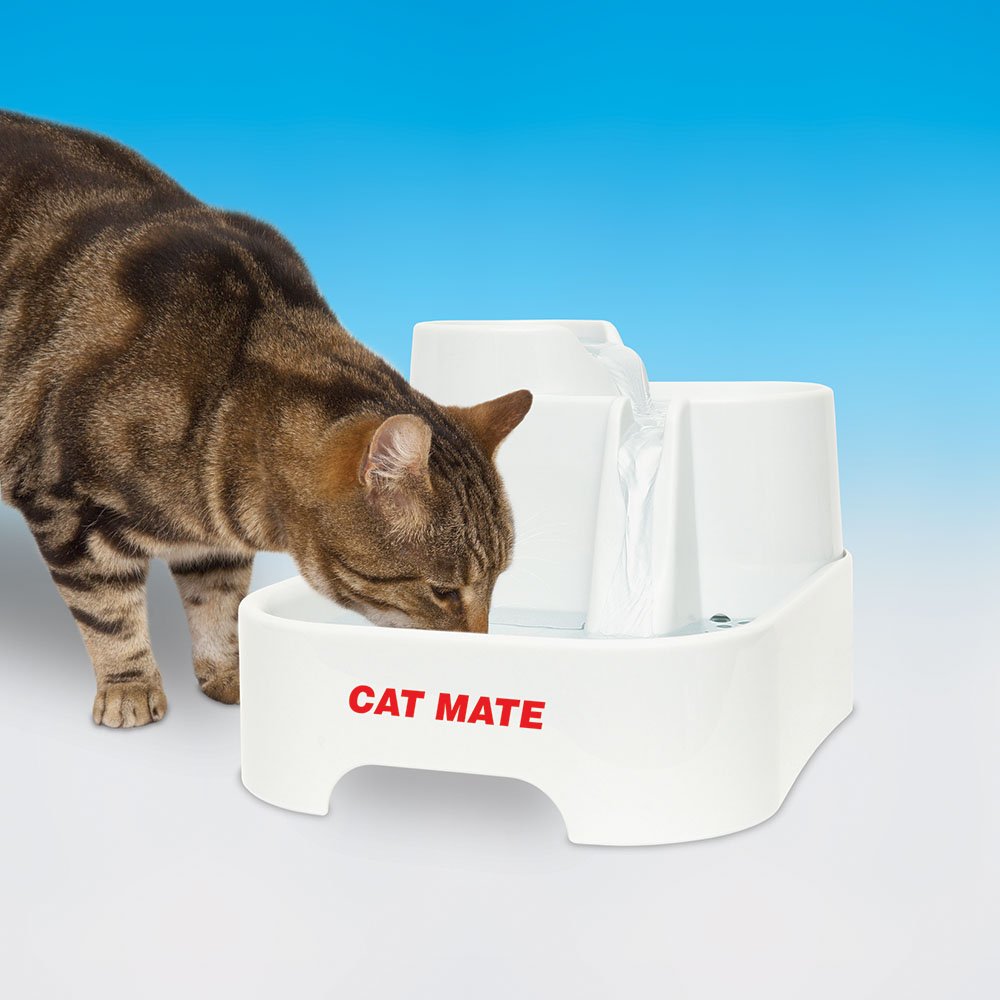 Featuring a very different design from the standard flower design, Cat Mate may not look as cute as its rivals but it's by no means any less worth your time.
It's praised for its simplicity – a large base contains a reservoir that holds well over a litre of water, including a small pump and filter panel that can easily be replaced every couple of months or so.
Pet Mate Cat Mate Drinking Fountain, Very, £34.99 
---
Ceramic cat water fountain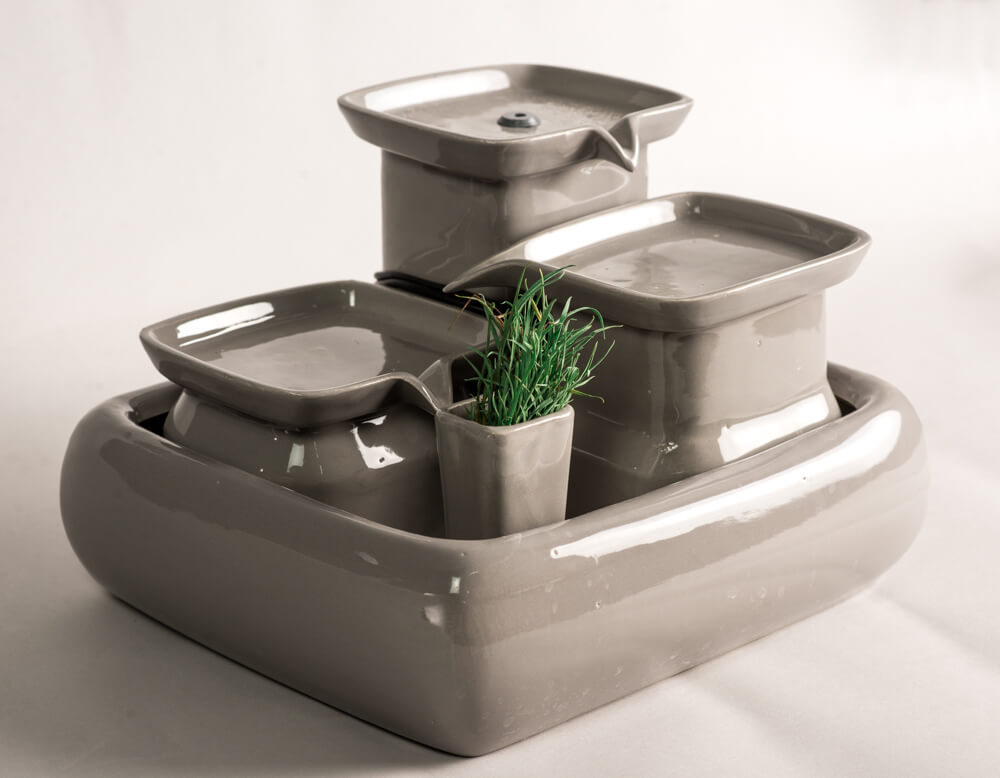 Fancy a spot of Feng Shui in your home kitty-style? This stylish cat fountain doesn't just have 8 different drinking areas that's perfect for multiple pets, there's also a separate pot for cat grass if you'd like.
Users love just how Zen this creation is and it even comes in a variety of styles and colours if you feel like shaking things up in the design department.
Ceramic Cat Fountain, Miau Store, £49
---
PetSafe Drinkwell Ceramic fountain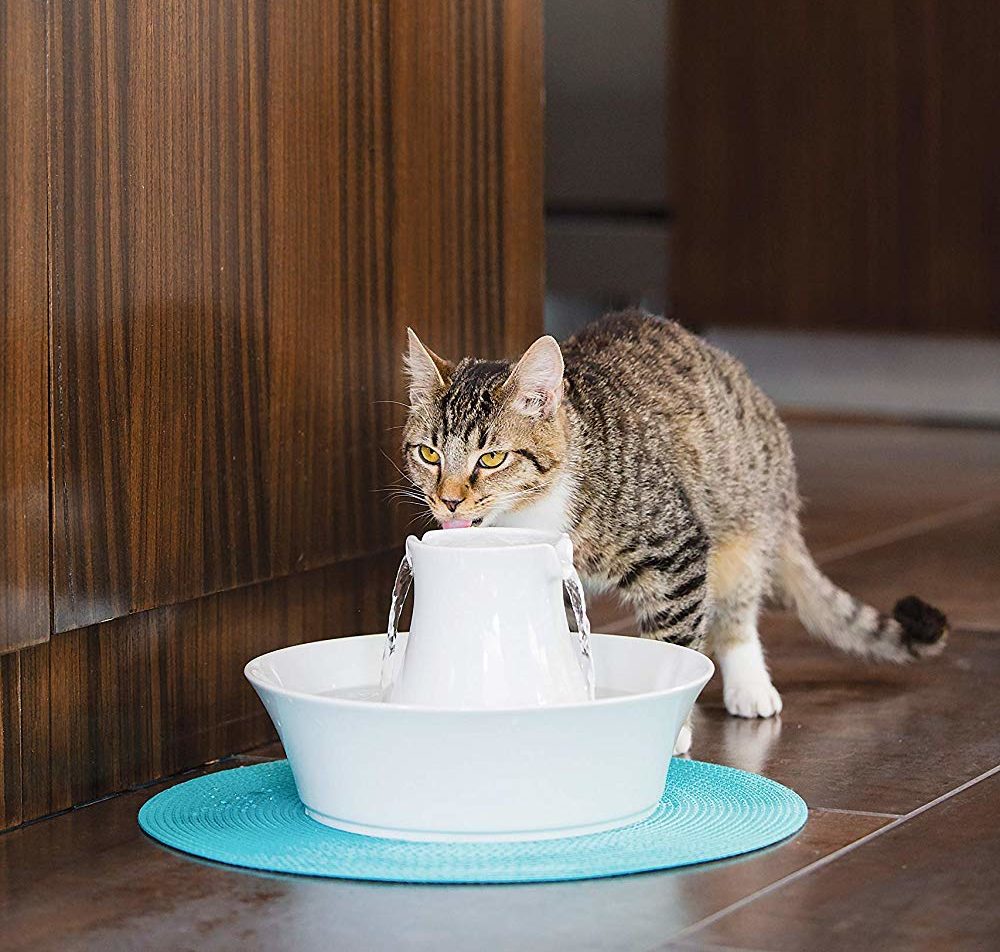 If you have both cats and dogs in the household, The PetSafe Drinkwell is ideal as it can be customised with an elevated drinking bowl that's perfect for large dogs or even senior and arthritic pets.
With its simple aesthetic and effective charcoal filter, it's brilliant for those looking for a fountain that's both easy to clean and assemble.
PetSafe Drinkwell Ceramic Drinking Fountain for Both Cats and Dogs, Amazon, £63.10
---
Sailnovo Ceramic Pet Drinking Fountain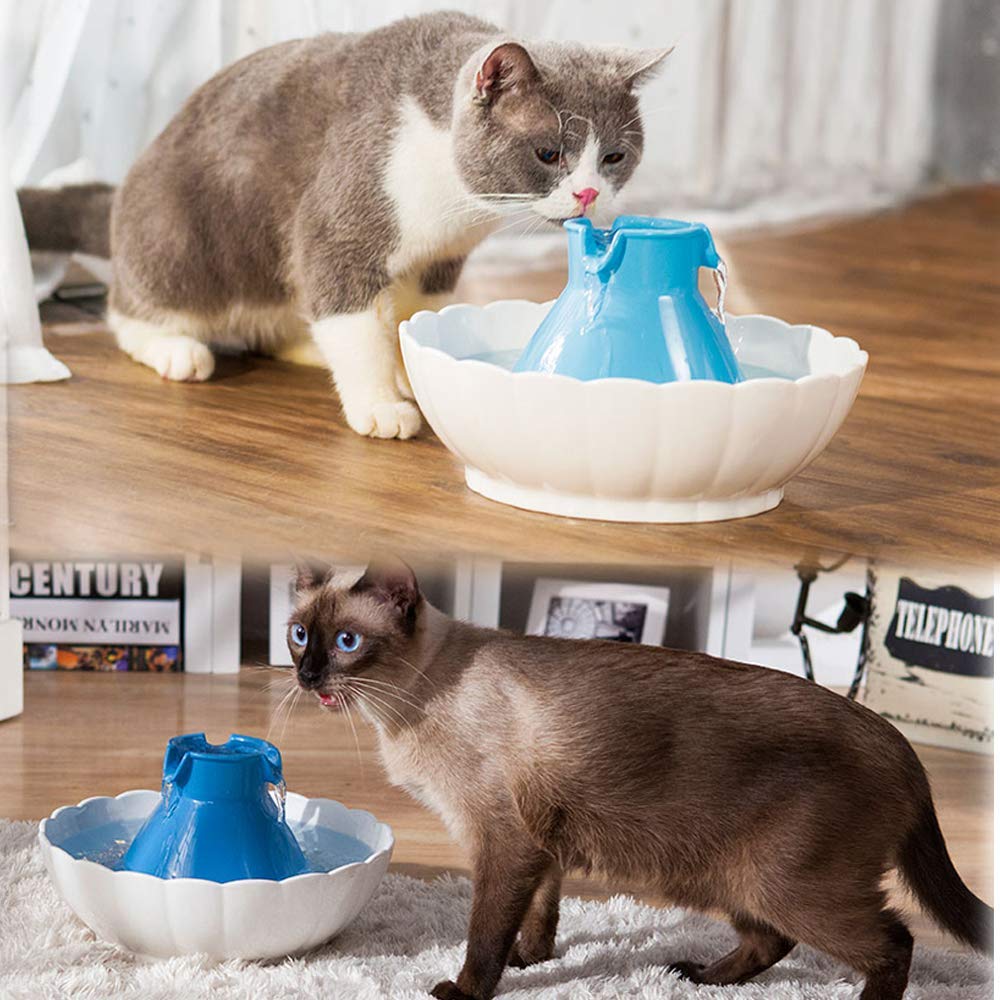 With its adorable scalloped design, the Sailnovo Ceramic Pet Drinking Fountain is sure a winner in the design department, but there's a few brilliant features that makes it worthy for all cat owners.
The fountain includes the option to record a voice message that plays when the food is dispensed and you also plug it in via a USB.
Sailnovo Ceramic Pet Drinking Fountain, Amazon, £13.99
---
Desirabely Small Automatic Water Drinker Feeder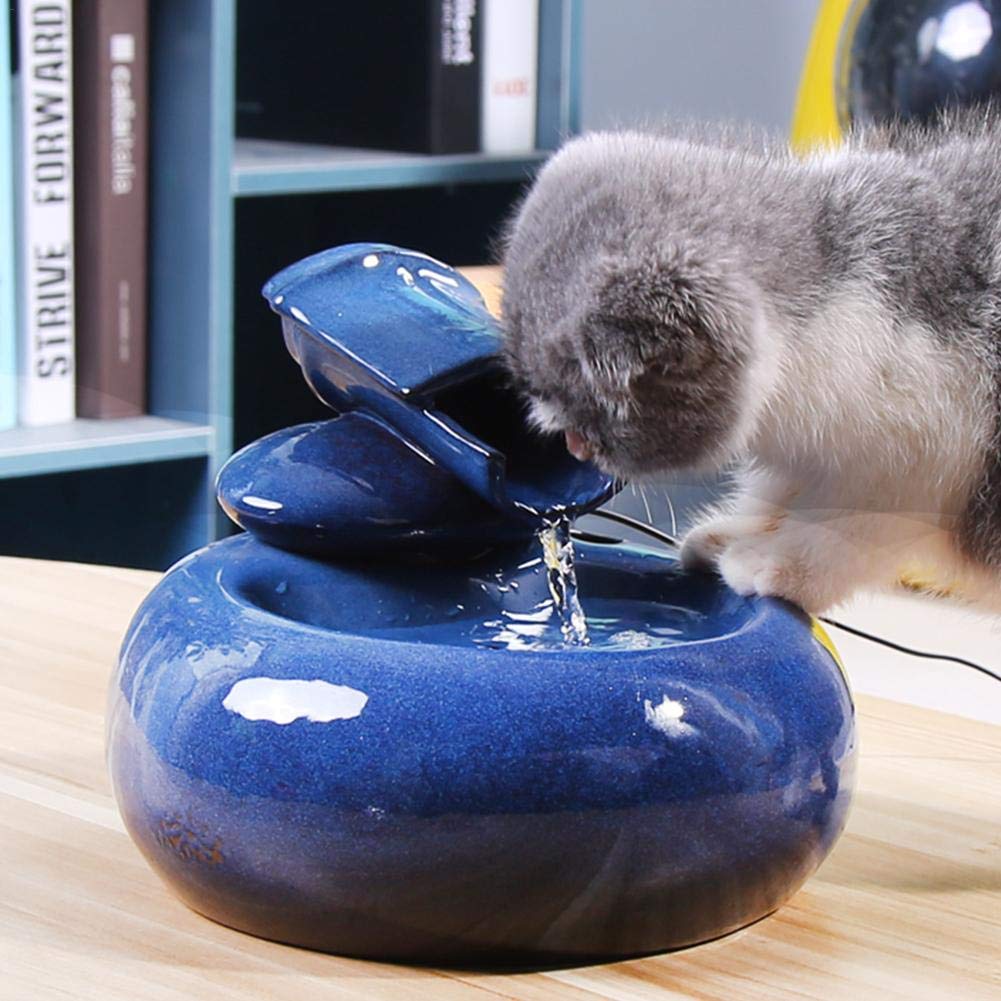 With its ceramic basin design decorated with small fish, this could easily be mistaken for a decorative home fountain instead giving it dual purpose.
If you're looking for something decorative, durable and easy to clean, plus you'd rather swerve plastic offerings, this might just be for you.
Desirabely Small Automatic Water Drinking Feeder, Amazon, £18.84
---
Hommii Ceramic Pet Drinking Fountain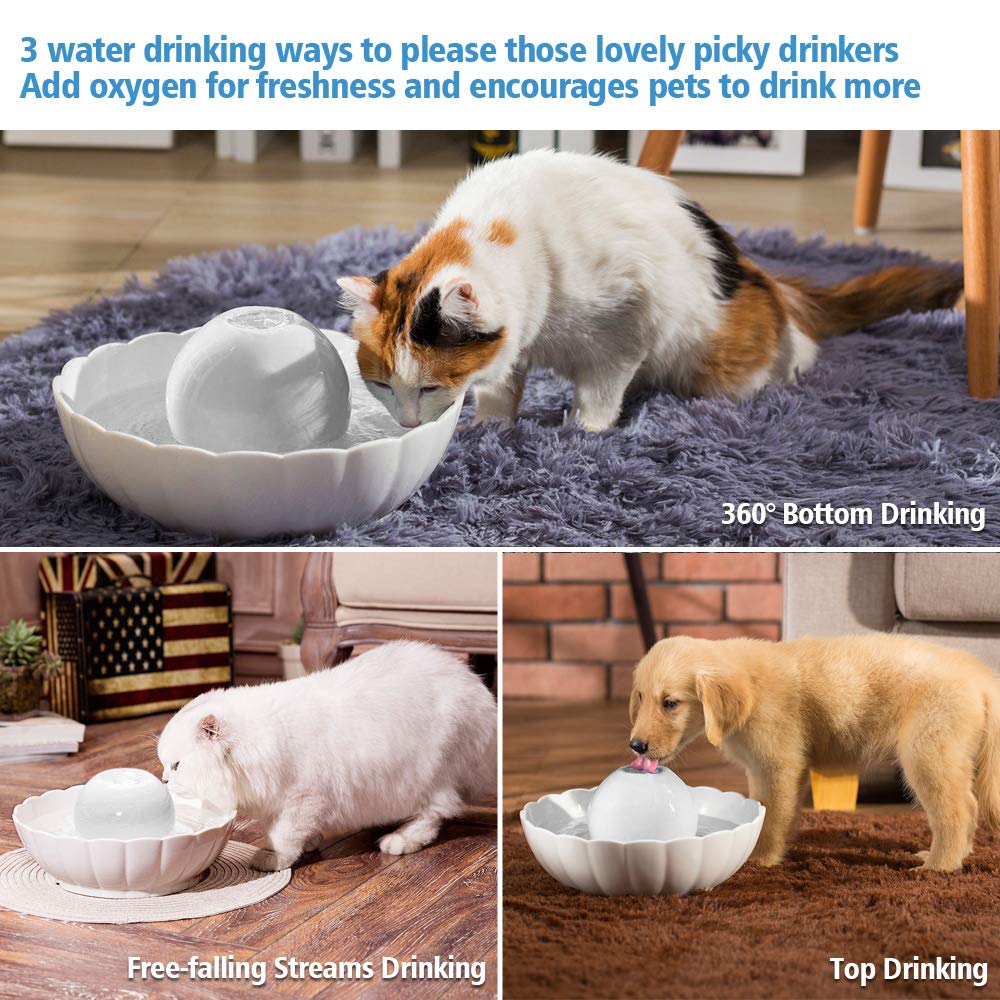 One of the greatest strengths of the Hommii Pet Drinking Fountain is most definitely in the design department. The stunning lotus design is sure to fascinate your pet, plus it makes an amazing decoration in your home too.
There's even a coconut shell activated carbon filter to complete the look!
Added bonus is it's super easy to clean and perfectly quiet for placing in any room in the house.
Hommii Ceramic Pet Fountain, £59.99, Amazon
---
NPET Water Fountain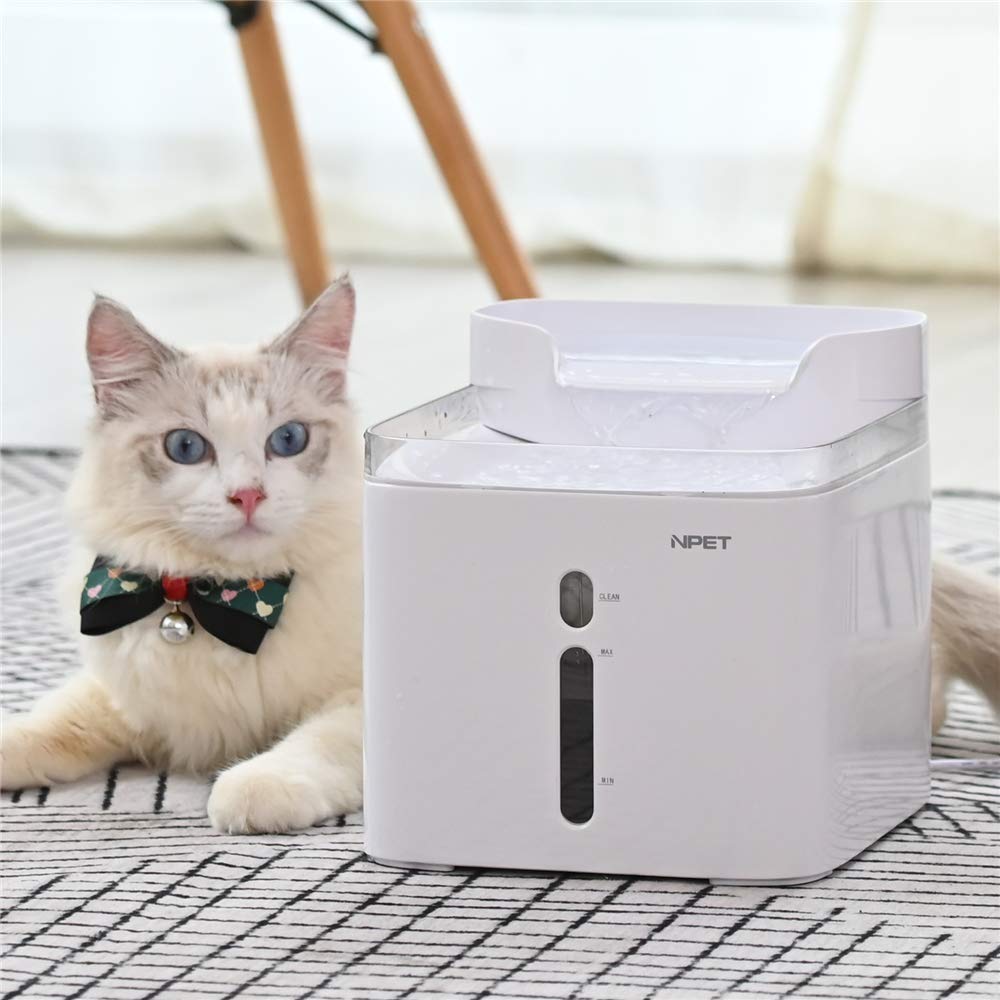 NPET goes for simple and effective in the design department, almost acting like a filtered basin your pet can drink from.  There's two modes: waterfall and fountain to meet the different preferences of your pets.
It's most definitely durable, but also so surprisingly quiet your feline friend might just enjoy a snooze next to it!
NPET Water Fountain, Amazon, £32.99 
See: Your Cat Can Now Take a Trip to Space With This Astronaut Inspired Feline Furniture
Follow Inspiralist on Facebook and Pinterest for all your eco-friendly lifestyle and sustainable home decorating ideas.
Sign up to the weekly Inspiralist newsletter and get the top stories delivered straight to your inbox.
Sign Up