As Christmas rolls around, you might be thinking of exactly what to get your nearest and dearest. Yet, with so many people to choose gifts for, it's easy to forget your best friend in life: your pet!
The good news is there's actually a whole world of Christmas gifts dogs, cats and other pets will love waiting to be explored.
From nonsensical fun to conveniently functional, these purrfect presents are guaranteed to make your four legged friends feel happy at home this festive season.
best Christmas Presents for dogs
Doggy Drying Coats
For a stylish solution to the wet dog, look no further than these super cute Doggy Drying Coats from Ruff and Tumble. 
Double thickness cotton toweling creates the ideal way to dry your pet on the move, but it can also act as a cooling coat for summer days when soaked in cold water. Super versatile!
Dog Drying Coat, £26-£59, Ruff and Tumble Shop.
---
Dog Christmas Jumper
Everybody loves a Christmas jumper around the festive season so why not have your furry friend join in the fun?
This fetching knitted coat comes in either red or green and is a great way to keep your pooch cosy in the cold.
Snoopy Fairisle Christmas Dog Jumper, £10, Boohoo
---
See: Matching Christmas Jumpers For You and Your Dog Will Keep You Both Cosy This Winter
---
Nerf Dog Tennis Ball Blaster
There's throwing the ball to your faithful friend, or there's blasting the ball. You're likely already familiar with the concept of the NERF Gun: you load it up and fire at your unsuspecting friends.
Only now it comes ready-made for your dog by firing tennis balls up to 50 feet in the air.
NERF Dog Tennis Ball Blaster, £14.99, Argos
---
luxury Dog Bed
There's nothing better than slipping into a luxury bed at the end of the hard day.  We reckon your pet may feel the same when he claps eyes on these gorgeous dog beds from Charley Chau.
Available in a variety of styles, there's sure to be something to suit every pooch.
Luxury Dog Beds, from £55, Charley Chau.
---
Luxe leads and collars
Treat your pup like royalty by presenting them with their very own luxury collar and lead combination.
Harris Tweed collars and leads have only been rising in popularity and look simply stylish.
Luxury Leads and Collars, Various prices, The Dog & Bone Company 
---
dog Christmas Eve Box
You've probably heard of this concept for kids. A Christmas Eve Box is a basket of goodies given to excited children who just can't wait for Santa to arrive.
If your dog is feeling in similarly high spirits, why not settle them with this fabulous gift set? It features a cosy blanket, some treats and squeaky toys to keep them busy.
Dog Christmas Eve Gift Box, £14.99, Amazon
---
Pawsecco
We all want our pets to join in our festivities on Christmas Day. What you probably didn't expect, however, is that pet Prosecco actually exists.
Ok, so it's not actually wine. Panic over. Pawsecco is a herbal infusion developed for cats and dogs, created with advice from vets. Phew!
Pawsecco Still "Wine", £2.99 for one, Woof & Brew
---
Dog Mince Pies
For the perfect festive treat, everybody loves a good mince pie. Why shouldn't your pooch pal share in the joy? These mini mince pies look the part but are actually dog-friendly.
Doggy Mini Mince Pies, £3.39, Amazon
---
Dog Bandana
For a little extra style, dog bandanas simply pop onto your pooch's collar. They come in a variety of colours and designs and, at only £3.95, could be an ideal stocking filling.
Dog Bandanas, Rex London, £3.95,
---
Pit Pat Pet Activity Monitor
If your dog has overdone it at Christmas, then maybe this gift will also double up as something very useful. This monitor keeps a track of your friend's physical activities and sets daily exercise goals depending on breed.
Dog Activity Monitor, £32.03, Amazon
---
See: 12 Best Water Fountains for Your Feline Friend
---
best Christmas Presents for cats
Cat Scratch Turntable
If you're a Hip Hop fan who also happens to own a cat then you will love this novel take on a scratching post. This cardboard mixing desk comes with a spinnable turntable that's ideal for sharpening his claws.
It also makes for some memorable moments over on social media, just search for the Cat Scratch DJ Set on Youtube and be entertained by serious feline cuteness.
Cat Scratch DJ Set, £9.95, Uncommon Goods
---
Landmark cat houses
There's the same old cat houses and then there's unique cat houses. How about one that's shaped like the Taj Mahal?
Pet playhouses that look like world landmarks are a clever use of space. They make a real visual statement, while your cats will love discovering every nook and cranny there is to explore.
Taj Mahal Cat Playhouse, PoopyPets, £48.75, Amazon
---
Christmas Stocking
Treat your pets this Christmas to the ultimate festive stocking. From toys to treats, there's a whole load of variety out there.
You probably can't go wrong with major pet food brands Whiskas and Pedigree Chum, however. Both have their very own take on the gift choked full of little luxuries for both dogs and cats.
Pedigree Christmas Stocking, £7.99, Amazon & Whiskas Christmas Stocking, £14.99, Amazon.
---
Sushi Cat Toys
These clever cat toys don't just look fun, they're actually stuffed with Canadian catnip. Expect your moggy to – quite literally – go mad for these. Most cats will react to the smell and enjoy a mad 10-15 minutes playing.
They also happen to make a brilliant photo opportunity. Each Sushi box contains three catnip freaky fish and two catnip fortune cookies.
Fish and Fortune Catnip Toys, £15, Notonthehighstreet.com.
---
See: 12 Adorably Cute Gift Ideas For Rabbit Lovers
---
best Christmas Presents for rabbits and small animals
Rabbit Castle
Any rabbit can become king of the castle with this brilliantly designed castle tunnel.
It's a custom design created from 9mm birch plywood with a plywood shelf. Unlike cardboard ones, this castle is built to last!
Wooden Rabbit Castle, £48, KraftyCreature / Etsy.
---
Rabbit Advent Calendar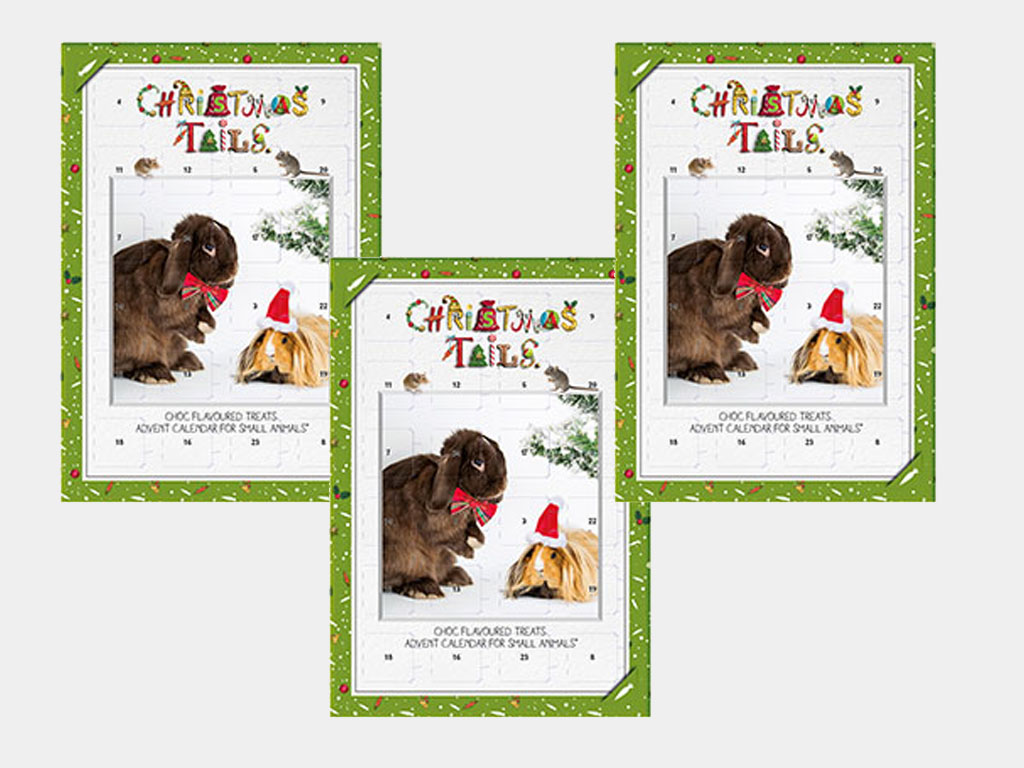 Treat the bunny in your life to their very own pet advent calendar. This one comes with choc flavoured treats that are sure to go down well!
Christmas Tails Rabbit Advent Calendar, £2, Pets at Home.
---
From: Your Best Ever Christmas 
---
For even more ideas and inspiration for your home, pets, garden and family life like us on Pinterest and Facebook
---
Sign up to the weekly Inspiralist newsletter and get the top stories delivered straight to your inbox.
Sign Up