Cats can be independent, temperamental and sometimes just weird, but pet owners know they are always special and loving in their own way. That's why such unique personalities deserve a treat from time to time.
The humble cat house can be a great place for our feline friend to retreat but did you know you don't have to settle for just any moggie mansion? Not when these truly quirky homes are around.
These additions to your living quarters are not only practical, but will provide a personalised touch to your space.
From recyclable cardboard cat houses to designer high end cat furniture, we've compiled everything your special friend could ever want to scratch, rest and play.
Cardboard Teepee Cat Playhouse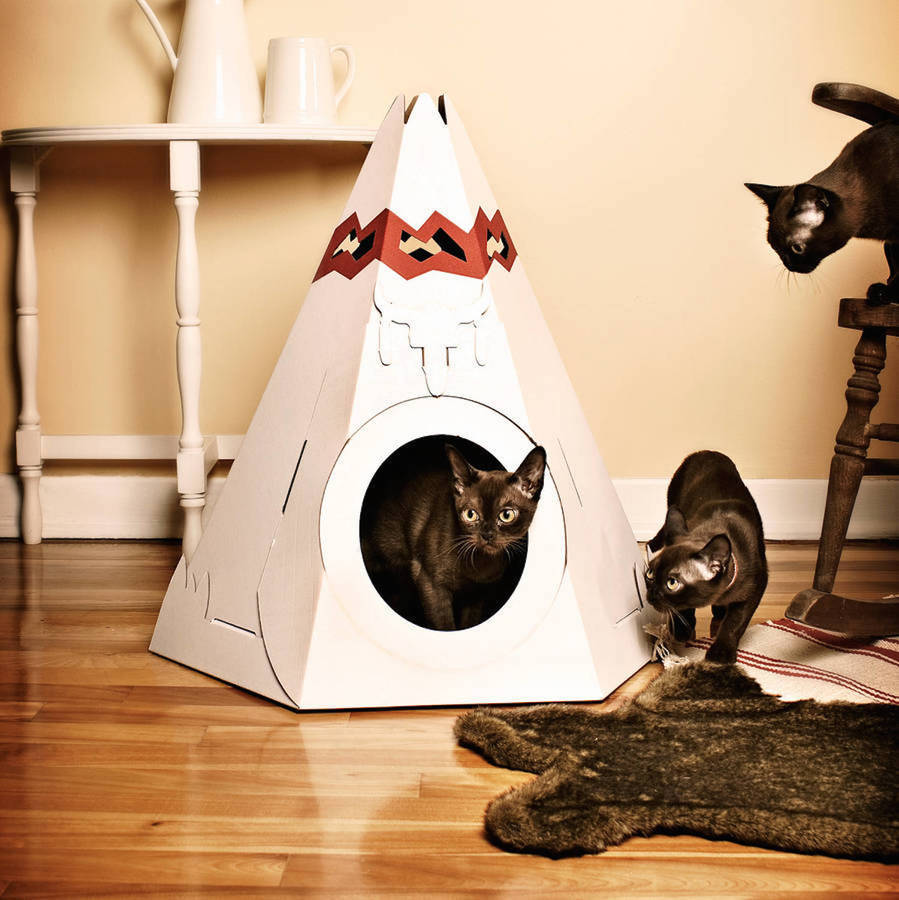 Glamping for cats has arrived.
Unique cat houses come in all shapes and sizes and this cardboard tepee playhouse with added balls and toys will provide a fun indoor festival experience for your feline friends.Complete with the added benefit of a dark space to recover from all the excitement.
Teepee Cat House, £22, Notonthehighstreet.com 
---
rock star cat cave
Is you kitty a rock star in the making? Then you need to see these incredible cat caves made from felt, designed by Etsy seller Agnes Felt.
There's a few pop culture designs in the range, but you're sure to fall in love with the music-themed houses which includes David Bowie and Kiss themes.
Felt cat houses, AgnesFelt, Etsy, £73.52 (not including delivery)
---
Cat Scratching Cardboard House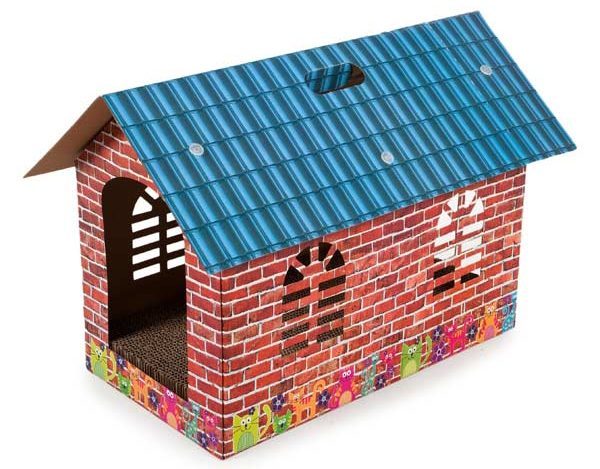 This incredibly affordable cat house could save you money in more ways than one. One of the cheapest cat houses available, it also doubles as scratcher, providing an alternative to a sofa or carpet.
Complete with enticing cat nip, the house also provides a secure space to snooze in once the scratching has concluded, keeping  your furniture looking great for longer. This double use and bright appealing look of this product really does qualify as a unique cat house.
Cat Scratching House, £6.99,  Pet Planet
---
Disney Dome
Every cat deserves a magical place to hide out and this dome shaped like Mickey or Minnie Mouse is ideal.
Made with ultra soft and cozy micro plush fabric, your feline can curl up in the safety of your favourite Disney character.
Plus, the inner cushion is completely removable for easy washing. 
Disney Mickey/Minnie Mouse Dome, £42.05, Amazon 
---
Sci-fi Pod House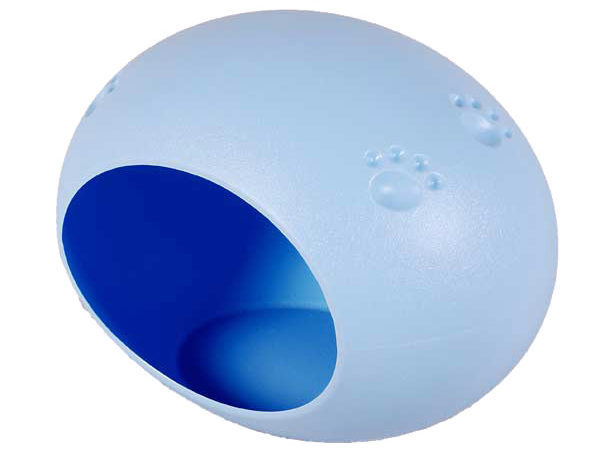 Fans of Stanley Kubrick's 2001: A Space Odyssey will love the futuristic, sci-fi appeal of this cat pod house. Luckily the pod bay doors are always open in this unique cat house, giving your cat a cave-like sanctuary in which to feel secure and protected.
This funky cat house would be perfectly suited to a modern, minimalist living space.
Cat Pod House, £29.99, Pet Planet
---
Landmark Cat Houses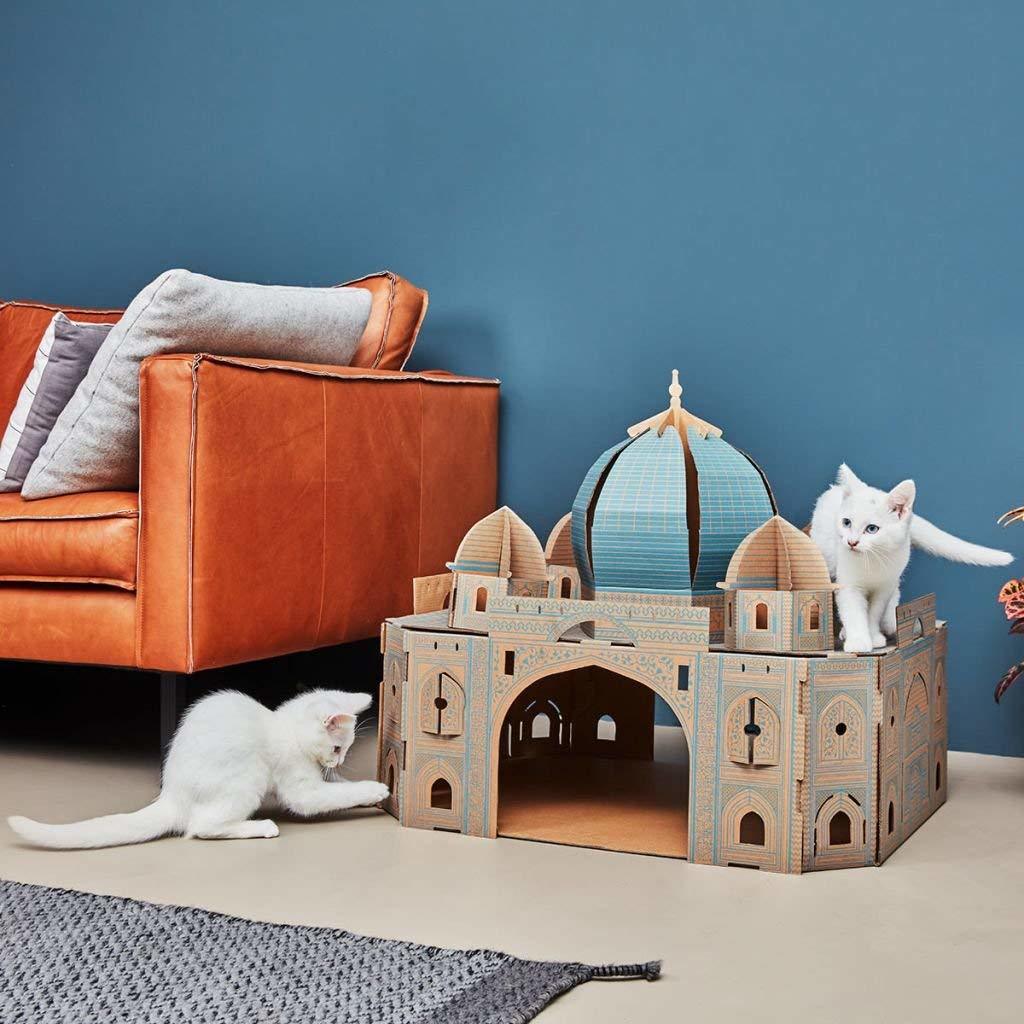 There's the same old cat houses and then there's this magnificent structure. How about inviting a flavour of India into your home in the shape of the Taj Mahal? Pet playhouses that look like world landmarks make a real visual statement, while your cats will love playing the tourist and discovering every nook and cranny there is to explore.
Taj Mahal Cat Playhouse, PoopyPets, £48.75, Amazon
---
The White House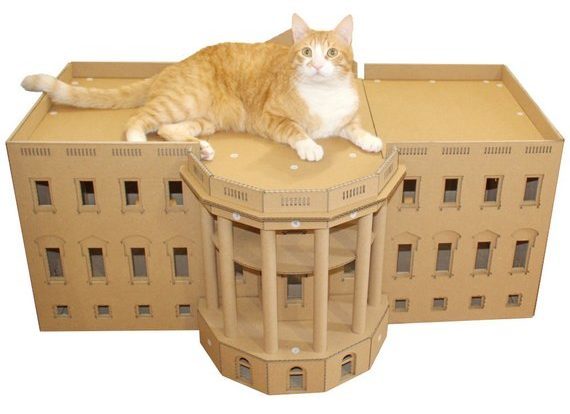 If your cat likes to believe they are the boss then this cardboard White House from Cacao Pets could be the perfect structure in which to feed their ego. This handmade, eco-friendly design can also be painted to a colour that suits your home style.
Just beware that this seat of power does not introduce any new policies such as complete freedom to hunt and prohibition of empty food bowls! Despite the hefty shipping charge from Bulgaria this is the definition of a unique cat house!
The White House Cardboard Cat House, £77.78 (including shipping), Etsy
---
Tree house Condo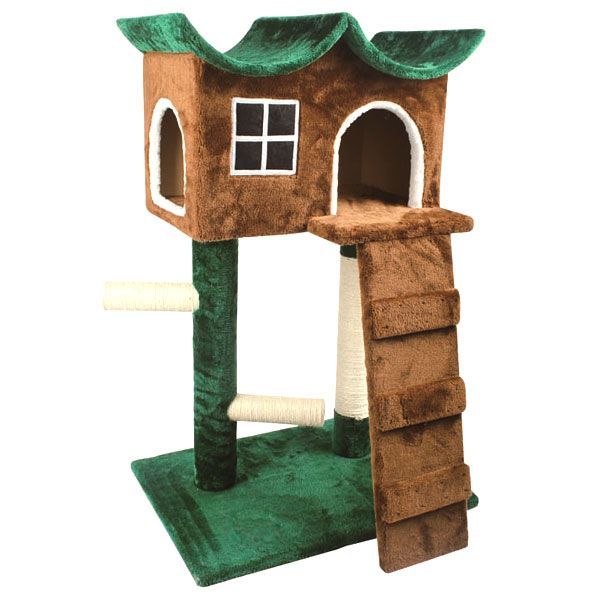 Hold the 999 calls, this is one tree that your cat won't want to be rescued from. This cat activity centre from Purrshire has a ladder leading up to a tree-house themed cat cave.The structure is covered with luxurious plush and the two horizontal scratching posts will give cats a sure foothold when they are climbing, hopefully encouraging them to use their claws there and not on your furniture.
Cat Condo, £39.99, Purrshire
---
Garden Cat House With Sunroof
All that's missing is the rocking chair in this Mississippi-farmhouse style two storey cat house. The upper storey veranda with transparent sunroof is ideal for cats sunbathing on those lazy summer days while also offering a cosy hideaway in the cooler lower storey den.Made from pine and decorated with a green and white lacquered southern style façade, this truly is a unique cat house.
Cat House With Sunroof, £54.99, Bitiba
---
Death Star Cat Cave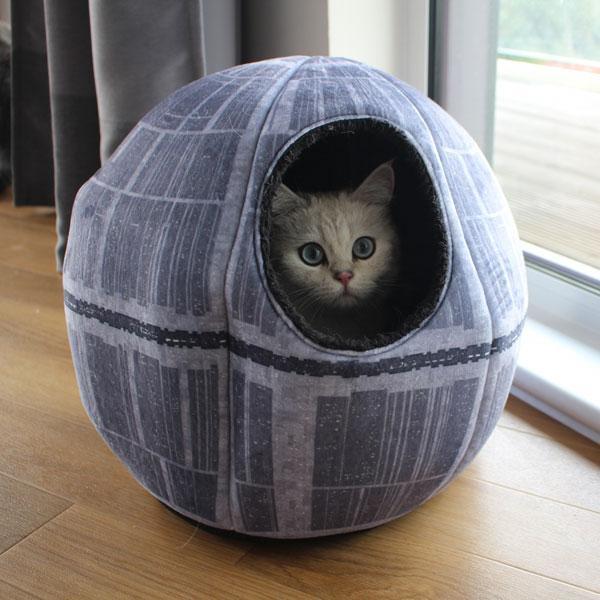 Does your cat have a dark side? If so your cat will at least look cute as they peek out from this Death Star cat cave. Unlike the real Death Star there is no Quadanium steel plated exterior, inside is a comfy cushioned interior in which to safely plot universaldomination.Lightweight and portable, this unique cat house adds cheer to any room.
Star Wars Death Star Pet Cave, £29.99, The Foundry
---
Cat Home and Litter Box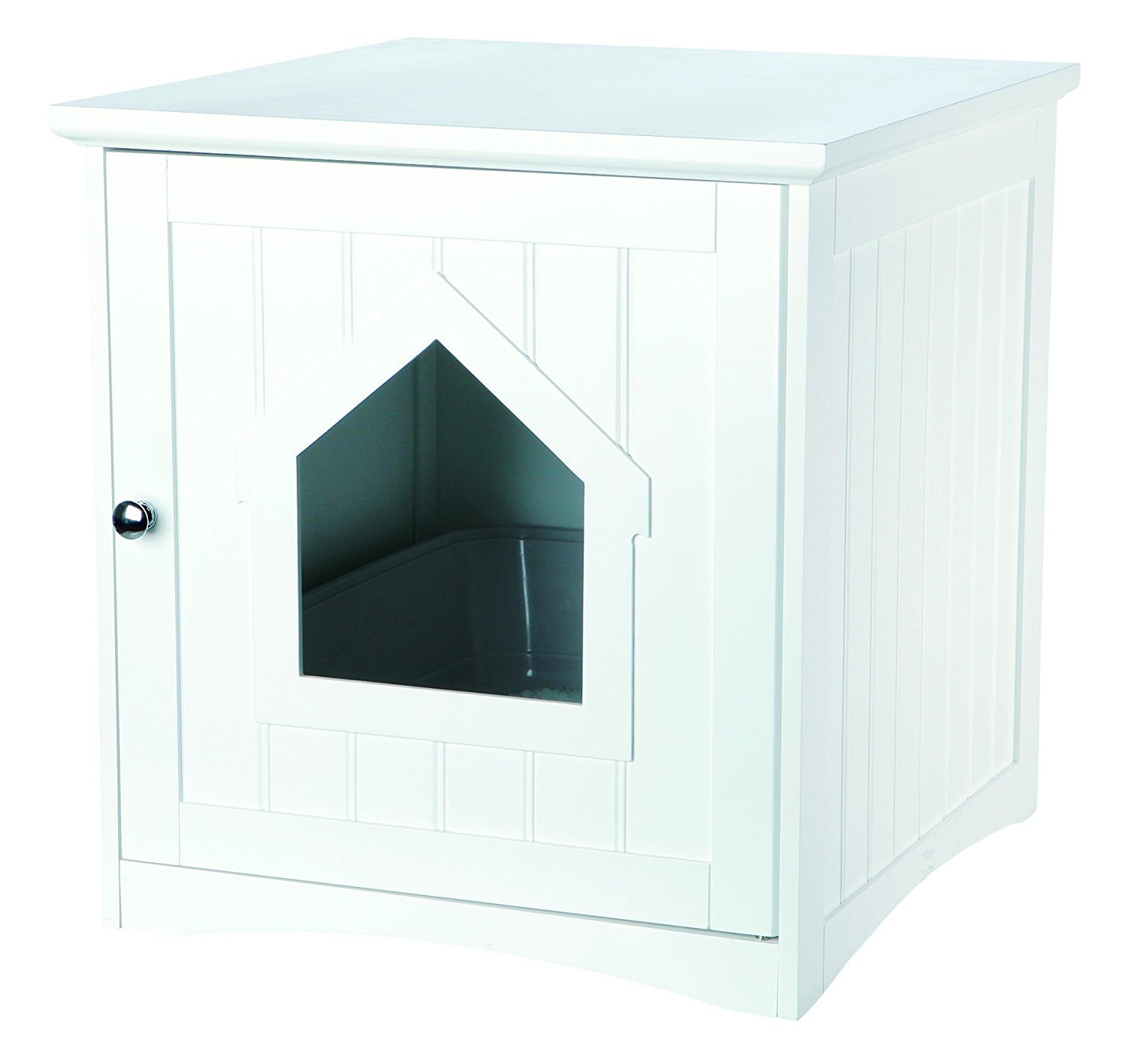 This elegant cat house can be used as a bed for your moggy or as a classy solution to concealing the cat litter box. Wide door opening allows for easy cleaning and features a simple magnetic closing mechanism. Ventilation holes in the back allow excellent air circulation. A neat and clean addition to cat furniture.
Wooden Litter Box, £61.88, Amazon
---
Cat Scratching Tree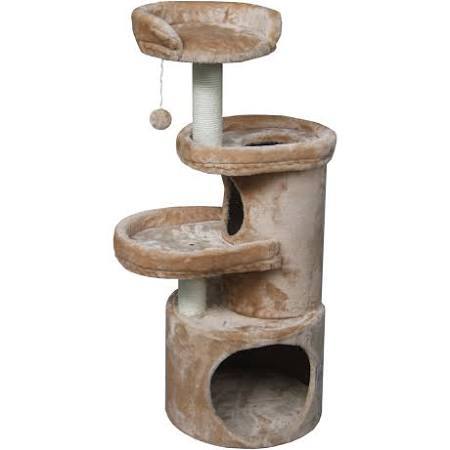 The perfect balance between work, rest and play, this cat scratching tree from Kokoba has it all. The multiple scratching posts and plentiful rest areas mean the more moggies the merrier.The plush cushioned surfaces are very comfortable for your cat to curl up on and the plastic feet attached to the strong wooden base keeps the structure safe. This scratching tree promotes a healthy, active lifestyle whilst also providing for that all important nap time.
Scratcher Tree, £31.99, Pet Supermarket
---
Luxury Felt Cat Stand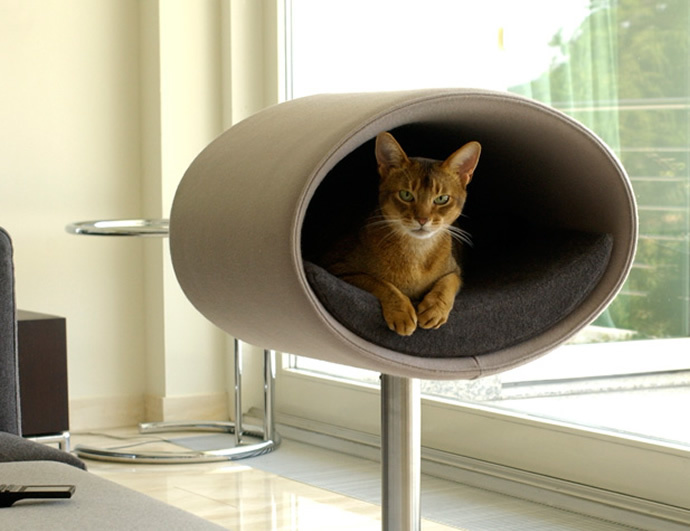 The no-expense-spared cat scratcher and home for the most pampered of pets. This designer cat stand is made from high quality materials and allows your choice of external cave colour and internal cushion colour.
A scratch cover can be added to the stand for an extra £49.99. A higher positioned cat bed allows the most curious of cats to keep track of surroundings whilst feeling protected in an elevated cat cave.
Designer Cat Scratcher, £635, Chelsea Cats
---
 Three Storey Cat Home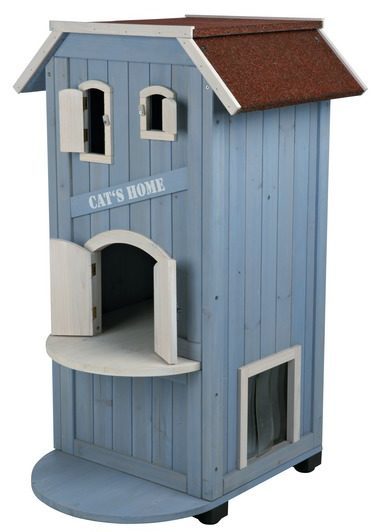 Cats love to spread out and relax so look no further than this three storey cat house that they can call home. Trixie pet homes boast rigorous testing leading to durable products.
The glazed pine construction combined with a weather resistant roof make this spacious pad suitable for indoor or outdoor use.The second storey door opens, allowing for a spot of sunbathing and the side opening has a plastic curtain to protect from draughts. If a cat can call a house a home, this could be the one.
Three Storey Cat House , £115, Pets At Home
---
For even more ideas and inspiration for your home, pets, garden and family life like us on Pinterest and Facebook
Sign up to the weekly Inspiralist newsletter and get the top stories delivered straight to your inbox.
Sign Up